I love FALL! Even though it is still pretty hot here and the palm trees are as green as ever we are making pumpkin bread, pumpkin dip and soup in hopes that it will cool down.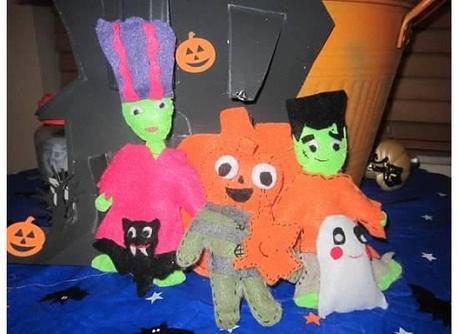 We sewed some cute Halloween creatures from felt. These are super simple and Isabel and Aiden were both able to help make them.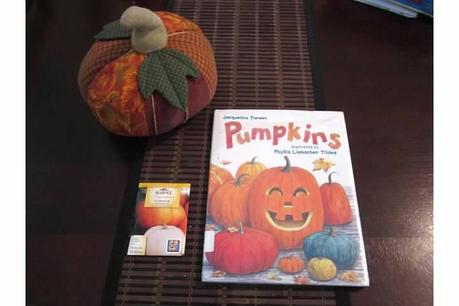 We have been reading lots of books about pumpkins and Halloween, so we planted pumpkins in our garden. 
We planted them way too late so we won't have a crop until December! LOL!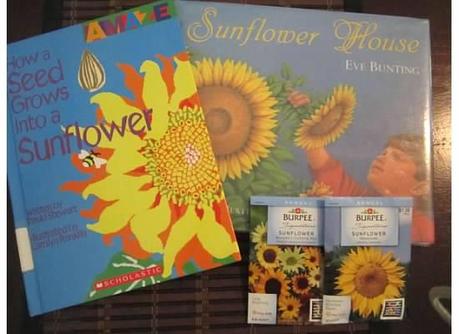 We read all about sunflowers and then had a go at planting a sunflower house. My fingers are crossed in hopes that the birds and squirrels don't eat up the seeds!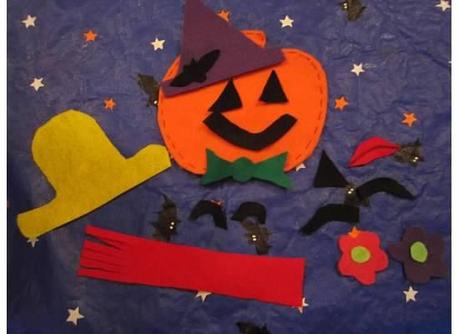 We spent the entire day Friday with some of our dearest friends making fall crafts and then we took the children on a picnic.  Our girls sewed a few pumpkins out of felt (Amy and I ended up helping just a bit:) and made presents for their little brothers and some of their other younger friends.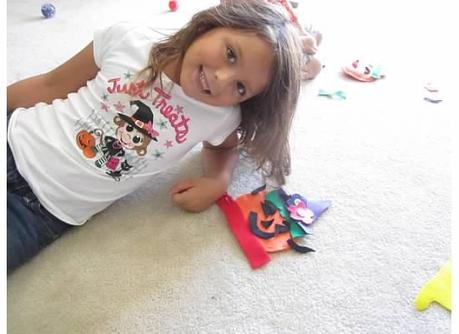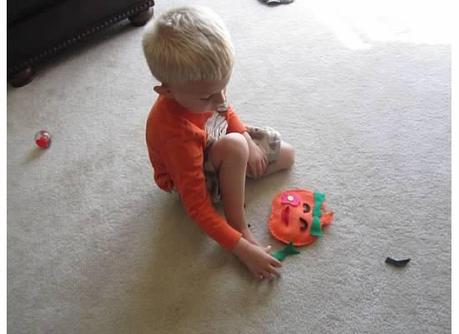 Amy and I cut out the pieces to dress up the pumpkins. All the pieces fit nicely inside the pumpkin when they are done. I found the cute dress up templates at the mer mag blog.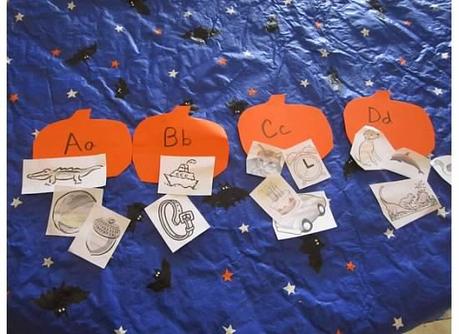 We have also been playing lots of Halloween games. Above, Aiden has sorted his pictures by their  beginning sound.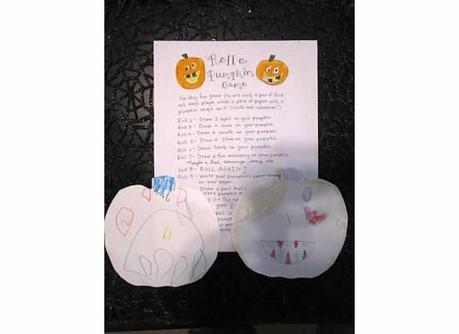 We have had a lot of fun playing the Roll a Pumpkin game. The children roll dice and then add them up. Then they find the number on the chart and draw whatever it says to draw on their pumpkin. I found this at the happy home fairy blog. The kids really love this game! So cute!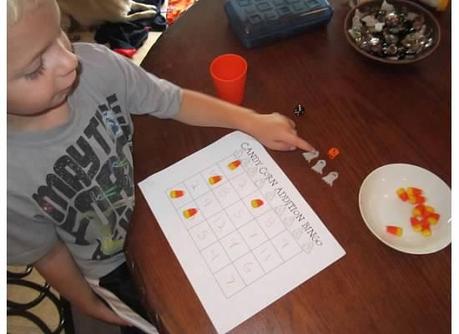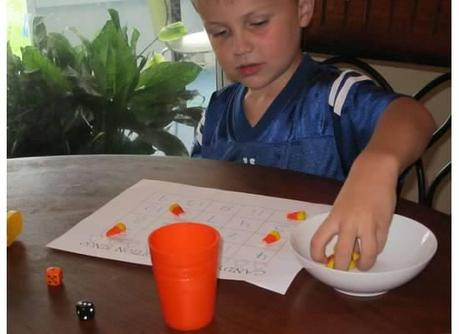 Aiden had a playdate with his friend Cole and the boys played Candy Corn Bingo. They rolled dice and added them up and then placed candy corn on the matching number.  I found this game and the one below at the Oceans of Fun blog.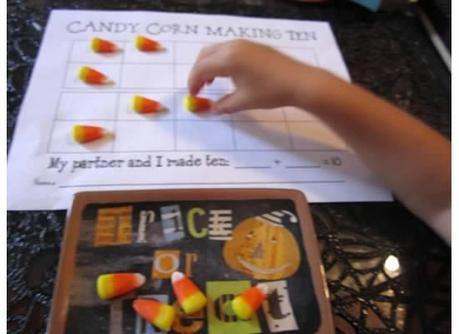 Aiden making tens using a candy corn ten frame.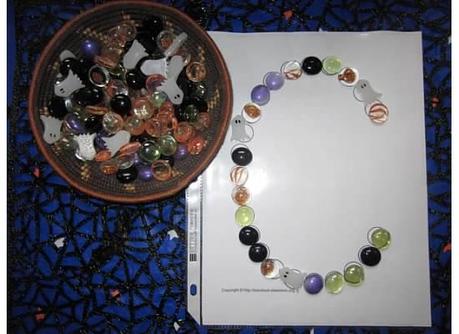 He also made his letters using these adorable beads we found at Michaels. Love those 40% off coupons!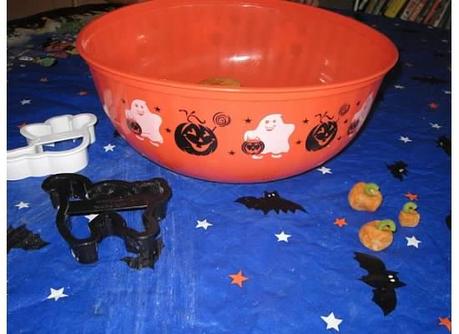 We made pumpkin  playdoh  and it smelled so yummy. We died macaroni green to use as stems. Elle and Aiden made a big pumpkin patch for his Star Wars guys and her Lalaloopsies.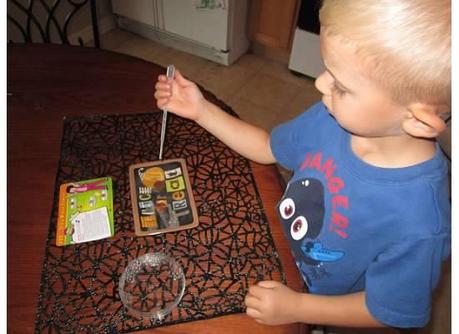 Aiden is counting how many drops of water he can put on a penny before it overflows. He really enjoyed this experiment and did it a few times.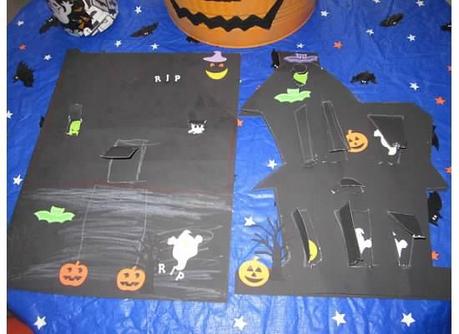 Finally, for writing, the children made haunted houses and then decorated them. We folded poster paper in half and then cut doors and windows in them. The children hid spooky bats and monsters behind them. Elle wrote a scary story to go with her haunted house and Aiden told me a 'scary' haunted house story.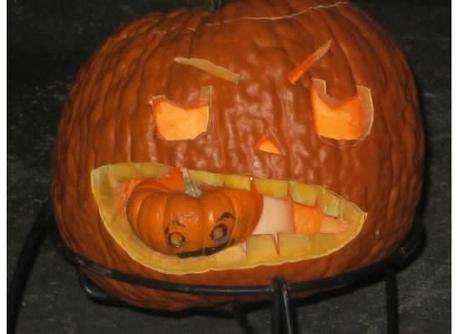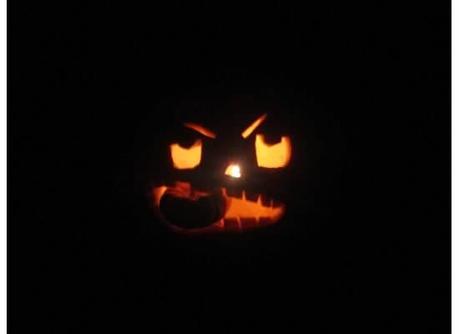 We (By we I really mean my husband) made a Jack-O-Lantern!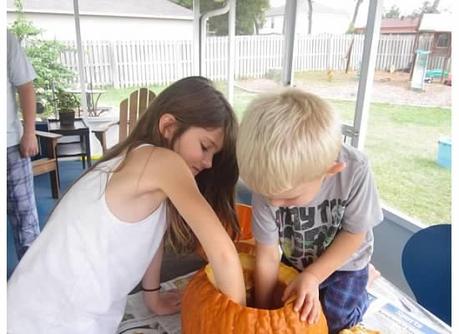 Aiden loved digging out the seeds. Excuse the PJ's...that is how we roll on the weekends:)