That's how much our "5 Trade Ideas that Can Make 500% in an Up Market" made since May 14th.  Those are, of course, gains on cash, not margin but, when you only have to tie up the margin for 21 days to make it – it's a nice return (worked out to an annualized 322% on our QQQ/AAPL trade).  We talk about inflation a lot and there is such a thing as Trade Inflation, the point at which margin and option traders are able to make so much money it distorts the markets.   Don't you think we're at that point?  

Let's say you turned $5,000 into $90,800 using those trade ideas – that's great but what if your cleaning woman bought $1,000 worth of TSLA May $55 calls last week for $1 and this morning they are about $12.  Do you still think she's going to clean your house for $100?  This is how inflation goes – when we used to see those expensive cars with "Yahoo!" license plates driving around in 1999 – it meant it was harder for us to negotiate a good price for our own 911 because our plumber had just put down a deposit on the last one in the showroom.  
Nothing against plumbers, of course, I guess I'm still thinking of Joe the Plumber – but you get the idea.  It's all fun and games while we have our secret little ways to make money but, once everyone starts doing it, the money begins to become worthless and then we need to risk more to make more just to keep up.  Pity the poor business owner who can only make money by selling stuff people want – they are totally screwed.  This is how asset bubbles chase themselves to death and this is why it's an old Wall Street adage that, when your taxi driver starts giving you stock tips, it's time to cash in your chips and get out of the casino.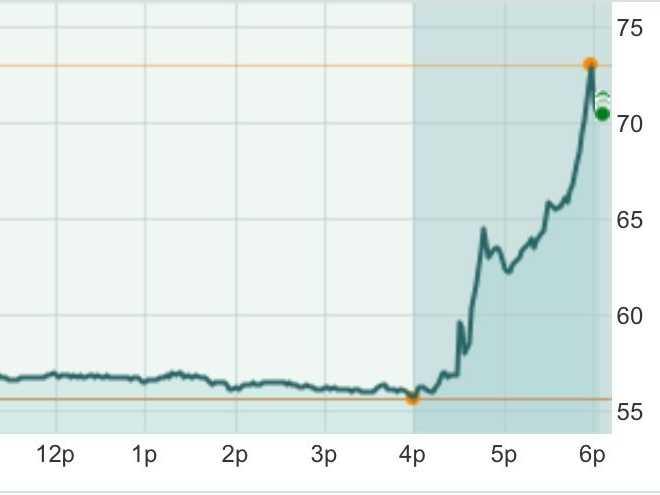 We're not there yet, not "irrationally exuberant" about the markets but there are certainly pockets that are overbought and TSLA is a good example of a company that has in irrational valuation now that it's popped to $66 on very good earnings
(and we're not perma-bears on TSLA, it was one of my 3 stock of the year…
This article will become free after 48 hours (see below for free content). To read the rest of this article now, along with Phil's live intra-day comments, live trading ideas, Phil's market calls, additional member comments, and other members-only features -
Subscribe to Phil's Stock World by clicking here
.