I love it when a plan comes together.  We were in "take the bullish money and run" mode on Wednesday and yesterday was a white knuckle day for the bears as the Dollar and TLT made new lows but we stood our ground as my 1:12 comment to Members was:  
TLT – That move down in TLT was ridiculous, it had nothing to do with the Auction and nothing to do with the Dollar – not natural at all. 
TLT bottomed out at $114.62 and we were forced to roll our weekly $115 calls along to next week $114s (taking full advantage of the discount being offered) at just $1.80 and almost entirely in the money – those should be looking good this morning as the Dollar flies back over 79.  Speaking of the Dollar, at the end of yesterday's post I drew a line in the sand at 78.50 and our bearish outlook rested on that line holding and the Euro failing to break $1.33 and the Pound failing at $1.59 despite the relentless Yentervention on the Euro.  Check out the action: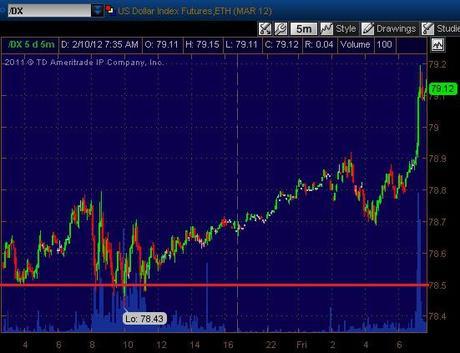 That was a pretty good call and firms up our view now that the Dollar at 78.50 is indeed the spot where we once again hit some bullish plays but, for now – color us skeptical.  Our bear trade ideas were flying fast and furious as we had the opportunity to once again short oil at $100 (now $98.50) and our trade idea from Wednesday Morning's Alert to Members was the SCO Feb $34/36 bull call spread at $1.60, selling the $37 puts for $1 for net .60 on the $2 spread.  Even at yesterday's $98.50 close, the net of the spread had already climbed to .80, which is up 25% in a day or what we call "on track" towards our expected 233% gain by next Friday.  
IN PROGRESS