The news was that a pipeline in Saudi Arabia had been attacked and oil had been running up all day into this "news," which, funnily enough, turned out to be fake.  We caught the news at 3:05 in Member Chat (thanks Kustomz) and we had been waiting for oil to stop going up so we could short it.  The turn came at the $110.50 in the Futures (/CL) and we caught a nice run down to $109 and I reiterated, at 3:36, with oil still at $109.88 my love for the USO April $40 puts, which were $1.08 at the time and finished the day at $1.15.
As Malsg pointed out in Member Chat: "The pictures of the fire are taken in daylight … but Saudi sunset was several hours ago … the oil market only stared going nuts after the close."  A very good observation that gave us the resolve to stay short on oil – which is working out fantastically this morning as well. 
We also grabbed an aggressive short spread on BNO, as it seemed the whole day's run had been BS, with traders in the know stocking up ahead of the fake news so they could unload barrels into the retail suckers who bought into the spike.  Don't worry though – no one who bought oil up from $105 on Thursday to $109 ahead of the news will be arrested or even questioned – we'll just keep pretending the total farce of oil trading is a legitimate pricing mechanism, even though it costs people around the world hundreds of Billions of Dollars each year in excess charges (see "Goldman's Global Oil Scam Passes the 50 Madoff Mark").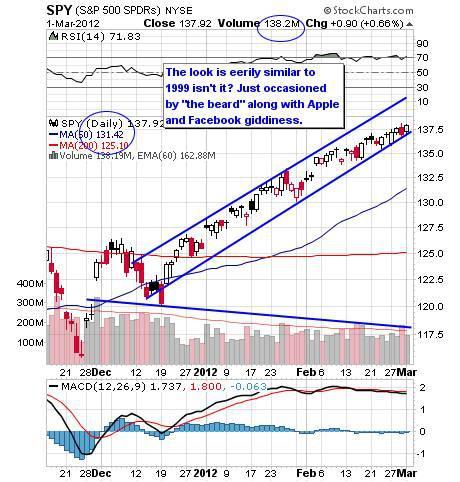 Now, this is the part where I would usually point out how the economy is weaker than we think etc. but I'm not going to do that this morning because the S&P still over 1,360 and, if a stronger Dollar isn't going to stop this rally – nothing will.  Even yesterday, I joked to Members that I wasn't going to highlight negative news items in red anymore as there was no such thing as bad news in this market
.  
As you can see from David Fry's SPY chart, we''re back testing the bottom of that channel today and, if we don't break down here, then we…