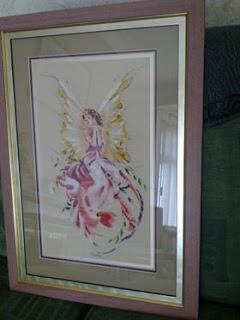 Stitching 'Titania' was one of the longest projects I've ever done. The end result is far more beautiful than my photograph shows. Perhaps I should have taken pictures before it was packed off to the framers. She is mainly cross-stitch, but what the camera fails to pick up, due to too much reflection, is the delicate, gold threads, tiny sequins and seed beads on her wings. They are noticeable on the picture it was worked from, but again, it doesn't do the completed embroidery justice.She doesn't live with me otherwise I'd do another photo shoot.
Titania, the queen of the fairies from Shakespeare's A Midsummer Night's Dream, is placed majestically on a wall in the home of my friend, who is also my sister-in-law in Troon, Ayrshire. Titania belongs there in the company of lots of fairies. Some, like Tinker Bell, are easily recognisable, others are pretty garden fairies, Christmas fairies and even mischievous fairies. My sister-in-law loved her on sight and I knew, not that there was any doubt, that my surprise gift was very welcome.
Needlework helps me to relax. When I was working on Titania, about ten years ago now, I'd taken her with me on holiday to Wales. We were staying in a static caravan on a very nice site in St Dogmaels. I was feeling particularly 'strung out' at the time. Our son didn't want to come and was old enough to leave at home. I knew he'd be fine, but I worried anyway. Our daughter didn't want to come but had to because she was too young to leave at home. It's just life, I suppose and most days she was fine, as long as she could take her lap-top over to the family bar and link up with her own world via the holiday park wifi every evening. I was unwell with hayfever because of the trees and that didn't help. After a day out it was nice to get a smile from Tilly-Flop when she was given the heads-up to go off with her lap-top. I was happy to sit in the huge, caravan lounge, surrounded by daylight from three sides of windows and stitch a bit more of Titania. My sister-in-law, knowing how I felt, had asked if I had some cross-stitch to relax with. Little did she know.
Years earlier, when the children were little, they received letters from Peggy, the Tooth Fairy. She was always pleased to collect beautiful, looked-after teeth from under their pillows. Her letters reflected the importance of brushing teeth, keeping them clean and not eating too much sugar. She always praised my children for doing it 'exactly right' and she was happy to leave them a reward. I think it worked out at £1 per tooth. My daughter had a wobbly tooth that came out at school. She was sent to wash it, but lost it down the plug hole. Peggy was unfazed. She read the note that was left under the pillow and went to see if she could retrieve it from the school drains. Poor Peggy even had to hide in a doll's house when the caretaker came along. I think she must have found it because a shiny £1 coin was under the pillow, with an account of Peggy's adventure.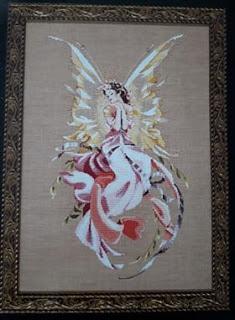 From "A Midsummer Night's Dream," Act
II.
Sc. 2

.
Enter T
ITANIA,
with her train.

  T
ITANIA.
—Come, now a roundel, and a fairy song;
Then, for the third part of a minute, hence;—
Some, to kill cankers in the musk-rose buds;
Some war with rear-mice for their leathern wings,
To make my small elves coats; and some keep back   5
The clamorous owl, that nightly hoots, and wonders
At our quaint spirits. Sing me now asleep;
Then to your offices, and let me rest.
SONG. 1 FAIRY.—You spotted snakes, with double tongue,
  Thorny hedgehogs, be not seen;   10
  Newts and blind-worms, do no wrong:
  Come not near our fairy queen.
CHORUS.  Philomel, with melody,
  Sing in our sweet lullaby;
  Lulla, lulla, lullaby; lulla, lulla, lullaby:   15
  Never harm,
  Nor spell nor charm,
  Come our lovely lady nigh;
  So, good-night, with lullaby.
2 FAIRY.—Weaving spiders, come not here,   20
  Hence, you long-legged spinners, hence!
  Beetles black, approach not near;
  Worm, nor snail, do no offense.
CHORUS.  Philomel, with melody, etc.
1 FAIRY.—Hence away; now all is well:   25
  One, aloof, stand sentinel. [Exeunt Fairies. TITANIA sleeps.  
 Thanks for reading, Pam x
Email This
BlogThis!
Share to Twitter
Share to Facebook
Reactions: