Mark Zuckerberg, CEO of Facebook has unveiled a new News Feed design for the world's most popular social network, which appears to be an improved minimalist design focused more on giving more space for contents. And it also looks much more like the Google+ design as well. Did Facebook just steal the idea from Google?

BBC News points out the three major changes in this new update that changes the old News Feed. First, the main design narrows the design down to only two-columns to give more space for posts and photos. Second, a new pop-out black bar on left side for a quick jump to other features. Third, "alternative feeds" that allows users to have several feeds on specific topics.
All these new things sound cool. But, this white-space filled News Feed design, the bar on left side and those lager photos only makes Facebook look more like Google+ to me. Despite how people reject Google+ as a social network, it has one of the best user interface's I've seen in my life. Facebook has been stealing features from Google+ ever since its' launch and I guess this new Facebook update is only one of them.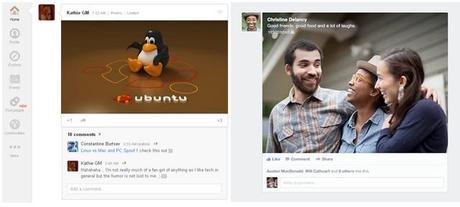 Google+ (left) and Facebook (right). Anybody seeing a pattern here?
As Zuckerberg said during the press conference, he wants to "give everyone in the world the best personalized newspaper in the world". Last time I checked, Facebook was a social network and now he wants to make it a personalized newspaper? Is this guy going crazy or something?
Anyway, the new News Feed design will roll out to everyone in the coming weeks. If you want to get it early, head over here to join the waiting list.
Do you think Facebook stole the idea from Google+? Share a comment and let us know.
[Source: Facebook Newsroom  ]
(All the images, trademarks, logo's shown on this post are the property of their respective owners)
Roshan Jerad Perera