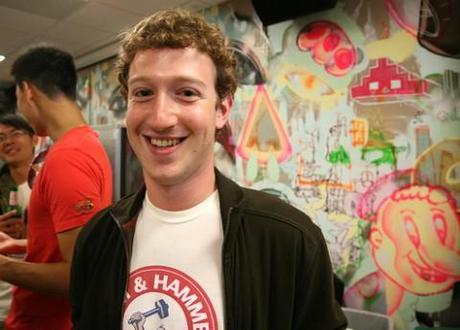 Facebook founder Mark Zuckerberg. Photo Credit: Scott Beale
The background
Social networking site Facebook is expected to be valued at up to $95.5 billion when it hits the Wall Street stock exchange this month, reported The Financial Times. It has valued its shares on a wide price range, at $86 billion in the midpoint, which is well below the $100 billion that was expected. Founder Mark Zuckerberg's personal stake will be worth $17.6 billion, which is even bigger than that of Google's founders. He'll get over $1 billion from shares sold in the IPO. Shares will be sold at $28 – $35.
Facebook's revenue growth has slown down, which means that investors are more wary. Even if it's valued at the lower end of its range, $77 billion, it will still be in line with the valuation of its board when it bought Instagram. The flotation will still be the largest ever by an internet company, said The Telegraph. Facebook currently has 900 million users. Commentators say that the firm has struggled to show that it has growth opportunites, and has yet to make the most of emerging markets and mobile technologies.
"Facebook founder and chief executive Mark Zuckerberg will remain in control of the company even after the IPO, controlling more than 57.3% of the voting power through shares he holds and through voting agreements with other stockholders," said the BBC.
 What does the valuation mean?
The large price range shows that Facebook is trying not to price too high – which would "dilute some of the demand," said Jed Williams, analyst at BIA/Kelsey, quoted on The Financial Times; but if the shares were underpriced, "you dilute some of the buzz."
Pressure on Zuckerberg
Zuckerberg and his COO, Sheryl Sandberg, will face new pressures from shareholders and investors, who won't get "swepty up by the hype," said Richard Blackden in The Telegraph. Though Facebook's profits have tripled, to $1 billion over the last three years, there are still "doubts" over its ability to get more advertising from its pages "without alienating" its users. The company is allaying fears over long-term growth by investing in mobile technology.
Completely overvalued; fears about privacy
Marketwatch quoted IDC analyst Karste Weide, who said that whilst people would go for the shares "like crazy", the valuation was "nuts."  Weide also highlighted fears about privacy, suggesting that after the IPO, Facebook would become more agressive in collecting data about its users.
There are growth avenues
Seeking Alpha pointed out that Facebook's quarterly revenue growth ins on a downward trend. Spending has doubled over the last year, and the site still hasn't worked out how to make money from Brazil, India and the Philippines; nor from mobile or e-commerce. It's being sued by Yahoo; and it's about to pay $55 millino for a load of patents from Microsoft. Zynga is becoming "less reliant' on Facebook. The site has a "very high level of engagement." But bear in mind that it only makes about $5 a year from its users. It does have many "growth avenues" – whether they're sustainable is another question.
Facebook sets IPO at $28 to $35 per share. With each share, the investor gets 5 acres of land in Farmville and a box of ammo in Mafia Wars.

— Not Bill Walton (@NotBillWalton) May 3, 2012