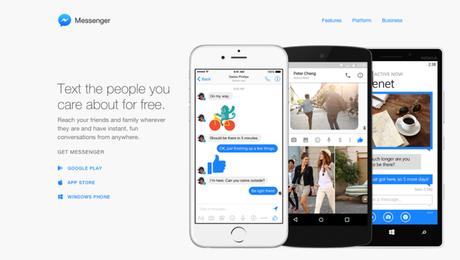 The social network unveiled a Web version of Facebook Messenger on Wednesday, a way to chat from a browser tab on a desktop computer as you would using the Messenger app. The product is accessible at Messenger.com and resides outside of Facebook, where users can already chat with their Facebook friends from a Web browser. (It still requires a Facebook account, of course.)
You can still send messages from Facebook.com as always, but Messenger.com could become a favorite of busy users concerned with productivity, or those that use Facebook to chat with friends but don't like the social content chaos of its main site.
The company tells  "dedicated desktop messaging experience" is "meant to be complimentary to the Messenger mobile app".
The Messenger site features a list of your threads on the left, with a big, clean, white chat window on the right. You can use most of the mobile app's features from here, including audio and video calls, stickers, and photos.
For now it lacks the ability to record and send audio messages, instantly send a photo from your web cam.
One nifty feature is the ability to turn on desktop notifications so you get a little pop-up overlayed on your computer screen when you get a message that lets you jump to your Messenger.com tab.
Now you can Facebook without Facebooking! Follow us on Facebook