Back in 2010, I wrote an article about how we are at the mercy of free social network like Facebook and Twitter. I recommended that we all have a contingency plan in case they went down, to not give up on more stable marketing tools that are still working well for us, and that we support niche networks that help us reach our audiences and are hungry for our business.
Well, here we are two years later, still at the mercy of free social networks. Only they are all finding ways to add fees to what they offer which perfect sense – this is how they will stay in business and be able to keep offering us the free stuff. But what rubs me the wrong way is how some of them (Facebook) are manipulating the way their service works in order to convince (coerce) you into paying to promote your content just so it will be seen.
We've all been hearing about the changes in the EdgeRank algorithm – how Facebook gives specific types of posts with specific types of interactions an edge over other posts in people's news feeds. Well, lo and behold, many of us are seeing precipitous drops in visibility for our posts, especially those of us not using the ever-changing best practices of engaging content publishing and interactions on one's Facebook Wall.
To see how much of an impact Facebook's Promoted Posts would have on my own Facebook Page, I ran a quick experiment. I put up this graphic: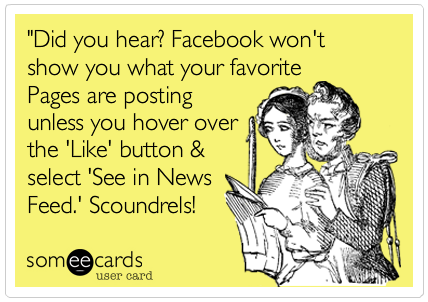 Without promotion, it received a handful of shares and under 100 people saw it.
Day 1: So I paid $5 to promote it. In the first day, it received 93 shares and 109 people saw it.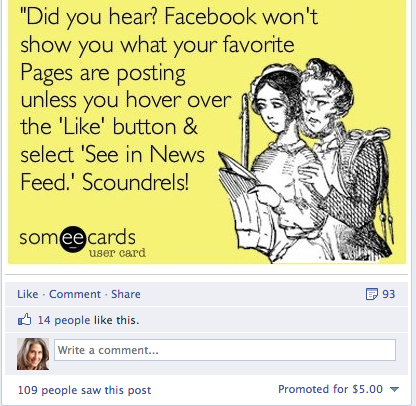 Day 2: Up to 112 shares and 851 people saw it.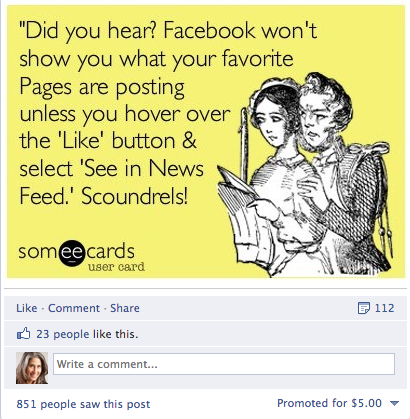 Later Day 2:  Up to 129 shares and 1,986 people saw it.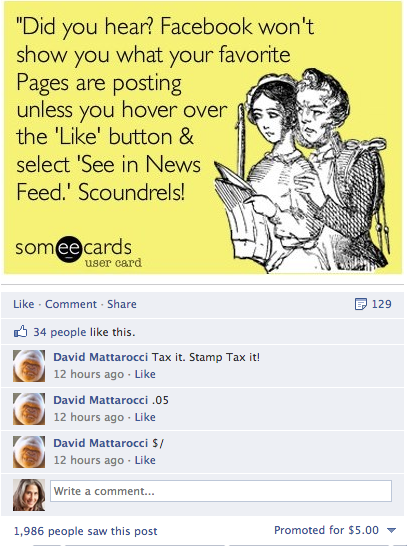 Day 3: We end the 3-day promotion cycle with 137 shares and 3,157 people seeing this post.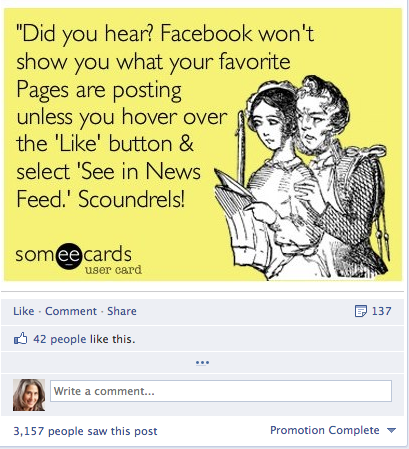 So What Does This Mean?
Not much without a strategy behind a promoted post. Since I did it on a whim, I didn't have a plan, no real call to action, no link to drive traffic anywhere. The lack of strategy meant the potential wasted investment (okay, it was only $5).
It does look like I have a popular post – but this attention didn't not translate into an increase in activity on any other post.
I barely saw a blip in new likes so it wasn't a fan-base builder.
There weren't any more comments on this post than other posts. In fact, many other posts on my page received more comments than this promoted post.
So people are seeing it and they are sharing it and people are liking it, but when all is said and done, it so far seems like a superficial win for a single post and not helpful in any deep way to my overall Facebook Page interactions or following.
Was it worth the $5 for the appearance of popularity? Not really. I'll try another experiment soon where I use a call to action and will let you know what happens.
What has been your experience with Facebook Promoted Posts – and the lack thereof?