If you haven't been out camping for the past few days you'll be very much aware of the recent Facebook UI changes that the company has been rolling out. The new ticker that has ticked a lot of people is one of the additions you might have noticed. However, this is merely scratching the surface; in the next few weeks the company will be rolling out significant changes to the interface. The profile page update: 'Timeline' as it's being touted by the company seems to be one of the biggest changes that will change the way Facebook looks and feels.
As a developer I got an opportunity to test drive this new UI. What Timeline does is that it tries to fill your entire profile page with everything significant that has ever happened in your life — right from the moment you were born, to your high school graduation and even the moment you proposed your girl. It goes on even further, all important relations in your life are listed — your sister's birth, your parents anniversary right to the moment you became a dad (I'm assuming as this event hasn't occurred in my life yet). The timeline is a vertical line that is punctuated with months and broken into years. As you scroll down — equivalent to going back in time — status updates, photos, pages you've liked and videos you've been tagged in appear adjacent to the timeline. Personally I quite like the presentation and this might comfort quite a few people who've been overwhelmed by the cluttered UI Facebook currently offers. I tried digging down into the timeline and could easily pin point events that happened two years ago by narrowing down to the exact month. These updates are for now part of the developer preview program and certain features may be modified or removed when Facebook finally stars rolling out the updates for the public.
Timeline View
As soon as you switch to your profile, you're greeted with the timeline view. There is a new feature called 'cover' that allows you to showcase an image (849×311 pixels) of your choice. This serves as a backdrop to your profile picture. There is a new widget that allows you to update your status, share a photo and pin a place. Your recent activity and updates appear below. On the right is a new timeline meter which allows you to switch to an older timeline from 'Now' and even go back to events such as 'Born'.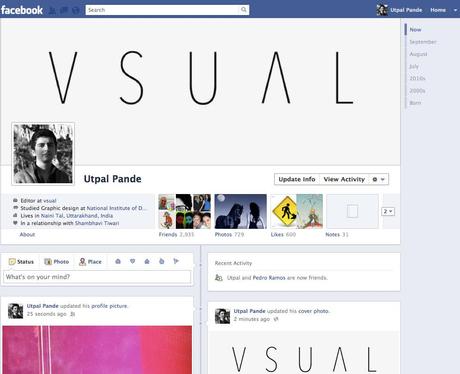 Milestones and Experiences
Facebook has added a new section that allows you to mark important milestones and experiences in your life. These then appear in your timeline and can be visible to your family, friends or the public depending on your privacy settings. You can mark personal events such as engagement, marriage, parenthood, getting a pet, losing a loved one to buying a home, adding a roommate or getting a new bike and also unlucky events such as breaking a bone. What this means is that Facebook will have more information about the users to a level previously unimaginable.