Facebook today announced that they've hit the one billion active users mark. In a post on Facebook Mark Zuckerberg announced the milestone, thanking you for allowing him and his "little team" to serve you. Which is nice.
Here's a screenshot of his post in full: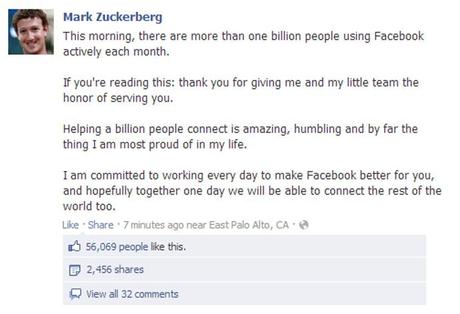 It's a remarkable milestone to hit though and underlines Facebook's phenomenal growth. It is also timely. With the Facebook share price showing signs of recovery the 1 billion mark is another reminder to investors of the potential the company has. It is still up to Zuckerberg to realize that potential into profit, of course.
What is an 'active user'?
This is a fair question. Many companies publish user numbers that don't tell the whole story. Facebook defines an active user as anyone who visits its service on the web or mobile, or who uses their account to share something with his or her Facebook friends via a third-party Web site integrated with Facebook. This amounts to anyone who uses their Facebook log in. While this doesn't exclude duplicate or fake accounts it is a far better number to use than pure registrations – imagine the amount of people who have signed up and ten never once logged in again – it will be well over a billion.
Facebook definitely sees one billion accounts logged into per month now. That's telling and impressive. The Next Web produced this graph to show Facebook's active user growth over time: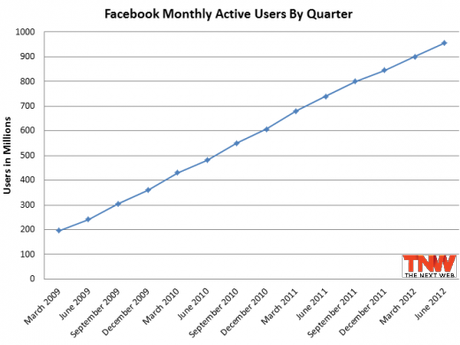 More Stats
These aren't the only important numbers though. You can expect Facebook to talk up engagement numbers – in July 2011 they revealed that 4 billion pieces of information were shared each day. In addition, time spent on site, mobile specific numbers and other metrics will be highlighted by the company on a quarterly basis, especially now the company is public.
You can take a cynical view on these numbers but there is no denying tat the company is going from strength to strength on the user front. Now if only that pesky share price would follow suit…