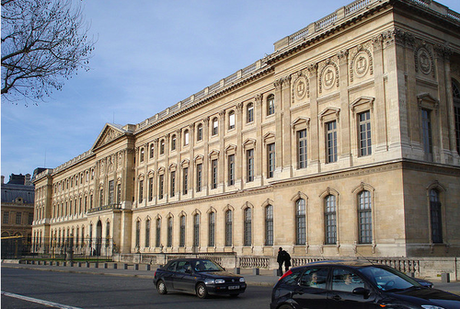 The south façade of the Louvre
Lately the royal palace of the Louvre itself has been overtaken by the wave of huge ads that are starting to mar some of Paris's most beautiful buildings, starting with the Dior ad on the Conciergerie in the heart of the Île de la Cité: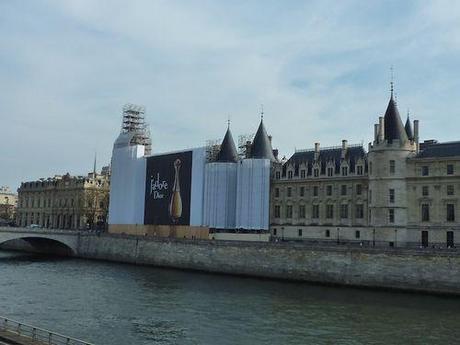 Photo by Didier Rykner
That ad turned out to be spectacularly misgotten: appeared before the Palais de Justice just as Dior head designer John Galliano (they had quickly fired him once he got in trouble) appeared there on trial for "inciting racial hatred."
These huge billboards were so awful I thought it had to be something temporary, disfiguring the buildings but for a brief moment, as for some special event, the Olympics for instance, or the Year 2000. But no. They are spreading their tentacles across Paris more and more. The Louvre, the Musée d'Orsay, the Opéra, the Conciergerie, the Grand Palais.... Four years ago, a new dispensation allows the financial managers of these places to sell the space on their scaffolding to pay for the work. They are spoiling one of the main reasons people come to Paris-- the magnificent vistas. Imagine taking your dream honeymoon trip to Paris and in the background of the most beautiful photo is a huge iPad or Samsung billboard. As the French  architecture blog Future Archeology writes: "In the heart of historic Paris, the Seine is becoming the royal road of ads. From the quays, the bridges and the tour boats, it's impossible not to see these huge scaffold billboards that disfigure the city."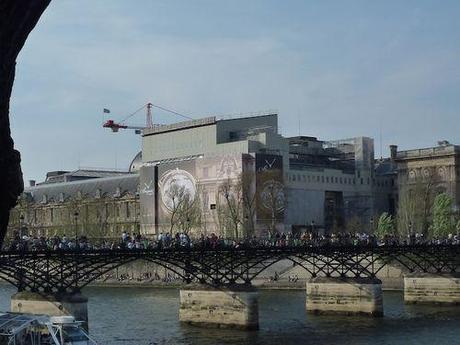 Photo by Didier Rykner