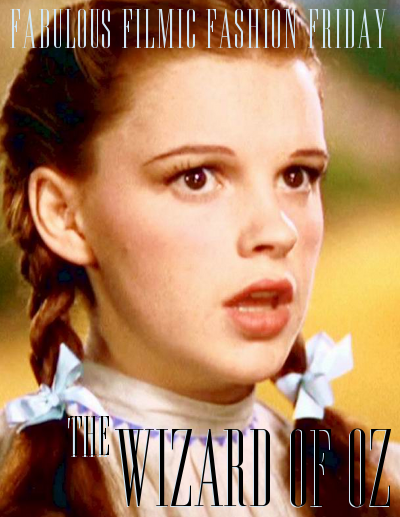 My first impression of the inevitable 1939 classic The Wizard of Oz was: the 30s on ecstasy. Having seen the whole film now, I think I'll stick to that initial thought - and show you just one aspect that makes me feel this way: the costumes.
Designed by a man that goes by the name of Adrian, the world of the children's book comes alive through the evil witch's green skin (which, by the way, caught fire during the making), the good witch's Elizabeth the 1st inspired robes and of course Dorothy's childish and cute dress along with the adorable ruby slippers.The Wizard of Oz is a fiest - if not for fashion lovers, then at least for costume lovers.But not only was the costume design very inventive and visionary, it was also surprisingly convincing - never before have I seen a man in a lion costume look as much like a lion, and the same goes for the Scarecrow and the Tin Man. Today we have CGI - back then, all they had was needle and thread.
Therefore, let's honor the craftmanship of Adrian and his helpers today!
GLINDA, THE GOOD WITCH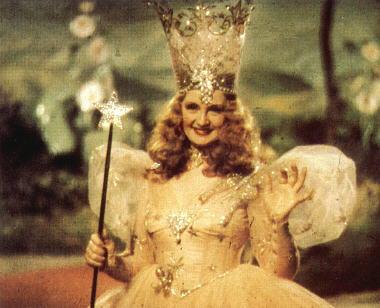 Glinda is just something else. She is so fairy-pink-glittery that it's hard not to laugh at her. I'd go as far as saying that all those princess/ fairy costumes girls wear at halloween and other events, are almost exact copies of Glinda's costume. The crown, curled blonde hair, star wand, puffy dress and shoulders - everything is here! 
THE WICKED WITCH OF THE WEST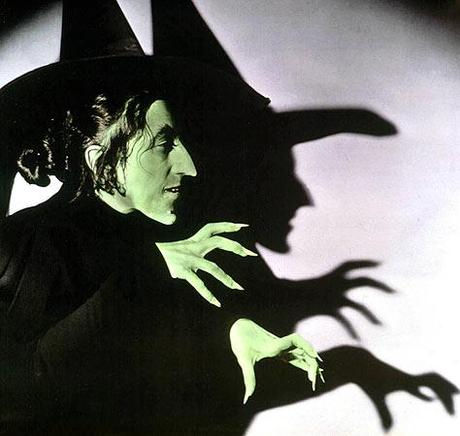 First of all, I find it amazing that Margaret Hamilton survived the skin-burning-incident. And that she didn't quit after that. After all, her green skin is iconic and it does look very real on screen, as do her chin, nose and fingers. Much like Glinda, The Wicked Witch has become the archetype of the witch for costume parties. I was truly amazed by how much she resembled my picture of a witch.
THE GATE KEEPER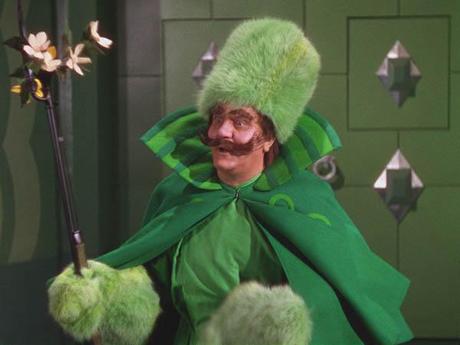 I didn't personally find The Wizard's costume that interesting, which is why I chose another role played by the same actor - the gate keeper. Isn't he just dashing in this Russia-meets-Ireland-meets-South-Indian-mustache costume?
THE MUNCHKINS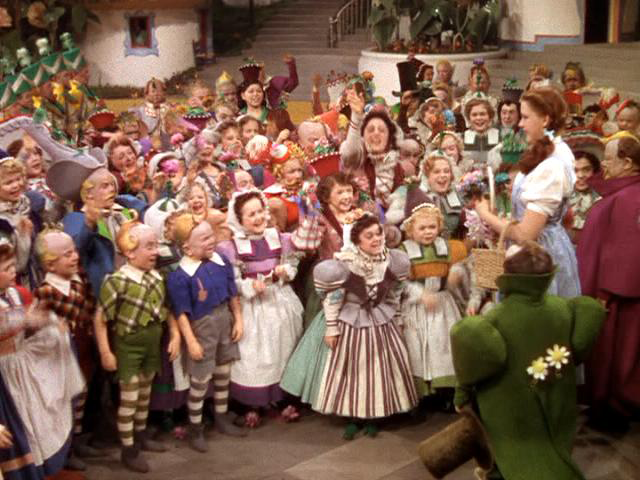 The moment I first saw The Munchkins, was when I had the ecstasy thought. How much effort it must have taken to design all these costumes!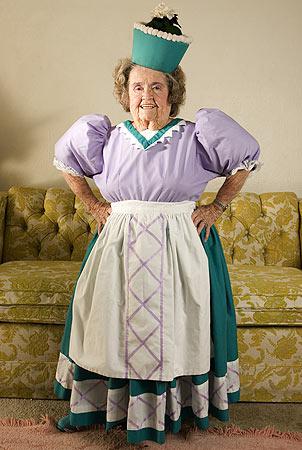 And here's one of the Munchkins who's still alive, earning well at... well, being a Munchkin I guess.
THE SCARECROW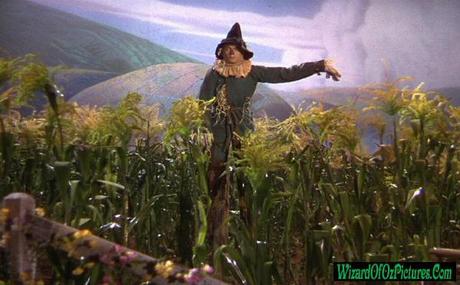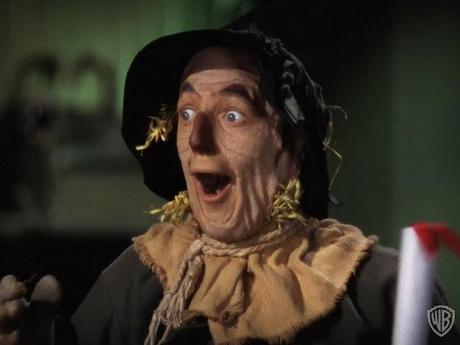 I was instantly amazed by the makeup of the Scarecrow. It's... it simply looks like a scarecrow, there's no other way to say it. I searched in each scene, but believe me, there was not one fault, not one tiny fault. And of course Ray Dolger was the one that brought the character alive with his extremely realistic (strange word to use in this context) portrayal.
THE TIN MAN and THE COWARDLY LION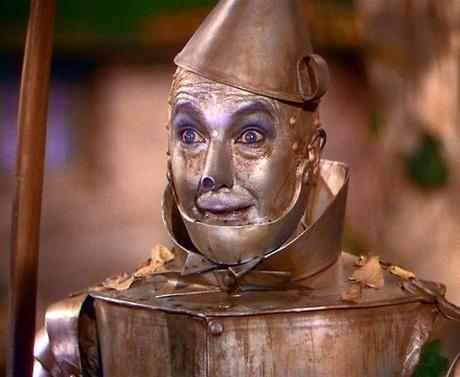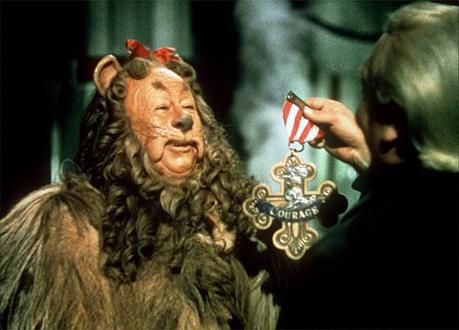 Both the Tin Man and the Cowardly Lion are as fantastically designed characters as the Scarecrow, and their costumes are equally ingenious. What fascinates me in particular are the noses.
DOROTHY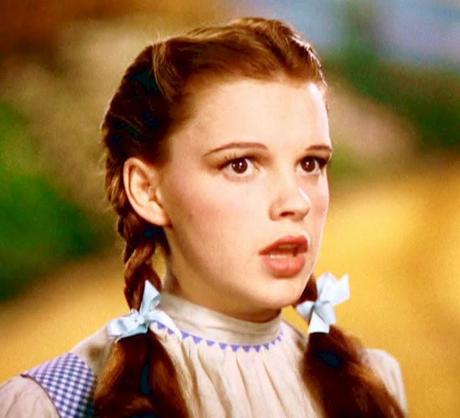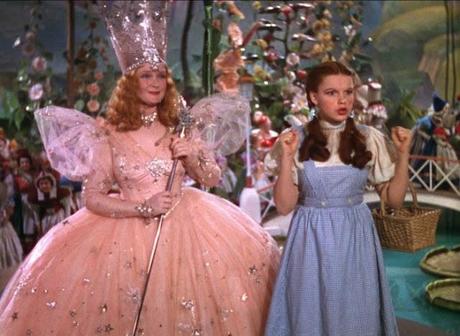 I am utterly impressed by Judy Garland. Was there ever before, or ever after, a teenage actress so talented? Along with the übercute dress, hair and shoes, she is childhood in perfection. Those innocent eyes, voice and behavior melts everyone's heart, no matter how cheesy it might seem. Well, I know who I'm going to be at the next costume party.
THE RUBY SLIPPERS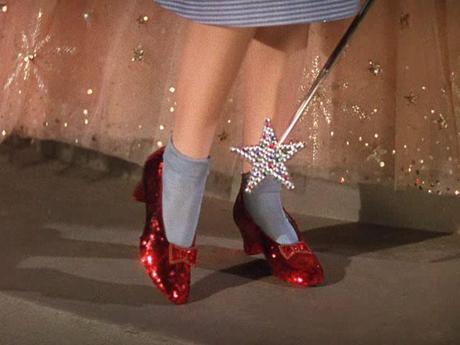 ... deserve a spot of their own. These shoes.I would do a lot to get my hands of these shoes.
NOW I HOPE THAT YOU'LL SAY...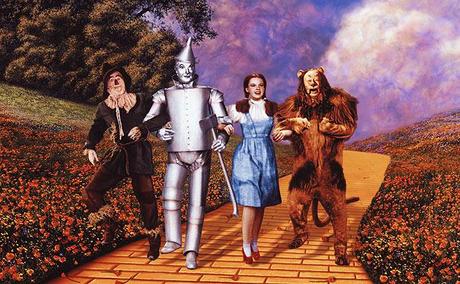 ... "We're off to see the wizard, The Wonderful Wizard of Oz"!!!