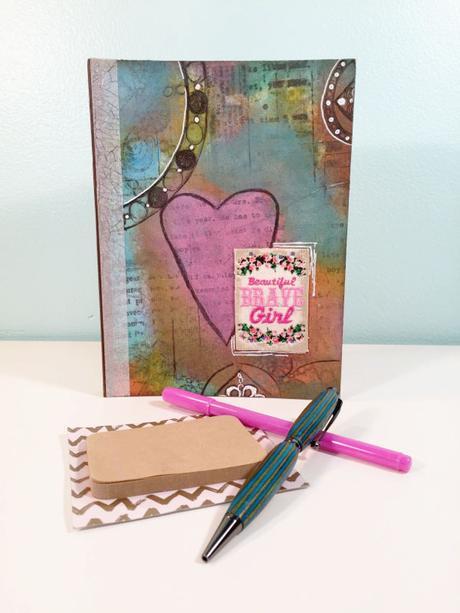 I am loving Rebekah Meier's Fabric Elements and I'm excited to share another project with you today.  I'm also excited to start a new Art Journal that I'm going to actually write in and express some personal goals, struggles, dreams, frustrations and more.  I don't usually write much in my art journaling as I use it more for creative play, but I have found myself writing more in my planner and finally having a desire to write more.  Who knows where this may lead me.  My muse speaks, I listen and follow.  This journal is even more special because it is a journal designed by my dear friend, Yvonne Blair.   (oh, and check out my special wood carved pen from Keith Dixon – his wife owns Dorothy's Stamps N Scraps in North Carolina – awesome store)
You can create your own Fused Journal Cover too since Fabric Elements can now be found at your local Joann's Fabric Store and Michaels.  Here is how.
Supplies needed:
Fabric Elements Tissue Paper
Fabric paints or Fluid Acrylic paints mixed with Fabric Medium
Scissors
Doodle pens
Directions:
 Remove shiny side of EZ-Steam® II.   Adhere to selected Fabric Elements Tissue paper by pressing firmly or roll with brayer.
Trim excess tissue paper away from Fusible Web.
Paint as desired and allow to dry.   Do NOT heat dry as you do not want to fuse the web yet. Feel free to add more stamped images or doodles at this point.
Remove matte backing from Fusible Web and adhere to journal cover.
Trim excess fused tissue from journal edges.
Press with iron using Cotton setting for 10-15 seconds.  Use steam or a damp press cloth.
Finish adding embellishments.
Here are some photos of my process.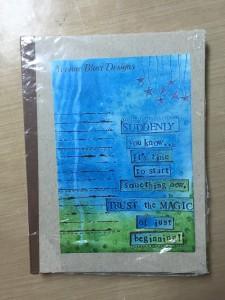 Yvonne Blair's Art Journal.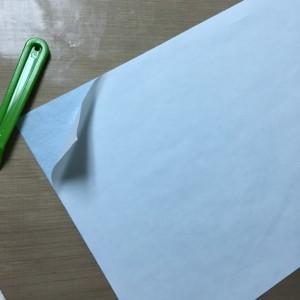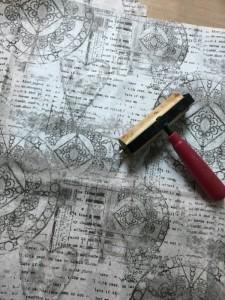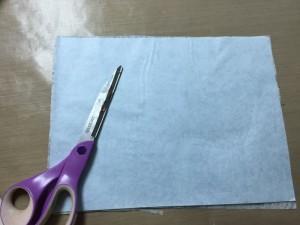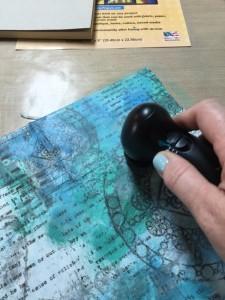 I used my Art-C Groove Tool to apply the Deco Art Fluid Paint mixed with Fabric Medium to the tissue paper.  I chose to do this rather than use a brush because of how great I could blend the colors right together on the tissue paper without any brush strokes.  I'm loving this little Groove Tool.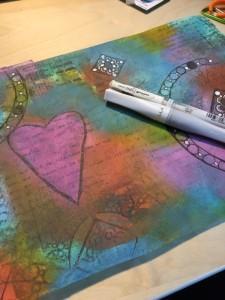 Added some extra detail with my Wink of Stella Brush in black and my white Signo pen.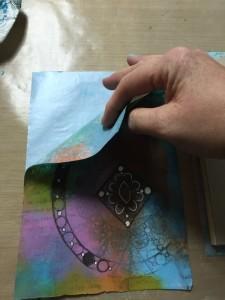 I cut the painted tissue paper in half to create a front and back cover.  I then removed the paper backing and adhered to front and back of journal cover.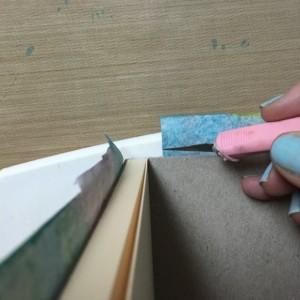 Trim excess from journal edges.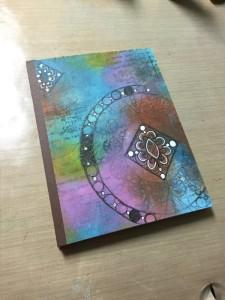 Here is a picture of the back before I added extra embellishments.  I tried to keep the embellishments flat so it was mostly extra doodles and some Little B washi tape on edge near spine.
Now I need to go journal some ideas.  I'd love to hear what you think so leave me a comment if you would try this.