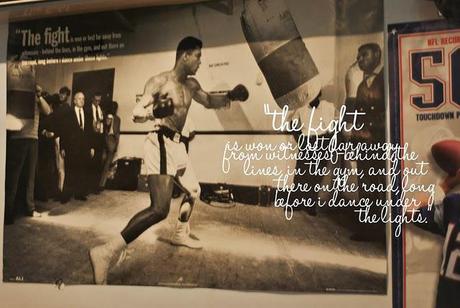 Lately, I've been growing tired of  flame-broiled burgers, Kentucky fried chick and fresh subs, and so wandered into this bar last week during my lunch break. They served a pretty basic menu (great, nonetheless); food you would find in your average Bahamian bar.
I'll have to remember to photograph some of their food whenever I make it back there. Maybe give you foodies out there some ideas. ;)
But, anyway, as I waited for my cracked conch dinner, I noticed his poster on one of the walls in the bar. It was pretty dark in there for the most part, but what seemed like the brightest light shone over this photo of Muhammad Ali.
A great find.
The fight is won or lost far from witnesses -behind the lines, in the gym, and out on the road, long before i dance under the lights.