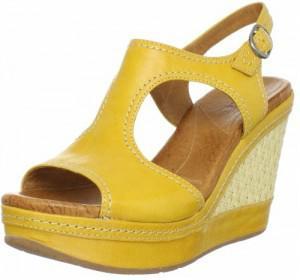 One of the many perks to my job, in addition to the satisfaction found in helping women discover their style, being able to write and share information on wardrobe management, shopping and dressing your body along with doing work that excites me everyday is that I often get free stuff.  I'm not going to lie, it's fun when a company reaches out to me asking me to test-drive, sample or take a look at something they're excited about.
Therefore, when Naya shoes sent me an email asking if I'd like to check out a pair of their shoes I jumped at the opportunity.  I mean, who says no to a free pair of shoes?  I was able to choose any style and color I wanted.  It may surprise you that I chose Naya's Eternal Wedge in  yellow.  A yellow pair of sandals hardly seems like the most versatile style to pick, however, being the "style smarty" that I am, I knew otherwise, and once I placed my order I started dreaming up all the outfits where this style would work perfectly.
I was optimistic that the shoes would deliver on their promise of a smooth lining, cushioning insole with padded comfort system with arch support.  Let's face it, wedges in general look like they'd be the most comfortable shoe to wear but often fail once you put them on.  Yet, the second I strapped my feet into these shoes yesterday I was in LOVE…love, love, love.  And this why I wanted to share them with you as a total Fab Find.  I'm not sure how they do it but, even though it is a wedge, somehow the shoe has arch support and this comfy heel shape that seems to comfort the foot.  After a long day of walking in another pair of shoes, when I put this pair on my aching feet to try out I was surprised by the level of comfort I experienced.
What I also love about Naya shoes is that they are environmentally conscious and made of:
Vegetable-tanned leathers and linings
Natural or recycled content fabrics
Water-based cements
Footbeds containing natural cork
Outsoles containing natural materials
Boxes made with 80% recycled paper pulp, soy-based inks and water-based glue
Reusable shoe bags and shoe forms made with recycled PET
Now let's talk about this yellow wedge specifically because it's a great opportunity to show just how versatile a yellow sandal can be.  Yellow, like green, is that colored neutral that easily complements any other color you wear with it.  Check out the looks I created using my new pair of shoes below.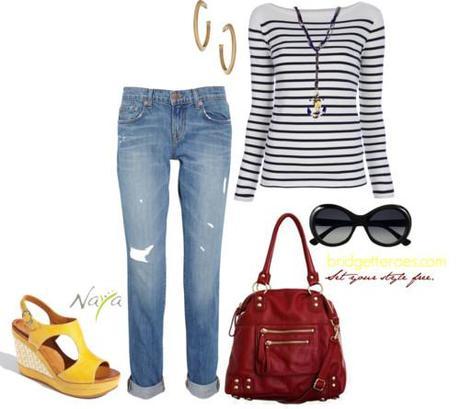 Bridgette Raes styling Naya Shoes #1 by
bridgetteraes
featuring yellow gold earrings
I love a nautical look in the summer and love the way the yellow Eternal Wedge made a very classic look a bit more updated and unexpected.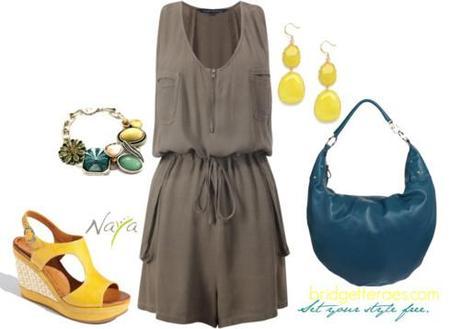 Bridgette Raes Styling Naya Shoes #2 by
bridgetteraes
featuring jumpsuits and rompers
To me, gray and yellow go together like peas and carrots and it's a pop of color that can often make a somber gray shade look summery.  In addition, teal and yellow together is just so gorgeous.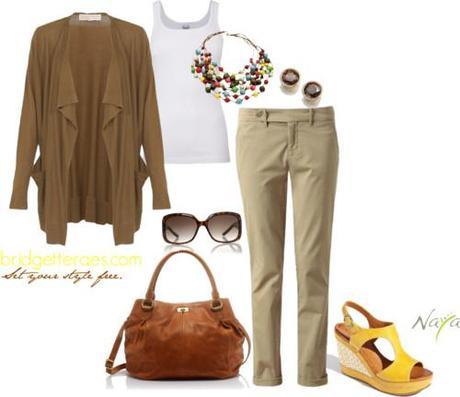 Bridgette Raes Styling Naya Shoes #3 by bridgetteraes featuring knot jewelry
Being a fan of rich neutrals in the summer, like khakis and tobacco shades, I love to use this palette as a base on which to pop some color.  Taking the yellow Eternal Wedge along with a colorful necklace, I made this more classic look a bit more eye catching.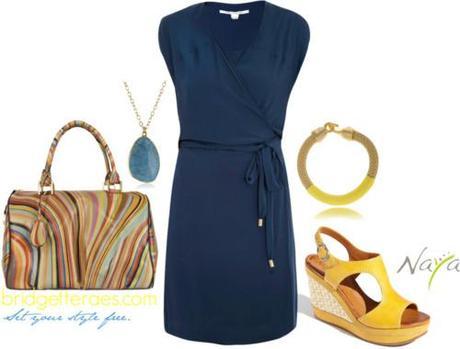 Bridgette Raes Styling Naya Shoes #4 by bridgetteraes featuring long necklaces
Navy and yellow is one of my favorite color combinations, especially in the summer.  In fact, a navy matter jersey dress I have in my own closet for summer inspired this look.  With some simple accessories and a bag that pulls it all together, this basic dress just got a lot more interesting.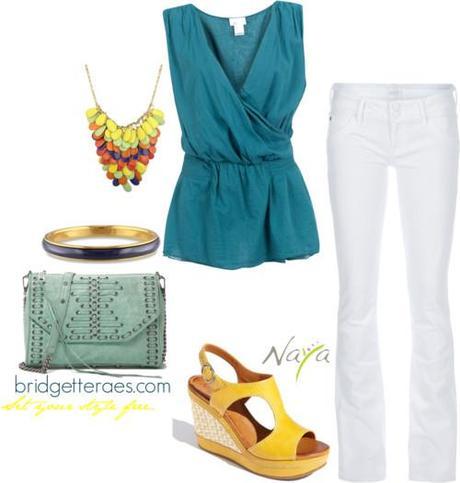 Bridgette Raes Styling Naya Shoes #5 by bridgetteraes featuring yellow jewelry
As I said earlier, I love yellow and teal together.  By pulling this turquoise summer top and then finding a colorful bib necklace, I was able to pull some other color components into the look to create cohesiveness and interest without being totally matchy-matchy.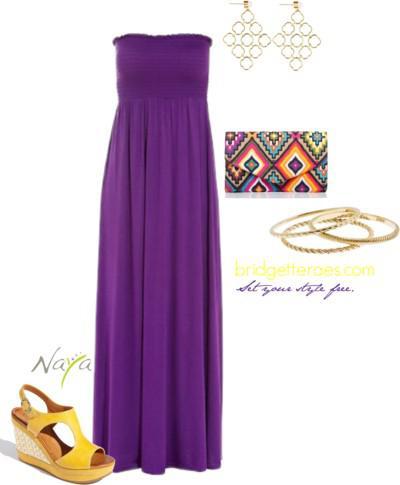 Bridgette Raes Styling Naya Shoes #6 by bridgetteraes featuring high heel sandals
I love a punch of yellow with purple and a maxi dress is a great style to wear with these shoes.  Simple and elegant, by just adding a novelty clutch and some great jewelry, this is a great summer look for either day or night.
Naya shoes are available at Nordstrom and many other retailers.  To learn more about Naya shoes check out their website.