Hi readers,
My FAB BAG for the month of July 2015 arrived over the weekend and  I was super excited as I knew from the promotions FAB BAG was doing that this would be a Red Carpet one. So what does come to my mind when I hear Red Carpet- glamorous outfit, make up and of course the brightest red lipstick. So from what I saw online I had a fair idea of what to expect and the bag already had attracted me :D and is convincing enough for one to place an order for the same. Let us see the contents of this month's FAB BAG shall we ?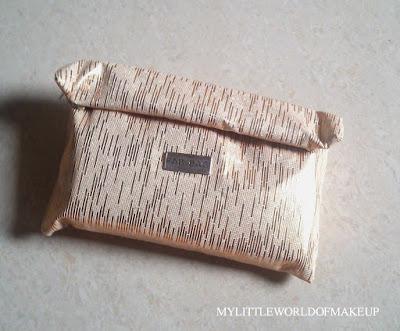 FAB BAG is a subscription service which can be opted for a single month, 3 months, half year or for the entire year. The longer the duration of your subscription the more discount you get☺I also like the fact that they keep in mind your likes and dislikes while sending you the product for which you need to answer a set of questions for them to send you the products.


Their prices of the subscription services are as follows:Monthly - Rs. 599/-3 months -  Rs. 499/- a month6 months - Rs. 449/- per monthThe Whole year -  Rs. 399/- per month.Price of this bag is Rs.599/- You can buy it here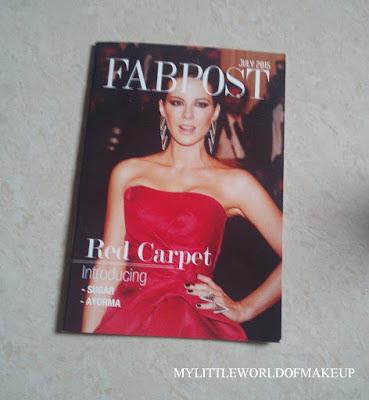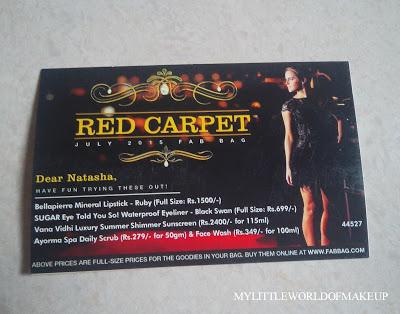 All the products came inside the golden clutch type of pouch which has 2 buttons to lock in it in the front part. The products came safe and sound without any damage to any of the products inside the bag. I am always happy when that happens :) The make up pouch is definitely reusable and I like that we get something new every month. It has a FAB POST with details about some of the brands and products they usually send out every month and it also comes with a card that mentions the name of the products and their prices which they send in the bag.
Let us see what products I got this time. They are:
1. Bellapierre Mineral Lipstick in RUBY - Full size (Rs. 1500/- )
Red lipstick and me you know my love for it is eternal. So once more to my collection I could not be happier. I absolutely loved this blue based red shade on me and I am so looking forward to wearing it.I have not heard about this brand before but is definitely a very popular brand. A lipstick always makes me happy needless to say more.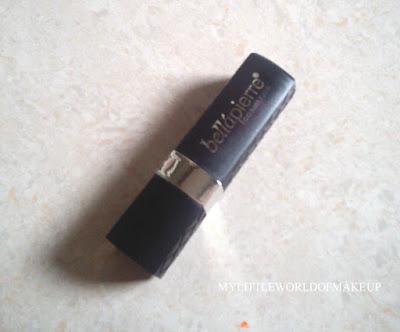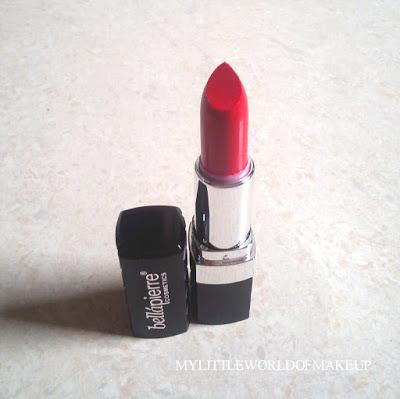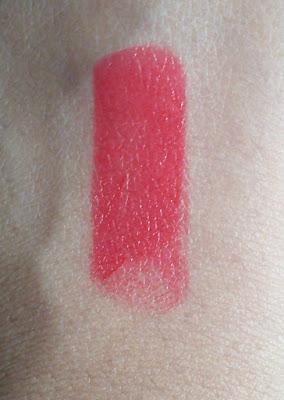 2. SUGAR Eye Told You So! Waterproof Eyeliner - Black Swan ( Full Size: Rs.699/-)The name is interesting and so is the product. I was expecting the kajal but I am  happy with this one as well. The wand is amazing and gives you a lovely precise line and best of all it is waterproof. I am really looking forward to using it often now.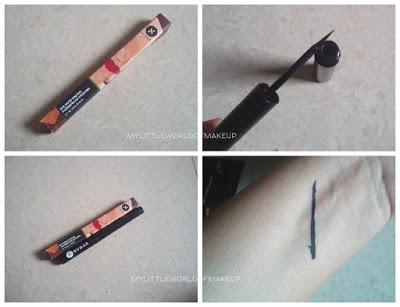 3. Vana Vidhi Luxury Summer Shimmer Sunscreen (Rs. 2400/- for 115ml)I got a 60 ml size which is quite decent and can be priced around INR 1300 going by the full sized price. This sunscreen is interesting as it imparts a lovely glow and can be used where light reflects like shoulders, collarbone, cleavage and of course the legs. This size is perfect to carry while traveling.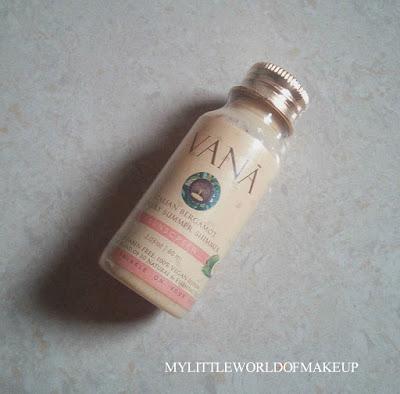 4. Ayorma Spa Daily Scrub (Rs.279/- for 50g) & Face Wash (Rs. 349/- for 100ml)
Now I have talked about so many brands on my blog but I never knew about this one and in fact they seemed to be based in Mumbai. I got two tiny sample sized products  one is a scrub which says it is a fairnes face scrub and  fairness and anti tan face wash. They do smell nice as well and sound good. Would give it a go soon.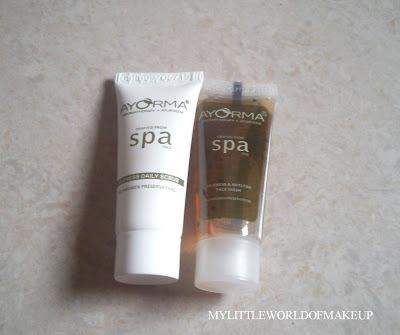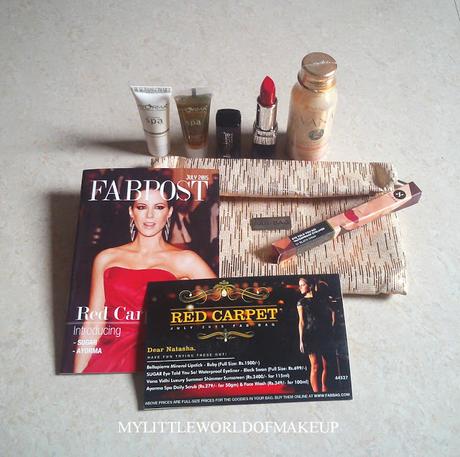 If I have to do the math the lipstick and the eye liner itself costs INR 2200 as they are full sized. Hence for Rs. 599/-  this bag is totally worth it especially if you are a make up lover like me. Because I have too many skin care products I love when I get some make up. 
This month FAB BAG was kind enough to offer my readers/ subscribers a special discount - you can get 10% off on any July Fab Bag Subscription when they use the code 'MAKEUP10' at checkout and it is  valid till July 31st 2015 so what are you waiting for go subscribe to one right away!!!!
I hope this post was informative and helpful to all of you. Do leave your precious comments below I love reading them and also if you have tried any of the items mentioned in the post do let me know.
Until next time... Have a FAB DAY!