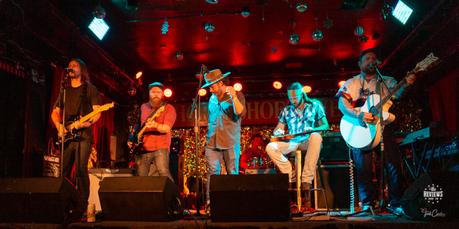 On Tuesday night, F. Scott and The Nighthawks brought their sweet and dirty rock show to The Horseshoe Tavern.
It can be a tough ask getting people out on a Tuesday night, but there were plenty of butts in the seats, and there were even some up on the dance floor for the early 9:00 PM set. We told you about F. Scott and The Nighthawks during CMW 2019, and this week, we finally got a chance to check out their live show.
It was worth the wait.
click on photos for larger view
"Northern boys steeped in Southwestern sounds out there bustin' their humps to make sure you're havin' a gas at every show." - F. Scott Taylor
Let me just say, with a band this size there's not a lot of extra room the stage at the Horseshoe. They were pretty cosy up there. Cosy but comfortable.
It was hot and a little bit sweaty. There were fans in the house, singing along, and my only complaint was that it was over too quickly.
We've got it on good authority that there more dates coming up, so keep an eye on their Facebook page for updates.
This slideshow requires JavaScript.
F. Scott and The Nighthawks July 9th Horseshoe Tavern Set List
🦅RUMBLE
🦅STRAIGHT TO HEAVEN
🦅OLD 97'S
🦅THOSE DAYS
🦅DRUNKEN PROPHET
🦅EVERYTHING IN
🦅RUNNIN HOT
🦅HONEY BEE