We made it through Monday...yay! This week is already better than last week, thanks to my schedule making skills ;) If you didn't link up for Smell the Roses yesterday, you still have time...there are a lot of great blogs that have linked up already!
Moving on! For today's
Product Spotlight
I decided to do something a little different. Nothing crazy, I'm just spotlighting a service rather than a product.  Have you heard of eyebrow threading? It's pretty big right now, and at first I was super sketched out by it. But let me just tell you, it has changed my life. (Okay, no it hasn't...but it has made my eyebrows super pretty so that's gotta count for something, right?)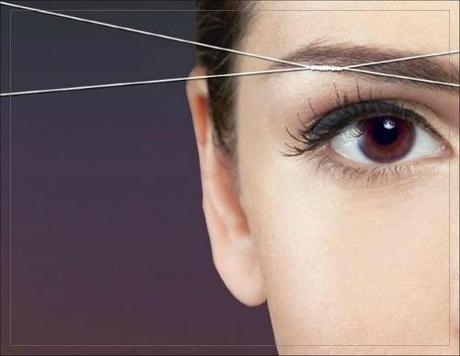 via
I never really paid much attention to getting my eyebrows done until a few years ago. I didn't realize how BIG of a difference it made on my face! So I went ahead and got them waxed every time I got my hair done. Then one day my best friend and I were at the mall, and she said she needed to stop and get her eyebrows threaded...say what?  I watched her get hers done, and the first thing that came to my mind was, "Are they flossing her eyebrows?!" Thankfully I didn't say that out loud.
I wasn't about to let some little lady come near my eye with a sharp string. No way, no how. Especially after hearing that it was kinda painful. But after I saw Britt's eyebrows, I was sold. They looked incredible - like someone photoshopped them on her face! Seriously. So I sat down, took a deep breath, and braced myself for pain in order to get beautiful eyebrows. And so it began. I waited & waited for the pain, and yes, it was a bit uncomfortable, but no where near unbearable. And it only took about 3 minutes! 
I paid $10 (plus a $2 tip) and they looked SO much better than when I had them waxed in the past. They were so much more defined. And get this - they lasted longer than when I had them waxed, too! When I was getting my eyebrows waxed, I had to get them done every 4 weeks, but with threading, I only have to get them done about every 6 or 7 weeks. I have to touch them up with tweezers a few times before I go back in, but it's totally worth it. 
I highly suggest giving eyebrow threading a try! In honor of this post, I'm going to get mine done after class today. I'll be thinking about all of you ;) Have you ever tried eyebrow threading? What do you think about it?