As an attempt to curb an over-indulgent and expensive habit I live by one simple rule; I am only allowed to buy sunglasses every OTHER year!
And as it appears, THIS is my year, woohoo!
Usually I jump on this opportunity, but sadly, this year, I have been struggling to find that "perfect pair".
It started in Italy, where hubby was practically begging me to choose a pair. Even though the Prada sunnies I had coveted for the past 10 months were within my grasp I said no, multiple times, and walked away sans new sun glasses. (IDIOT!) I then spotted them at the duty-free in the Toronto airport and once again passed them up.
Why was I having such a hard time committing to a new pair?
I realized this past weekend my hesitation was due in part to the fact that there are waaaay too many options out there. I'm not talking color, or designer, or even price range, but just style alone can paralyze the indecisive shopper.
Which style is trendy this year? Good question, personally I believe the answer to that is cat eye!  Or maybe aviator… no it could be round, or vintage, maybe its wire…oh who the hell knows? All I know is that if you're like me and already have 1. a classic brown light frame 2. an aviator and 3. a "movie star" pair of big black framed sunnies, you are basically set for life.So now you're asking why I would want another pair if I already have those three "classics"; you do know I'm a hoarder, right? 
Just in case anyone else is experiencing the same anguish over such a big commitment, I have put together a list of potential suitors.  From an array of styles and in different price ranges, here is your summer sunnies shopping guide! 
1. Aviator: When you hear the word aviator do you not automatically think RAYBANS? That is why I refuse to wear Rayban aviators. There are so many other possibilities out there, and many in the same price range.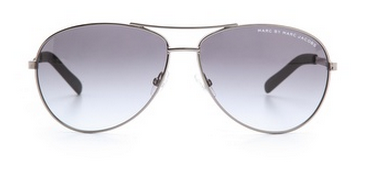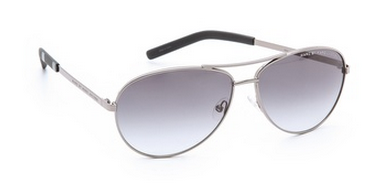 These Marc by Marc aviators are a perfect example. I like the gold version best. They are as light weight as you can possibly find. Available from Shopbop. If you're looking for an aviator that will stand out from the crowd and not just your basic wire frame pair, check out these House of Harlow "Lynn" sunnies.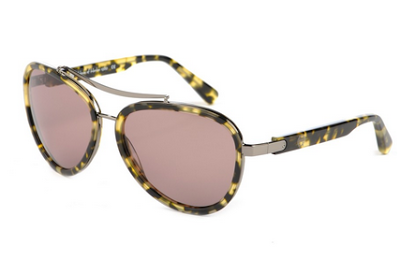 2. Cat Eye: Definitely my favorite style this year. I think these Stella McCartney's from Shopbop are gorgeous.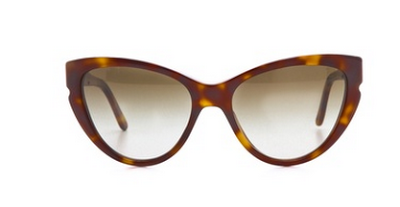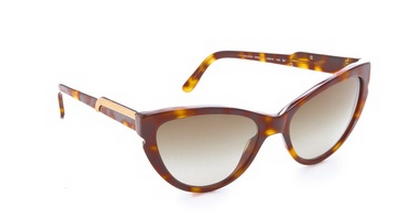 I know this shape of frame is not for everyone. But surprisingly its more flattering than you think.  It suits many different face shapes so I suggest trying on a pair, you may be pleasantly surprised. 
3. Oversized: I absolutely love oversized sunglasses for the exact same reason I suspect celebrities love them, they hide most of your face and make you feel extra glamorous. 
These Ombre Oversidzed Glasses from Anthropologie hit all those marks but are trendy enough to not be stuffy or too old fashioned.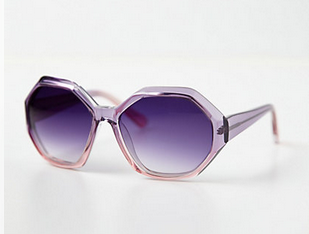 4.Statement: I have several pairs of statement sunglasses and they are all "cheap", like I'm talking under $20. The only exception is a pair I picked up with one of my best friend's back in 2008 from Topshop in the UK. We were traveling to Paris later on that week and thought a pair of trendy, Euro style glasses would be a smart accessory. That's one purchase I do not regret  I still have those glasses and I love them just as much 5 years later. That lead me to believe that I should invest in a designer pair.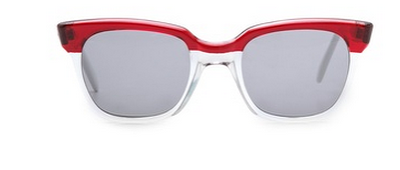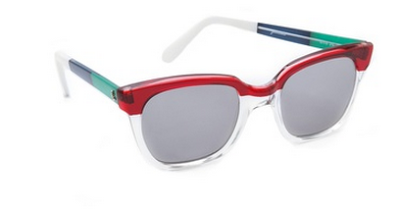 Sheriff&Cherry makes these fun statement glasses, they are fairly reasonably priced as well, so if you want to try out something "different" but still want something more practical as a backup, you wont break the bank. 
EDITORS NOTE: Haha I always wanted to write that. Anyways, at the time of posting I have FINALLY purchased a new pair of sunglasses. I also decided calling them "sunnies" is stupid. My new babies are Stella McCartney, found on super sale at the new hr2 in Vaughn Mills Mall.