I don't watch television. This isn't any kind of moral stance. It's financial. We can't afford any "triple play" plans for the little free time we have for television. My wife and I both work long hours. We like to read, so we don't have time for the tube. We buy the shows we want (it's more honest than advertisements) and movies are a one-off thing. I sometimes lose track of culture, though. Maybe I'm two-faced. I grew up watching television. Then I grew up. But I still occasionally read about television. When we stay with relatives or in a hotel sometimes we imbibe. What I've noticed the past few times we've been away from home is reality television. Programs with more and more bizarre "real" situations fascinate those who don't get out much on their own. One of the venerable ancestors of the genre is "Survivor." I've never seen it but even I know what getting "voted off the island" means.
A recent piece in the New Jersey Star-Ledger celebrates a local young man on the show, now in its thirty-third season. This youth, who fancies himself, well, a survivor, notes that his role models are Jesus Christ and Ronald Reagan. I shudder for the future of our species. This young man says he likes to "screw with people's heads and lie every chance I get." Is that Reagan or Jesus? Or is it all just a game? The piece by Amy Kuperinksy goes on to quote the boy as saying his tactic for survival is to manipulate people, getting one over on others. But then he'll use Christianity to build bonds. Machiavelli might have been a better choice of role model here, but then, who has time to read when "Survivor" is on TV?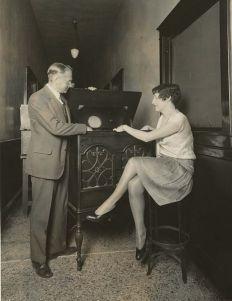 Photo credit: Smithsonian Institution
This isn't going to devolve into an old person's jeremiad about the younger generation. Nor is it a castigation of television. (As Homer Simpsons reminds us, many of us were raised by television.) Rather, this is a question posed to our future selves. Perhaps we simply can't see far enough ahead to get an idea of the consequences of our actions, but my question is what values do we wish to see in our society? Rugged individualism may have worked in the early days, but it led to genocide. Have we gotten over all that? Have we come to the point where we make stars out of those who don't even pretend to be someone else any more? Maybe I've got that wrong—lying and manipulation may well be acting after all. Reagan was among that pantheon. I'm just not sure where Jesus Christ enters the picture.