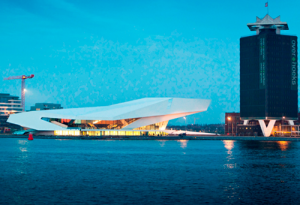 With the opening of the new EYE film museum, a decades long wish of Dutch film fans is fulfilled. "Finally, film has a museum it deserves," director Sandra den Hamer told Amsterdam newspaper Het Parool. "Finally we can see the history of film and show them in all the different forms."
The dream of the museum began in 1946, when passionate film fans founded the Dutch Historical Film Archive. With the mission of preserving film for future generations, they slowly built a collection that was stored in bunkers and dunes across the Netherlands.
In 1952, the group officially opened an exhibition in the Stedelijk Museum. It then moved to its own home in the Vondelpark in the 70s. As the collection and enthusiasm for the museum grew, it was relocated to its new home in Amsterdam Noord.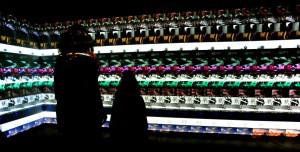 Designed by Viennese architects association Delugan Meissl, famed for their work on the Porsche Museum in Stuttgart, construction began in 2009. Now, two and a half year's later the striking building has opened its doors. And today, the museum boasts the addition of the Dutch Institute for Film Education, Holland Film and the Film Bank.
EYE expects to welcome 220,000 visitors each year to the unique space-styled museum along the water. This is three times larger than the audience that visited the museum in their former location.
The museum has four cinemas, a 1,200 square meter exhibition space, a permanent interactive exhibition, a shop and restaurant. In addition to their own collection, which will rotate four times a year, there is also a focus on educational activities for children and young people. EYE opens with the exhibition Found Footage: Cinema Exposed, a dazzling display of new work created with film clips from their archive and collection.