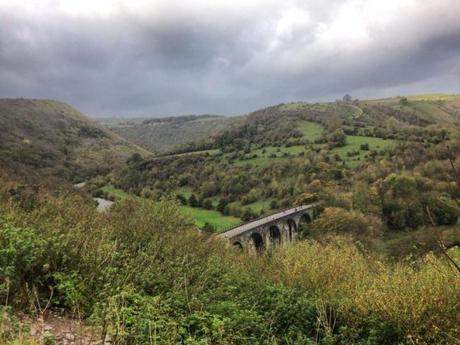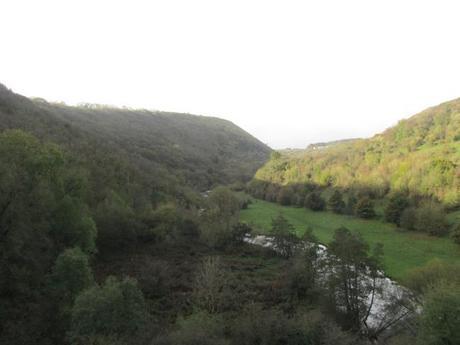 I have wanted to go to the Peak District for ages, and half term seemed like the perfect time to finally make the trip. As such, my university friend Emma and I booked ourselves into a lovely B&B with a view to die for, and set about planning an itinerary that would take in as many sights as possible. The day of our departure dawned bright and sunny; I set off for London with my car piled high, and picked Emma up on schedule. We planned to be in the Peak District by lunchtime, and wanted to spend our first day exploring Kedleston Hall. Unfortunately, however, the M25 had other plans for us. An accident ahead, a sudden bottleneck, and a slippery road surface led to my car skidding spectacularly into the back of the car in front, causing a concertina shaped bonnet and a car that wasn't going anywhere but the hard shoulder. Thankfully no one was hurt, the person I crashed into was lovely and far more concerned about me than herself, the recovery truck arrived speedily and was driven by one of the nicest men I have ever met, who went out of his way to sort out a hire car for us and took us to pick it up, and despite initially thinking our holiday was over before it had even begun, we were able to head back on our way by late afternoon. As such, we made it to the Peaks by dinner time, where we were warmly greeted by our sympathetic hosts and sent to the hotel bar opposite for dinner. It didn't look much from the outside, but the food was seriously gourmet, and just what we needed after our stressful day.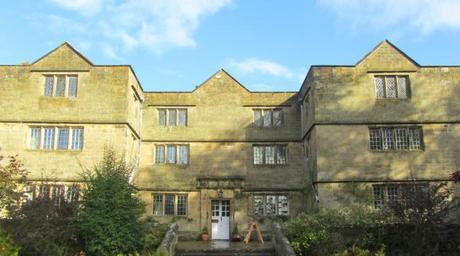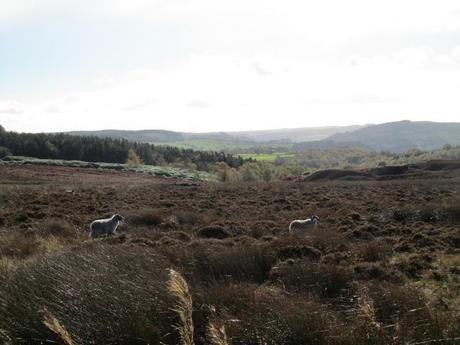 Well fed and well slept, we woke up the next day to bright sunshine. After breakfast, we put on our walking boots and headed outside to the start of the Monsal Trail, which was directly opposite our B&B. This is a ridiculously beautiful section of the Peaks that used to be a train line. There is a fabulous viaduct and this, as well as the tunnels and tracks, have all now been made into paths for walkers to enjoy and take in the magnificent, sweeping views of the Peak District National Park. We rambled along for about an hour, thoroughly enjoying the fresh air and gorgeous scenery, and headed back to the B&B just before the heavens opened. Our next stop was Eyam, a village just up the road that is famous for its connection with the plague. In the 1660s, the plague arrived in the village and started killing off its inhabitants. The brave villagers made the decision to quarantine themselves to prevent the spread of the disease in the local area, and as such, for over a year nobody left and nobody entered. Over 260 villagers died, with only around 80 survivors, though these figures are disputed as records were obviously not kept as assiduously as they are now. Nowadays, the village is a pretty community of stone cottages set amidst the rolling countryside, and there is little to hint at its tragic past. Many of the houses from the 17th century are still standing, and you can see where the people who died of plague lived, as well as some of the plague graves. There is also a 17th century manor house, post dating the plague, which is now a National Trust property and worth a wander through, though there isn't much to see. I've wanted to go to Eyam ever since I learned about it at school, so it was wonderful to finally see it all in the flesh.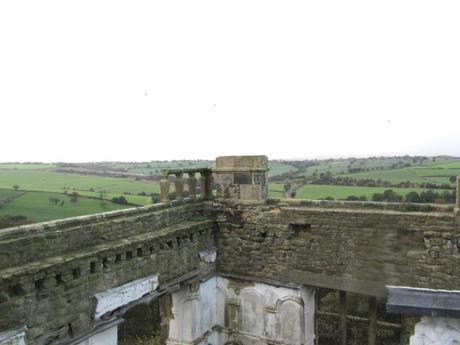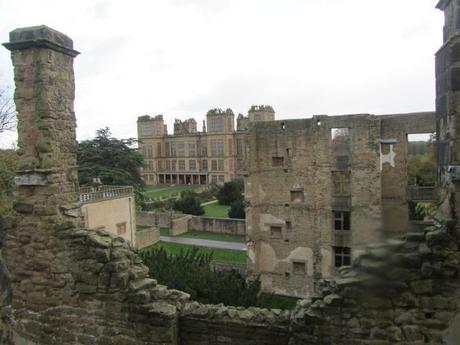 After Eyam, we drove on to Hardwick Hall, home of Bess of Hardwick and former property of the Dukes of Devonshire. This was my favorite of all the places we visited. The house is breathtaking from the outside, but even more impressive is the ruin of the previous Jacobean manor house directly in front of it. You can climb up to the top of the ruins and see the amazing view of the surrounding countryside out of the glass-less windows, and there are remnants of the ornamental carvings and plasterwork still visible above the fireplaces and on the walls, giving a clear impression of the splendour of this once magnificent house. I have never been in a more atmospheric place; the whole house is open to the elements, and the orange and gold blaze of the surrounding trees made it almost glow from within. I could have stayed there all day, just wandering amidst the half tumbled walls and taking in the views, but there was a house with a roof still on to see, too, so across we went. Hardwick Hall was originally said to be more glass than windows, and in a time when glass was phenomenally expensive and windows taxed, Bess of Hardwick was really making a statement of her wealth and prestige by having so many of them. They really do sparkle in the sunlight, and it is a stunningly beautiful house to look at. Inside, however, was a bit of a disappointment; I think because I visit so many stately homes, I find them all much of a muchness. I don't find dusty silk sofas and great hulks of carved wood particularly attractive; I am not of a mind to keep things purely because of age and/or value. As such, in comparison to the romantic ruins outside, Hardwick Hall seemed rather dull, though there is an interesting Victorian kitchen and some pretty 1930s rooms. The real draw of the Hall is its sumptuous, rolling parkland, which was lit in a blaze of autumnal glory, and made a stunning backdrop despite the wet weather. We enjoyed staring at it while having tea and cake in the restaurant before heading back to the B&B for a sit down in front of the roaring fire ahead of our short walk into the village to have another delicious dinner in the local pub.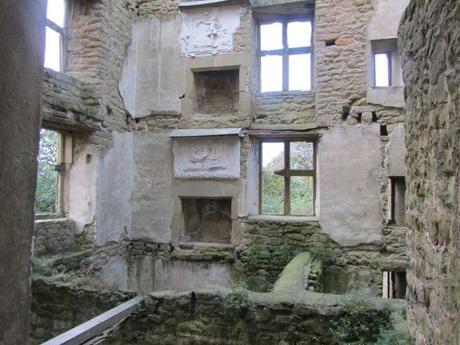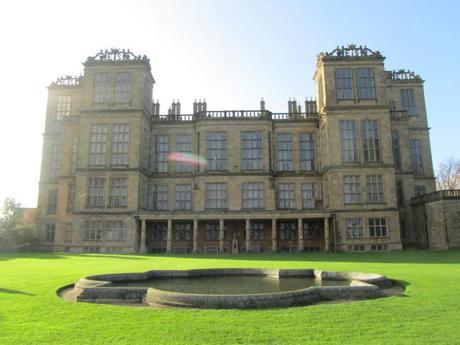 Our last full day in the Peaks was designated for our visit to Chatsworth, which I booked in advance to avoid the car park charge (worth knowing as it's the price of tea and cake!). However, before heading to the house, we decided to go and visit the market town of Buxton, half an hour away. This is a very pretty town set amidst the peaks, with beautiful Georgian architecture that reminded me of Bath. There were plenty of shops and a lovely park, but my favorite place was Scrivener's, a bookshop of the type you rarely find nowadays. There are several floors of amazing books covering every conceivable subject, and they also bind their own books. If you're ever in the area, you must stop by! After a good explore, we set off for Chatsworth, arriving in the early afternoon. The house did not impress me hugely, as like I say, I am not one for ornate furniture, but there were plenty of beautiful 18th century paintings, particularly of the house's famous former resident, Georgiana Spencer, and some interesting modern art exhibitions, which did elevate it above the usual fare. The real magnificence of the house for me lay in the garden and grounds, which really are spectacular. I think that visiting in Autumn was a wise choice, as the array of leaf colours and how they complemented the mellow buttercream stone of the house was gorgeous. The Peak District does Autumn far more dramatically than the South; here the tones are more muted, and I really did appreciate the vivid and vibrant colours of the landscape. We loved rambling all over the garden, and we particularly enjoyed the maze, which is the most difficult I've ever been in. I was close to despair when I finally find my way to the centre!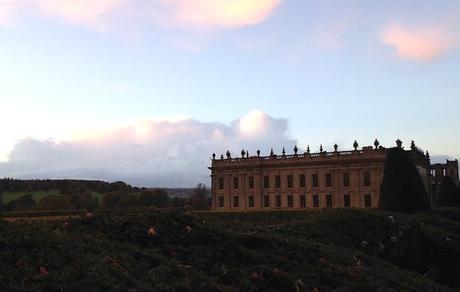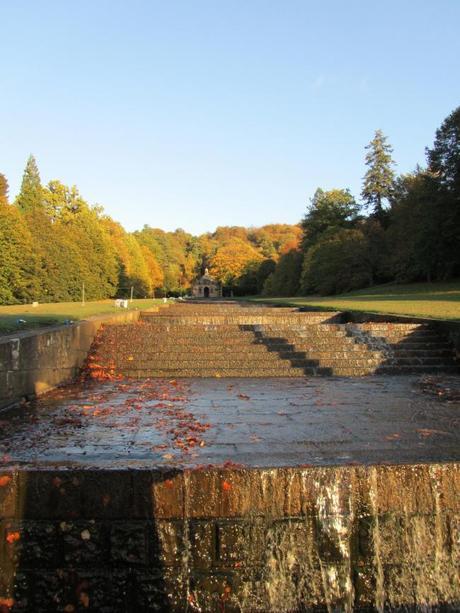 Chatsworth was a wonderful place to finish our trip to the Peaks. We also stopped by the famous Farm Shop, which is well worth a visit for stocking up on delicious locally made food, before traveling on to The Devonshire Arms for another gourmet dinner and a nice glass of wine by the fire. The next morning we rose bright and early to head back to London. We made a flying visit to Bakewell first to pick up some famous Bakewell Puddings (absolutely delicious!) before driving through some breathtaking scenery on our way to the motorway. Despite the hellish start to the trip, it was an absolutely marvelous holiday, and I already can't wait to go back. Derbyshire is a beautiful county with so much to see and do. I could definitely consider moving there; with such surroundings, I'd never be bored!