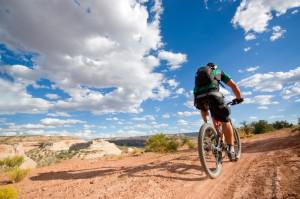 The island of Tenerife has a lot to offer cyclists, from those who are looking for a way to explore the island at a leisurely pace and take in the sights, to those who want more of an adventure. You can choose from the sensational steep climbs and exhilarating descents of the mountains, or take the flatter, coastal option. When you explore the island by bike, you get to experience the lesser known parts of the island and see all the natural beauty that holidays to Tenerife have to offer.
The Best Cycle Routes in Tenerife
The Route: Teno is in the north-west of Tenerife and is home to one of the prettiest and most remote villages on the whole island. This region is mountainous so prepare your legs for a challenge! The ride is a circular route and begins and ends at La Orotava, passing the picturesque village of Masca at the halfway point. It takes around five to six hours to complete this route and is made up of hair-pin bends and needs plenty of braking on the descents!
Length: 70 miles
Difficulty level: Hard
What to look out for: The picturesque village of Masca, perched on the cliffs of a stunning gorge, this is a beautiful place to stop for lunch and take photos.
Where to stay: The Hotel Diamante Suites in Puerto de la Cruz is close to the start point of La Orotava and offers four star relaxation after a long day of cycling.
The Route: The most obvious cycling routes in Tenerife are those that include Mount Teide and this particular route starts from La Orotava and finishes at El Portillo. You take the main road towards the base of the mountain, before passing through luscious green valleys and pine forests. You will then reach the lunar-esque landscape that was formed during the previous eruptions of Mount Teide. Length: 47 miles
Difficulty level: Moderate/Hard
What to look out for: You will pass the pretty village of Aguamansa, which is an excellent place to stop for lunch and catch your breath.
Where to stay: The Hotel Sol Parque San Antonio is set within its own tropical gardens and is a short drive away from the start point of this route. 
The Route: Starting at La Laguna, this cycle route in the north-east of the island is a circular route that is made up of some uneven roads and plenty of twists and turns. Take a detour and follow signs to Las Batanes along a winding forest path with stunning sea views. You then re-trace your route along the forest path, following signs to Las Carboneras, before re-joining the main road and making your way back to La Laguna.
Length: 50 miles
Difficulty level: Moderate
What to look out for: The small, secluded bar that you will find at the end of the forest path near to Las Batanes, where many cyclists stop for a drink en route.
Where to stay: The Hotel Iberostar Mencey is a five star, colonial-style building in Santa Cruz de Tenerife, the capital of the island. This hotel has excellent restaurants to build your energy for the long hours of cycling.
When exploring Tenerife by bike, you can either take your own bike or hire one from an array of cycling tour companies on the island. If you're not confident in finding your way round on your own, there are plenty of guided cycling tours available. Cycling on your Tenerife holidays is a great way to keep fit and active on holiday, whilst enjoying some stunning scenery that otherwise you might have missed.
Guest Author: Emma
Emma is a wannabe traveler with itchy feet, who at the moment is enjoying writing about other people's holidays for http://www.lowcostholidays.com/, whilst fitting in travels where she can! She is a firm believer that you don't have to go on a round the world trip to 'travel' and enjoys finding the lesser known sides of popular European holiday destinations.