"It's flood action, not millions of years".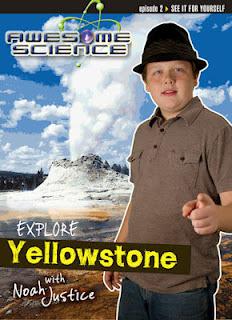 "Yellowstone National Park, where many natural wonders are remarkably preserved, also preserves a testament to the catastrophic Genesis Flood and its after-effects.  Secular and biblical geologists both agree on the evidence found in Yellowstone, but disagree on how to interpret that evidence."
Explore Yellowstone with Noah Justice is the second DVD in the Awesome Science series that ties physical evidence with a global flood using Empirical science as recently seen during the Missoula flood in Eastern Washington state.
Join 14 year old, homeschooled, Noah Justice as he takes you through the evidence  supporting and defending a Biblical worldview of a worldwide, catastrophic flood.  Some of these evidences include:  the rate of growth of terraces in the Mammoth Hot Springs area, complex structured microbes in hot pool's, the absence of glaciation and much more!
Also a part of this DVD is a very well done section on the Petrified Forrest with 7 Awesome Facts that support a young Earth theory.
In addition to the video is a study guide to help tie information together.  (This can be purchased separately.)  Within these pages are:  General information about Yellowstone, the Geologic Column, Geysers, Yellow River and Hayden Valley, Yellowstone Falls and Lake, Hot Springs, Petrified Forrest and much, much more!  As with Explore the Grand Canyon, throughout this study guide are great discussion questions.  For example:  "Why do secular scientists have to combine locations to get their full view of the geologic column?"
The Awesome Science Series is one that should be in every home library.  All age groups will benefit from the explanations, illustrations and spectacular scenery contained within this 30 minute DVD.
I received a DVD of Explore Yellowstone with Noah Justice free of charge in exchange for an honest review.This post written and property of Homeschool Circus and can be found at: www.upatdawnreadytowork.com. If you are reading this from a source other than www.upatdawnreadytowork.com (www.upatdawnreadytowork.blogspot.com) you are reading a scraped copy!