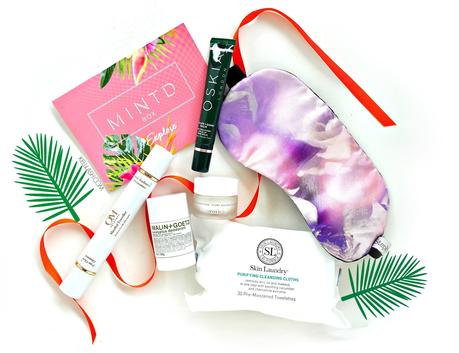 Explore;

 to travel through an unfamiliar area in order to learn and experience more about it. So by combining beauty with travel, let's us all explore something amazing thanks to this month's Mintd Box reveal!
I love a travel size, not only because they are essential for any trip but when I see any beauty favorite in miniature, the cuteness excites me. If you are anything like me, then you shall want to take all your beauty faves away with you on holiday so choosing products that are multi-tasking and smaller (to save space in the case) is definitely necessary.This month, the amazing team at Mintd Box have given us the Explore Box and what's even better about it is that all the contents are Hand Luggage Friendly and take up only a small space in any cosmetic bag, woohoo! Mintd Box have taken into consideration that where ever in the world you may be off to explore, you still need a nourishing and replenishing tool kit for the journey. That is why this month holds products to cleanse, refresh, exfoliate, firm and contour hence you can indulge you and your skin whether you are sitting on a beach locally, trekking in the Far East or mediating at a retreat.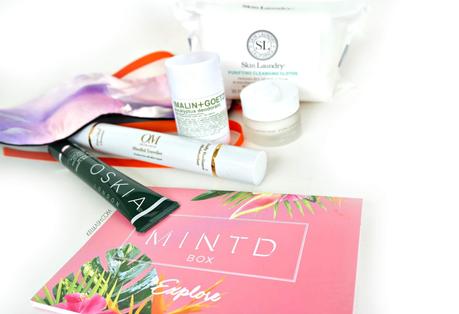 Explore Mintd Box, June
As every Mintd Box review, I like to repeat this for those that may be new to these posts! 
"When you subscribe to 

Mintd Box

, either every month or every other month, you will only ever receive FULL sized or DELUXE sized high end, a-list, beauty products that are themed for that month which shall save you a small fortune. No Samples, no let downs, just the latest must haves in beauty. You can in fact click Mintd Boxes in the Categories section in the header bar (top of page!) where you can see all the previous months boxes and their contents. It mainly features skincare as opposed to make-up but all is only ever 'high end and full size'. It isn't cheap but the products are premium and the savings are huge".
The June '
EXPLORE
' themed box contains 6 products; 2 TRAVEL & 4 
FULL SIZED 
products
 all of which are all stocked in high end beauty stores such as Space NK, Harvey Nicols and Net A Porter.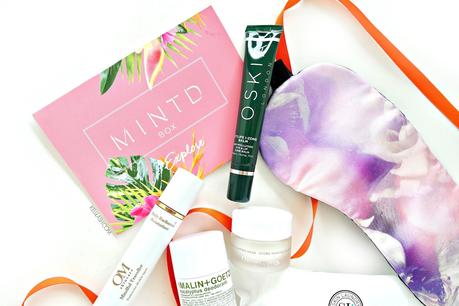 Explore Mintd Box, June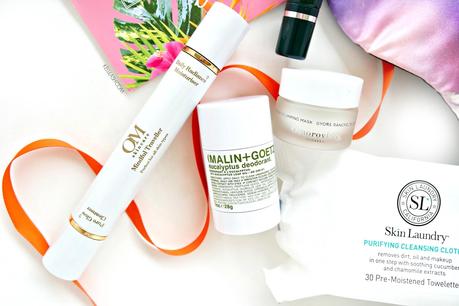 Explore Mintd Box, June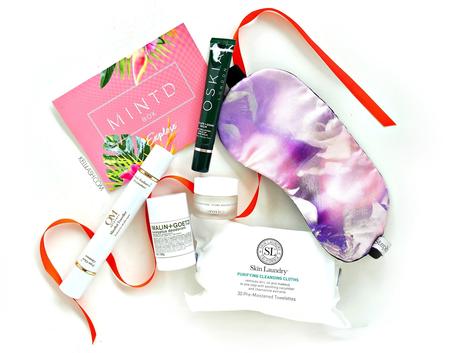 Explore Mintd Box, June
The 'EXPLORE' Luxury Contents:-
1. Oskia Skincare City Life i-Zone Lip & Eye Balm (Full Size £55

)
2. OM Skincare Mindful Traveller  (Full Size £48)
3. Skin Laundry Purifying Cleansing Cloths (
Full Size £14
)
4. Malin & Goetz Eucalyptus Deodorant (Travel Size £12

)
5. Omorovicza Instant Plumping Mask (Travel Size £33)
6. Stephie Ann Dawn Silk Eye Mask (Full Size £252
BONUS! 
Get a free Omorovicza Oxygen Booster when you sign up to a 6 or 12 month plan! 
The contents of this box have a combined value of over £187/€212 for which you only pay £70/€80 per month or bi-monthlygiving you an enormous £117/€133 saving as opposed to buying all products individually. That is incredible value which is exactly why Mintd Box is the best when it comes to beauty boxes and the most ideal way to try new high end beauty brands.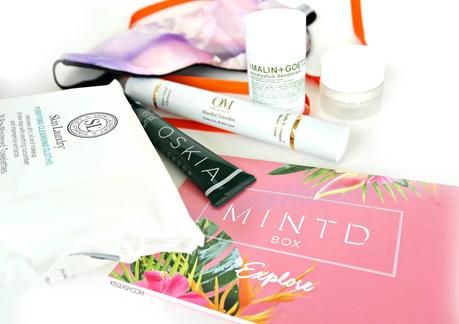 Explore Mintd Box, June
So let us 'explore' this month's beauty offerings together ....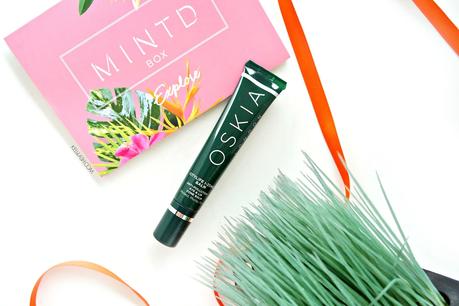 Explore Mintd Box, June, Oskia City Life I-Zone Balm
1. Oskia City Life i-Zone Lip & Eye Balm (
Full Size £55
) 
(bu
y here!)
A highly protective balm that has been designed to deflect pollution in fragile facial areas such as the eyes and lip. It offers antioxidant protection as well as age defying firming effects including ingredients such as Vitamin A, Collagen Boosters and Avocado oil. 
You may or may not know that the skin around the eyes and lips is a lot finer than the rest of our face and cannot hydrate itself so you need to add moisture to these areas and take good care because neglect only results in lack luster looking skin with visible signs of ageing. This was the first item that I dipped into as this is right up my street seeing as I am obsessed with anything to do with eyes and lips, plus I love OSKIA as a brand as their Renaissance Cleansing Gel and Mask are real favourites of mine. I was a tad concerned about it being 'too balmy' because I hate balms around my eyes and prefer a gel or cream consistency but the texture of this one is beautiful. It is light enough that once warmed and applied it really loosens and absorbs easily around the eyes and on the lips so you don't feel sticky or tacky at all. It also has a lovely citrus taste/smell to it which is really nice. I love that this is in a tube because it makes it so easy and hygienic to use. 
We live in a world where our skin and body is under attack daily so it really is important to use an eye and lip cream/balm so having one that is designed for both areas is perfect for on the go or for those who like to use as fewer products as possible. 
Hats off to Oskia as this is a fantastic product that I think a lot of us would benefit from using.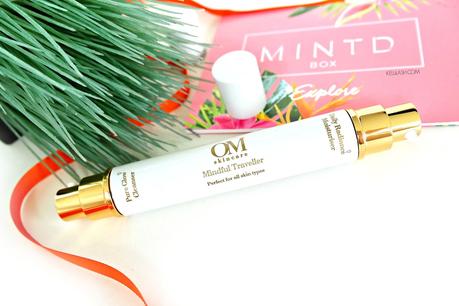 Explore Mintd Box, June, OM Mindful Traveller
2. OM Skincare, Mindful Traveller  (
Full Size £48
) 
(buy
here!)
A highly convenient 'on the go' skincare product taking travel a whole new level! This very clever concept allows you to take your daily essentials with you anywhere. The sleek design offers fuss free cleansing and moisturising, both crucial to good skin! It houses their award winning Pure Glow Cleanser that doubles up as a makeup remover and deep cleansing treatment aswell as their Daily Radiance Moisturiser which is a lightweight cream packed with anti-ageing ingredients. The best part is, it's refillable! 
I love a gadget and this made me very happy indeed. What a totally genius invention and so tastefully done too as you can't get much more fancy than this. It's slim, lightweight and easily fits into any make up bag. I absolutely love it! I am going to save this for when I do actually travel as I feel using it now would defeat the purpose so I will keep you posted if you would like updates on the product inside as OM Skincare is a totally new brand on me and I always hear great reports about them. They actually contacted me direct a while back to see if I would like to try some of their skincare which I jumped at obviously, having heard these great reports but sadly never heard back from them, which makes me thankful for this collaboration with Mintd Box so I can try them out.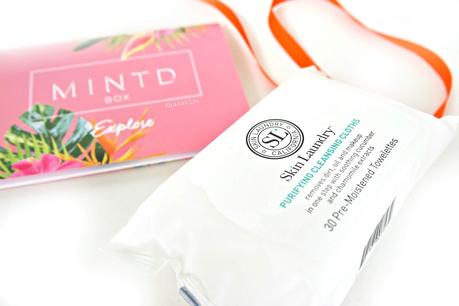 Explore Mintd Box, June, Skin Laundry Purifying Cleansing Cloths
3. Skin Laundry Purifying Cleansing Cloths (
Full Size £14
) 
(buy here!)
Skin Laundry bring us easy to use makeup removing cloths that provide natural cleansers and nourishing actives for an easy way to remove your make-up. These are not wipes, but a new breed of makeup removing cloths designed to nourish skin, not strip it. Charged with cleansing and purifying actives like Witch Hazel, Cucumber, Camomile and Salicylic Acid they really are designed to remove all traces of dirt, oil and make-up whilst keeping your skin in good health. 
Now I am not a wipe lover, never have been and never will be as it's just not a way I like to remove my makeup (having worked as a skincare consultant and Facialist for so many years) but Skin Laundry is a brand that I have really become to love of late so if any one can can change my opinion, they can. I fell in love with their Advanced Protection Moisturiser from last month's Summer Beauty Essentials Box (here) and the more I try from them, the more I love. These cloths are ideal for convenience as a low maintenance yet high performance product if you need to take off your makeup on the go, then you can throw them in your bag with ease. I found them to remove my light face of makeup really well but you may need 2 cloths if wearing heavier makeup. They left my skin feeling fresh and cool and they smell lovely too! I then of course used my cleansing balm of choice to do a proper cleanse of my skin, as I would always reccommend as these cloths are not a cleanser. If you love the ease of wipes then please switch to these cloths for on the go makeup removal as they are much better than any others in my opinion. I personally always use Bioderma H20 on a cotton pad to remove my eye makeup before a cleanse but these are ideal for planes, festivals, hot days ... anywhere you need to refresh your skin without access to a sink. I shall certainly keep these for my travel bag!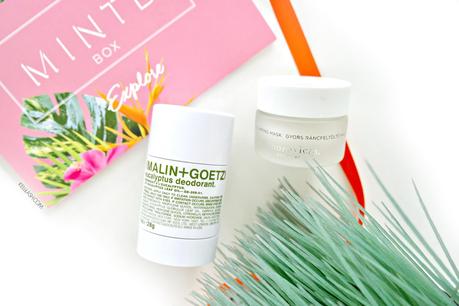 Explore Mintd Box, June, Malin and Goetz Deodorant 
4. Malin & Goetz Eucalyptus Deodorant (
Travel
 Size £12
) 
(buy here!)
A natural deodorant that uses eucalyptus extract and odour neutralising citronellyl for 24hr effectiveness for all skin types, especially sensitive. It is formulated without aluminium and alcohol which allows a more natural function. When switching to a natural deodorant, you will need to acclimatise to it meaning you may find that you sweat more than usual at first which is your body's way of releasing a build up of toxins, but after a time your body shall get used to it and you'll sweat less. Leaves no residue, won't irritate or clog your pores or sting after shaving. 
When it comes  to deodorant, I am a Dove spray fan. I have always found natural sticks difficult to use as a lot of them are so hard and dry so nothing comes off of them. This one is a total surprise gem! Firstly, it smells so good (like Vicks cold balm) and has a real comforting feel about it. This stick is so balmy and warms to a really light oil that simply glides on to your skin. My husband is actually a huge fan of a more natural deodorant as he has super sensitive skin that reacts badly to normal brands and now he loves this one purely because it is so fluid and easy to apply. The mini travel size is perfect for carrying around on a daily basis in summer because there is nothing worse than being conscious about sweating!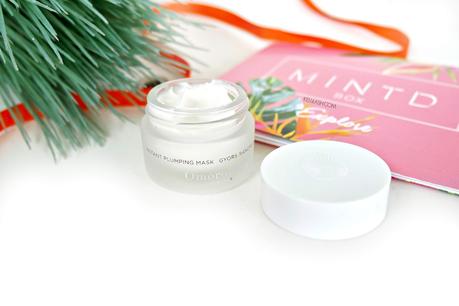 Explore Mintd Box, June, Omorovicza Plumping Mask
5. Omorovicza Instant Plumping Mask (
Travel Size £33
)
(buy here!)
An overnight mask that plumps up the skin to reduce the depth and appearance of fine lines and wrinkles. The cream contains hyaluronic spheres that fill and swell in lines so that skin is smoother and left hydrated and glowing. 
I loved this simply from the words 'plump' and 'mask' alone; I mean what is there not to like?! Omorovizca is again another brand I have found myself falling for more and more thanks to Mintd Box as I have loved everything that I have tried so far, especially the Elemental Emulsion (
here
) as that is such a beautiful multi-use hydrating lotion.

This mask is an absolute star product as my god it works well!

The 
mask itself is a rich cream with a herbal scent, which you shall either love or hate but for the results you will 
get, try and bear with it. You basically use this like you would your night cream, so in place of. I applied it a few hours before I went to bed letting it really absorb into my skin before I went to sleep and when I woke up my skin felt like silk and I have to say, it really did look plumper! Not many masks have such an instant effect as this one does! The whole next day my skin felt much more hydrated, looked a lot more glowing to the point where I was only prepared to use tinted moisturiser as not to hide it and basically super healthy. This is one intense hydrating mask so dry/dehydrated skins shall adore this one which is also why it's a great option for flights, especially being a portable size too. For the full size, it isn't cheap and even this mini is valued at £33, but having tried this for myself, I know for me it is 100% worth the luxe price tag, which is why once again Mintd Box is a great way of trying these high end brands. A 
perfect skincare product to have in any 
exploration
bag!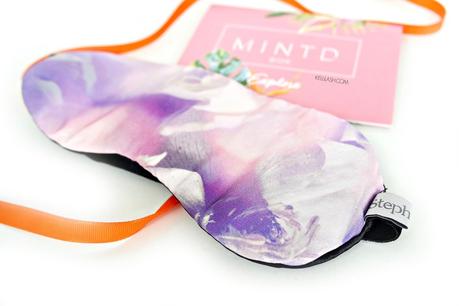 Explore Mintd Box, June, Stephie Ann Dawn Silk Eye Mask
6. Stephie Ann Dawn Silk Eye Mask (
Full Size £25) 
(buy here!)
A sleep mask designed to boost sleep; this luxurious 95% silk eye mask is the ultimate 
sleep aid and travel accessory made for relaxation. Scented with Lavender, the mask is lined with black silk and fitted with an elastic strap at the back.
We saw this amazing sleep mask in a previous box last year and it's so lovely to see it again because they make a great gift should you have one already and it doesn't get anymore swish than this. Sleeping on a flight or away from home can be difficult for some (like me) so whatever we can do to aid sleep is essential for a relaxing holiday. The bright purple, floral design of this sleep mask is so pretty and the relaxing lavender scent shall have you falling in love with this one instantly. It's so comfortable to wear and just helps you to zone out. I love the ethos and care behind this British brand as it really feels nice and personal, so if you need a sleeping mask, go luxe and get behind this beautiful brand.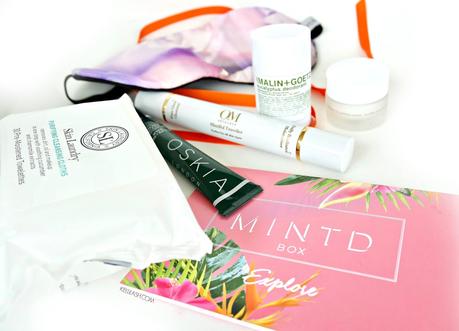 Explore Mintd Box, June
Another finely put together mix of products that introduce you to new brands and exciting innovations. I have to say I truly love absolutely everything in this box, especially the amazing Omorovicza Plumping Mask as all products are such great skincare items that you can literally take anywhere with you and will be a huge benefit to your skin. Everything here is light, portable and useful, hence this really is travel beauty at it's best!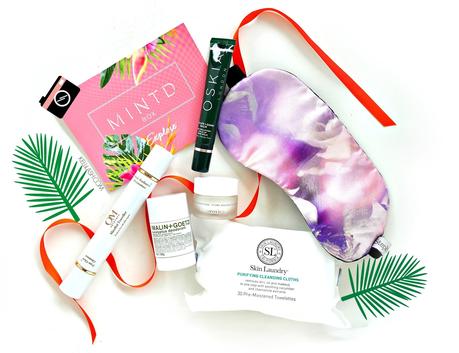 Explore Mintd Box, June
Ok so just to recap; the contents of this box have a combined value of over 
£187/€212
for which you only pay £70/€80 per month or bi-monthlygiving you an enormous 
£117/
€133
 saving as opposed to buying all products individually. Plus you get a free Omorovicza Oxygen Booster when you sign up to a 6 or 12 month plan! 
Sign up to Mintd Box here and get free delivery in the UK and free delivery worldwide at the Gift Store - Ships to UK, W Europe, North America and Australia.
Where are you exploring this year?
What product here would you want to take the most?!