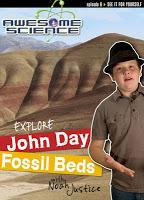 My norm for reviewing DVD's is to watch with pencil and paper in hand jotting notes as it plays.  However, due to the spectacular and breath taking views in Explore John Day Fossil Beds I had to put down everything and just watch.  My attention was totally absorbed AND I was amazed at the amount and depth of information it contained.  I do confess that I had to watch this video more than once before writing a review.  I'm also sure I will glean more information upon watching it again!
Located in eastern Oregon, the John Day Fossil Beds contain the largest collection of mammal fossils found in the world!
Author Kyle Justice has done an excellent job laying out the geology of the area.  Thorough explanations are given about the beds themselves, the basalt and conglomerate layers, tectonic action, erosional features, the Palisades, Painted Hills, Gable Creek, Picture George and much more!
From this video, you will learn the significance of tree leaf fossils with straight edges, the absence of pillow basalt, the presence of diatoms and pediments.
"The John Day Fossil Beds are a testament to the rapid deposition, volcanic activity, and erosion of the earth during the year-long Flood described in the Book of Genesis.
Researchers can recognize that the evidence is a good confirmation of the catastrophic processes that formed these layers.  The lack of erosion between layers, the high-energy deposits, the massive erosion, and no evolutionary links in the fossils....all are evidence for the biblical record being true."
Explore John Day Fossil Beds is by far my favorite video from Noah Justice.  I whole heartedly recommend it and the accompanying study guide which is packed with information!
Disclaimer:
 I received a copy of this DVD and study guide from
Master Books
, a division of New Leaf Publishing Group free of charge in exchange for an honest review.
This post written and property of Homeschool Circus and can be found at: www.upatdawnreadytowork.com.