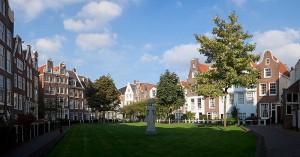 Tucked away in the busy city centre of Amsterdam lies a serene and peaceful courtyard. Invisible to anyone unknowing of this secret garden, the Begijnhof is a garden paradise packed with history.
While many trek to Spui square for its many bookstores and second hand literary markets, those who look beyond the stalls and stores will notice a long line of white houses. But, upon closer look, these houses are very unique – none have doors!
That's because these very plain homes are the walls of the Begijnhof enclave. Only two doors allow visitors in and out. From Spui, the wooden entrance and hall with intricate and colourful tiling invites you inside this quiet courtyard.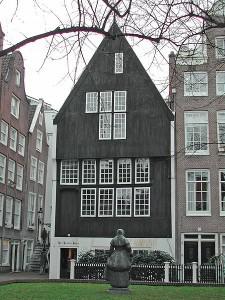 Here is not only a pocket of peace in a bustling city, but also some of Amsterdam's best bits of history. First, there is the oldest wooden home in the city, standing in remarkably good condition and ushering you into the background of the Begijnhof.
Dating back to 1346 when a group of holy women established their presence in Amsterdam, the Begijnhof was created on land given to them by the city council.
The ladies living there came to worldwide fame after the Miracle of Amsterdam occurred nearby. The details of this holy wonder are outlined in paintings that adorn a hidden church, tucked away just steps from the Reformed Church that stands in the courtyard's centre.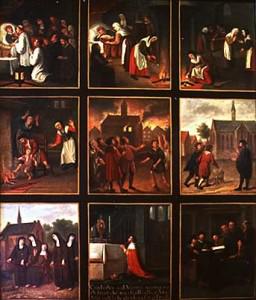 Today, over 8,000 visitors trek to Amsterdam every March to celebrate this miracle, carrying out a holy procession called the Stille Omgang that begins the Begijnhof courtyard.
But the Begijnhof is also home to ladies of faith, who come and go amongst the trickle of visitors who are lucky enough to find their way into this special garden.
And once inside, the magical history and the serenity of the enclave are sure to leave an impression on everyone.