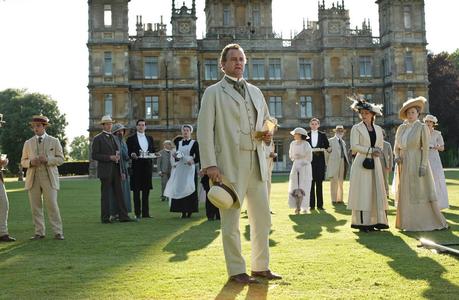 Donwton Abbey
Fans of the British period drama
Downton Abbey
are familiar with the beautiful manor where the Crawley family and its live-in help reside. Highclere Castle is located about 60 miles west of London and is owned by the Earl of Carnarvon and his countess, who live there part-time. The manor has a starring role in the show, and admirers of castle and the show have been flocking to the area
to get a first-hand look
. Ticket prices range from $8 for walk around the garden to $29 for the grand, but bookings can be hard to get, so I recommend reserving spots early. A number of tour operators also offer packages that include tours of the Castle; while hotels havae introducedd Downton Abbey-inspired pacakages with high tea, personalized butlers, and transportation in a Rolls-Royce.
Of course, it is a little more difficult for American fans of the show to get over to England to get the grand tour. Luckily, there are some alternatives closer to home. The
mansions of Newport
will certainly satisfy Americans' thirst for an inside look at aristocratic society in the early part of the 20th century. The wealthiest families in the country--at the time--built their cottages on the seaside, and would move their households there during the summer months, servants and all.
Many of the mansions have been open to the public for decades, but most of the tours focused on the wealthy families. And while the history of these families is certainly fascinating, Downton has shown us that what happens behind the scenes can be just as scandalous, mysterious, and fascinating. The Newport Preservation Society has been digging into the archives to learn more about the servants of Newport, and have discovered photos, documents and family histories. As a result, many new tours have been created about the help.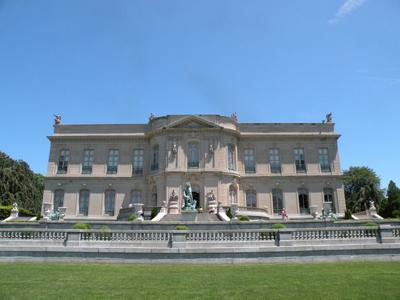 The Elms. Source: Newport Discovery Guide
Recently, The Breakers, one of the grandest mansions in the area, started adding some information about the servants who lived there. The new tour at The Elms is dedicated solely to the servants, giving visitors a unique look at unseen parts of the home, such as the kitchen, boiler room, and servants quarters. The rooms, furnished as they would have been at the time, include pictures, journals and other documents. One room has census records that show names, occupations and birth countries. The tour discusses the "kitchen ratchets," parties held in the mansion kitchens, with food, drink and gossip galore.
As someone who is interested in historical tours, and is riveted by the show, I would definitely take a trip to Newport to check out these mansions. And a servant-focused tour would certainly be in order, because, let's face it, that's where the real stories come from.