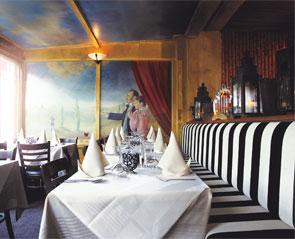 Every city boasts its own Little Italy, and Amsterdam is no different. Take a stroll through the Jordaan district and you'll be inundated with green, white and red flags and the smell of freshly baked pizza.
But most culinary curators would tell you that the very best in Italian dining won't be found on these bustling streets. Indeed, it is the tiny, tucked away restaurant that earns the title of authentic.
In Amsterdam, that restaurant is Bellini. It is a cosy trip to the homeland that delivers a delicious meal using the best in Italian and seasonal ingredients.
The homey feeling begins as soon as you enter. I am greeted by owner and Italian gentleman, Nino Triolo who has an easy-going and friendly manner. He politely takes my partner and me to our table, located on the sunny side of a two sectioned dining area. The other side has a more romantic atmosphere, suited for an intimate meal.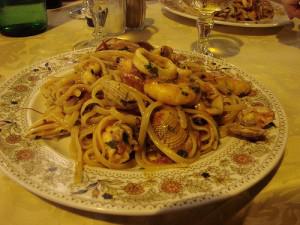 We are quickly given a menu and wine list. The offerings are surprisingly diverse, with traditional antipasta dishes as well as mains of fish, meat, pasta and risotto.
We take our time deciding and choose the homemade pumpkin-filled ravioli served with a light cream sauce and melon balls as a starter. Nino kindly recommends wine by the glass to accompany our dishes, suggesting an Italian import pino grigio to begin.
The dish arrives in a delicate, and open style on large white plates. It is a presentation that suggests the ravioli may have lost their warmth, but looks can be deceiving. The pasta is a perfect temperature and mouth wateringly tender. Most surprising is the way the pumpkin and melon flavour match each other's opposing sweetness.
It is this combination of flavours, that makes Bellini unique. The chef's fondness for the season's freshest ingredients, paired with Italian favourites makes for dining that is both tasteful and traditional.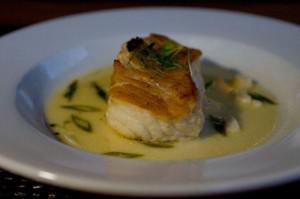 We wait patiently for the main dishes to arrive. There is no rush for my partner and myself and unlike most restaurants, there seems to be an emphasis on taking time for a full meal. When I get my main of sea bass – I'd forgotten the wait completely. The citrus and white wine marinade is good enough to lick off of the plate. And, the perfectly cooked sea bas is paired well with roasted spring vegetables and rosemary potatoes.
Savouring the last bites of my meal, I reflect on Bellini. What stands out most is the casualness of the experience. I am eating at a Michelin recognised restaurant; an establishment rated 9 out of 9 by Johannes van Dam, Amsterdam's most famous food critic. But tonight, I feel almost as if I am in my Italian mother's kitchen. I'm happy, well fed, and well cared for.