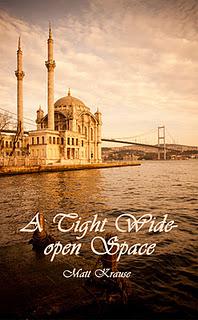 Dear Readers, I'm not the only American who moved to Turkey on a whim:  It took Matt Krause ten seconds to make the decision when his Turkish girlfriend told him she was moving back to Istanbul.  ( I realize "I moved to be with my girlfriend" sounds more reasonable than my explanation of  "I just felt like it", but still.)  The story of Matt's five years in Istanbul is told in his extremely entertaining memoir, "A Tight Wide-open Space".
This isn't the kind of linear memoir that reads like a novel, but rather a series of interlocking essays. Individually, each chapter sheds light on a particular aspect of Turkey; together  they create a picture of the author's life in Istanbul.  The author's summary of the lesson learned at the end of each episode seems superfluous, as the writing is clear enough without the "moral of the story" being spelled out.  But this is a minor quibble and doesn't detract from the enjoyment of reading the book.
I had to laugh out loud a few times just because some of our experiences were so similar.  Like me, Matt arrived in Turkey with his luggage lost in transit, and like me, his first apartment was across from a mosque, and he woke up at the 5:30 AM call to prayer thinking there was someone in his room with a megaphone.  
But you don't have to be an expat yourself to enjoy this ride. The conversational tone immediately draws you in and you feel like you're at a dinner party seated next to the most interesting guy at the table.  The author's eye for detail and talent for description gives a real sense of place without interfering with the story.  Starting off with the ritual slaughter of a sheep for the holiday of Kurban Bayram makes us immediately aware that we are not in Kansas anymore.  What follows is a series of similar culture-shock episodes ranging from the truly shocking physical attack of his wife over a parking space, to the mundane encounter with "religious fundamentalists" who turn out to be just regular folks, to the hilarious hospital visit described in the chapter entitled "Fill the Cup".  
The thread running through the whole book is the author's relationship with his wife, from their initial chance meeting on a flight to Hong Kong (take that, Hollywood's "meet cute" department), through the formal "going steady" meeting with her parents, to the wedding and beyond.  The girlfriend/ wife (if her name was used at all, I don't remember it) is an interesting character in the book.  I'm guessing the author wanted to protect her privacy, but from a literary standpoint I would have liked the character developed a bit more, and since the book is  relatively short I think there was room for it.  But that's what a good book does, right?  It leaves you wanting more.
"A Tight Wide-open Space" is available on Amazon in paperback and for Kindle.  You can also download it in PDF free of charge on Matt's website.  Stay tuned for an expert guest post by Matt Krause on what to see in Istanbul, and an interview in which we discuss our different expat perspectives.