Here at Expanish Spanish School, we find Argentine history endlessly fascinating. It reads like a hybrid of a hollywood movie and classic novel, featuring action, romance, wars, economic crises and a string of glamorous leading ladies and heroes. One of the best known being Eva Peron, or Evita as she is known to many.  We all know about the Hollywood movie, with Madonna starring as Eva Peron, but we wanted to dig a bit deeper. So here's our Expanish quick guide to the legend that is Eva Peron.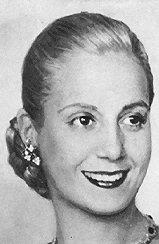 Eva Peron's Childhood
Full name María Eva Duarte de Perón, she was born in Los Toldos and raised by her humble family in rural Argentina in 1919. Her father who was a wealthy rancher, deserted Eva's mother in 1920 to join his 'other family' (it wasn't uncommon for wealthy men to have multiple families!) leading to her mother and the remainder of her family to move to Junin in Buenos Aires province, the family stigmatized by the abandonment of her father.
Her move to Buenos Aires
A lady with ambition from a young age, Eva Peron moved to the bright lights of Buenos Aires at the age of 15 to pursue her dreams of becoming a movie star. She lived with family friends and enjoyed the cosmopolitan scene that was blossoming in BA in the 1930s.
The early acting career of Eva Peron
In the early days she toured Argentina with a theatre company whilst working as a model in her spare time. She got a 'stable' acting job in the early 40s in a radio drama series, and subsequently a number of other radio dramas including one where she played Elizabeth I of England. As a result of he burgeoning acting career she was able to rent an apartment in Recoleta (1567 Calle Posadas Street)
Meeting Juan Peron
An earthquake in  San Juan, Argentina in 1944 bought the couple together. It was at the earthquake charity gala that Eva and Juan Peron together. Shortly after meeting they began to live together, which caused some controversy. It is thought that at this stage in Eva Peron's life, she had no interest in politics and merely absorbed what she heard in his presence.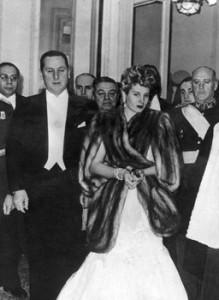 Eva Peron's early days in the public eye
Eva's first foray into the world of Argentine politics was when she was elected president of a performers union. She immediately showed her skills as a woman of the people, communicating and connecting with her public naturally.
It was in 1945, when Juan Peron was arrested (by government opposition who feared he was getting too powerful within government). Six days later between 250,000 and 350,000 people gathered outside the Casa Rosada to demand his release and their wish was granted. Eva Peron stepped onto the balcony and addressed the crowd… some claim this was the moment that made Eva Peron a legend. Eva and Juan were married shortly after this event.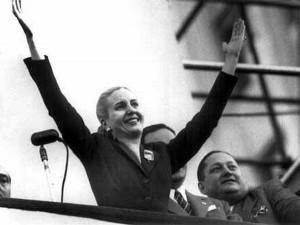 Eva Peron as a politician and activist
Some of Eva's high profile activities included a much publizised tour of Europe meeting European dignitaries and politicians, including the Pope and Franco (dictator in Spain). Peron's charitable work and cause driven work continued throughout the 1940s, including support of women's suffrage.-
In 1951 Eva decided she wanted to win a place on the ballot as a candidate for vice president (a move that angered  many military leaders, as, according to the Argentine Constitution, the Vice President automatically succeeds the President in the event of the President's death. The possibility of Evita becoming president in the event of Juan Perón's death was not something the military could accept)
But her popularity amongst the working classes and feminist movement grew and grew. Wikipedia recounts a moment when she had a mass dialogue with the crowd at a political rally.
'At the mass rally, the crowd demanded that Evita publicly announce her official candidacy as vice president. She pleaded for more time to make her decision. The exchange between Evita and the crowd of two million became, for a time, a genuine and spontaneous dialogue, with the crowd chanting, "¡Evita, Vice-Presidente!" When Evita asked for more time so she could make up her mind, the crowd demanded, "¡Ahora, Evita, ahora!" ("Now, Evita, now!"). Eventually, they came to a compromise. Evita told the audience that she would announce her decision over the radio a few days later.'
In the end, she decided not to apply for candidacy, saying she only wanted that a large chapter of history would be written about her husband.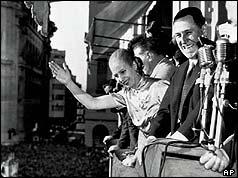 Evita's death
In 1951 it became clear the Eva Peron's health was declining. Her husband withheld the details of her illness from her in the early stages. In 1952 on July 26th, Evita died (aged 33). The news was immediately broadcast throughout the country, and Argentina went into mourning.
Eva Peron's legend lives on
Though it is not an official government holiday, the anniversary of Eva Perón's death is marked by Argentines every year.
Eva Perón has been featured on Argentine coins, and a form of Argentine currency called "Evitas" was named in her honor
Ciudad Evita – Was established by the Eva Perón Foundation in 1947
Museo Evita  – Was created by her great-niece Cristina Alvarez Rodriquez, houses many of Eva Perón's clothes, portraits, and artistic renderings of her life
The woman with the whip – Was the first hostilebiography published about Eva Peron
Evita – The musical production began as a concept album, was soon turned into a stage production and later into a Hollywood movie starring Madonna as Evita (very controversial in Argentina!)