This week Expanish Blog Meets the owner of Spanglish, a popular Buenos Aires language event and a great way for Spanish students to practice their Spanish and meet locals.

Tell us a bit about Spanglish?Spanglish Exchange puts a twist on the traditional language exchange by pairing native speakers in a series of mini-conversations, half in English and half in Spanish. Equally attended by expats, travelers and Argentines, we host events almost daily in bars around Buenos Aires. There are no requirements, no tests….no pressure, just a lot of friendly people who are eager to meet other people and practice a language socially.
How did you come up with the idea for Spanglish and go about launching it?
A friend of mine had asked me to teach an English class for her. I reluctantly agreed and after a few weeks I realized my students didn't speak English outside of the 1.5 hour class. After almost a decade living a double life in the educational field as a teacher and in the event industry as an organizer and entertainer, I decided to combine my passions and the first Spanglish Exchange event was held on October 22, 2008. The ten people in attendance had so much fun and were so thankful that I dropped everything else I was working on and dedicated myself to growing Spanglish. It was a niche market and we grew rapidly…also because in the beginning I was working 70+ hours a week on it! I recently traveled solo through Mexico, and I spent an hour at a bar writing in my journal…and wishing a Spanglish were there so I could meet people.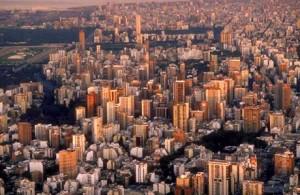 Tell us a bit about yourself. How did you end up living in Buenos Aires?
When you're an expat people often only know your life post-BA. I came here on vacation in 2005 and fell in love with the city. 6 years later I'm still here, but that's a longer story. There was an article in the Buenos Aires Herald about that. My real passion is politics and poetry…and I have a BA in one and a Masters in the other. Buenos Aires is a great place to experience either, so it's a city that plays to my personality.
What kind of people come to Spanglish?
We get this question a lot. The truth is…everyone comes to Spanglish; we get Argentines who are still finishing high school and 80 year olds who want to continue improving their English. A lot of students and business people as well as those who like to travel abroad. As far as travelers go, we get vacationers here for one week and expats who've quit their jobs and sold everything to move to Buenos Aires.  
How can people expect to benefit from coming to Spanglish?
The obvious answer is that they'll improve their language skills. I always tell people it's like a sport…you don't expect to be an ace football player practicing once a week. Attending regularly they'll hear different accents and expressions and be able to handle themselves in a variety of situations. But Spanglish is more than about language practice, it's about creating friendships that go beyond one's stay in Buenos Aires. Most people won't do their Spanish homework on a Saturday night, but Spanglish on Saturdays if full of people practicing. One of my biggest motivations for growing Spanglish is seeing all the friendships that begin there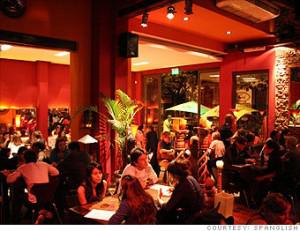 What are the biggest challenges people face when learning Spanish?
Fear.  Most people are scared to death of making mistakes and sounding stupid. But that's the best part about Spanglish, both sides make mistakes and usually end up laughing over them..  If you really want to learn another language you have live in it, argue in it, love in it, defend yourself in it…and that only happens when you spend the majority of your time with people who speak that language. At Spanglish people meet and practice with at least 6 different native speakers, increasing the chance they'll find not just a language partner, but a person that they genuinely want to communicate with.
List your top 5 favourite things about Buenos Aires
Spontaneity, you never know what to expect. Life doesn't run on a clock. The abundance of good steak. That people here are blunt and curious. And that there is always something to do.
And your bottom 5…worst!
See my top 5 favorite things. On my bad days, they're my least favorite things….yes, people, there is such a thing as too much good steak. I was a vegetarian when I got here!
If you could give one piece of advice to newcomers coming to Buenos Aires, what would it be?
Bring high quality towels. And socks. And Ipods. And Heinz Ketchup. And cheesecake. And bring it to me at Spanglish. In all seriousness, I'd say drop the idea of what the guidebooks tell you about Buenos Aires and use every bit of time here to live the culture. Get to know as many Argentines as possible…be curious, explore. And if you have an Ipad, don't whip out in the middle of the street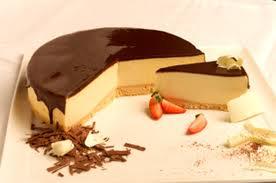 And lastly…we have to ask this. How is your Spanish?
It could be better…You know the saying, "en casa de herrero cuchillo de palo?" I fall into the category of people who are "fluent" enough to get away with not taking classes, but not as fluent as I should be for how long I've been here. I recently learned that slang for procrastinating is "voy pateando" and I'm definitely guilty of that. So, I'd like to come out and formally declare, I, Maya May, am going to take an intensive Spanish grammar tune-up. Do you have a class for that? Stay-tuned for updates on my progress to 100% native fluency.
For those of you who fancy giving Spanglish a try (Something Expanish highly recommends!) visit https://www.spanglishexchange.com/