"Colectivos" or "bondis" -in a more colloquial word-in Buenos Aires can take you almost everywhere, in fact sometimes it is the only way to get to certain neighborhoods, as the subway net is quite short compared to other countries…
You have to be really carefull when taking a bus, because a same line may have many different routes, and if you don't pay attention to the sign on the lower left hand corner of the windscreen detailing its routing, you may be in for a surprise. This being said, the systemworks and is used by many hundreds of thousands of commuters daily.
Before you even venture onto a bus, you'd be foolish not to lay out the AR$5 it costs to get a bus guide. The "Guia "T" de Bolsillo" is published annually and includes all the information you'll need. They can be purchased at most news stands around the city.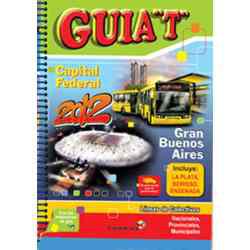 Buy a Guia T to find the correct colectivo
Finding out what bus to take
To use the guide, first look up the street from which you will be departing. It's located at the beginning of the book. You will see a MapPage and a set of co-ordinates listed next to the street name. Were you looking for 698 Tte Gral Juan D Peron – Expanish address
,for example, the numbers listed to the left of the name refer to the range of street addresses, whereas the 17-B-4 on the right refers to Page 17, Co-ordinates B-4.
Now go to the map section and find the one listed as well as the co-ordinates. Each page is divided into quadrants , the left with thebus lines and the right with the maps. If you are departing from the area within quadrant B3 on the map page, you look to the left andfind its match. The corresponding B3 quadrant on the left page will list all the buses that operate in this area. Now you repeat thisprocedure with your final destination. Find its quadrant on a map page, match it up with the bus page on the left, and see if there are any bus lines common to your departure point. It may take a little detective work, but eventually you'll find a bus that departs or arrives in a zone not too far from your ideal points.
Anyway, if you have access to internet, the best option is the web site: http://mapa.buenosaires.gov.ar/
There you click on "como llegar" and complete the information: "desde" (from) and "hasta" (to). You click on the search icon and you will get a list of all the possible options to travel with the stimated time… if you click on one of them, you will get a map and a whole explanation of where to take the bus/subway and where to get off… I just love that page!
The guide also has a listing of all the bus lines that operate in Buenos Aires with color photos that show you the unique paint schemeeach bus line features. This makes it easier to identify a bus. The listing goes into minute detail, listing every street the bus uses as it finds its way to its final destination. It's another useful tool in doing the detective work necessary to find the ideal line that will get you to where you want to go in the most direct manner.
Street by street listed, both outbound and ingoing. They use a slightly different route in either direction due to most streets being uni-directional.
Once on board
Once you've decided on which bus line you want to take, you'll make your way to the street on which it's listed as running and find the appropriate bus stop. Most of the time buses that stop on a designated corner share the same bus stop and/or shelter. It's not like that in Buenos Aires. There are far too many buses, so they stop at designated areas in the middle of blocks as well as every available corner,each being unique to a few bus lines.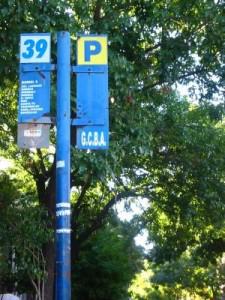 Here you see the typical bus stop sign. Not only does it list the bus #, but also the major streets and/or points of interest on its route.
Buses in Buenos Aires do not automatically stop when they see passengers waiting at one of their designated stops. You must flag them down. Just show the driver the palm of your hand, as if you were gesturing him to stop or slow down. Unlike buses in many areas,drivers in Buenos Aires will almost always stop, no matter how full they are. Since there are so many buses that have the same routes, if your bus seems too full, wait a few minutes for the next one. It will often be as empty as the previous one was full. Riding an emptier bus will also hinder pickpockets which favor the crowded colectivos to ply his trade.
Once you board the bus you have two options. You either tell the driver your destination (cross streets or point of interest), allowing him to program the automatic machine with the correct fare, or you merely walk on board and tell the driver the fare if you know it. Regularbuses are never more than $2 / $2,50, but there are also some buses called "semi-rapidos" they go through the highway and can take you out of town in 30/40 minutos and therefore are more expensive. Depending which of these "Semi-Rapidos" you take (according to your destination) they tend to have just one fixed rate and it can be from $3 to $8. You can identify these differential buses because they all have a red sign that says either "semi-rapido" or just a red S on the lower left hand corner of the windscreen.
Paying less than you are supposed to, can subject you to a fine if an inspector boards the bus and discovers your ticket was a few centavos short.
Once your fare has been determined, you use the automatic machine, usually located behind the driver, and insert your coins. The machine does not accept paper currency, but does provide change. A ticket will be dispensed together with any applicable change.Keep the receipt, in case the bus inspector makes his rounds, find a seat and enjoy the view. Nowadays, due to the shortage of coins,you can only use a Monedero or Sube card. You can get a Sube card in most post offices (Correo Argentino, Oca or Andreani) and Monedero cards can be found at:
Estación Tribunales – Subway Line D (Monday to Friday from 7 to 20 hs).
Estación Independencia – Subway Line E (Monday to Friday from 7 to 20 hs).
Central Hall af Station Fco. Lacroze from FCG Urquiza (Monday to Friday from 7 to 20 hs).
When you're ready to leave the bus, simply buzz the driver using one of the buttons located on many of the vertical poles and departusing the back door. If the bus is too crowded to make your way back, or you're sitting close to the driver, using the front door is acceptable.
Having said all of this, make sure to use the colectivos! For tourist they are a cheap and fun way to explore this great city.