One of the things we're most commonly asked by our culture hungry Spanish students at Expanish Spanish school, is what are the best art galleries to visit. Luckily, Expanish is based in the cultural hub of Argentina, Buenos Aires, a city that is home of some killer museums and the best part is that some are free or really low cost. Here's the Expanish Spanish school blog guide to some of the best.
When the weekend starts every porteño thinks about the best option to appropriate the City for him/herself during the free time. It is a kind of democratic exercise but it is a kind of jealousy also "The museum is for everyone(mine), and access to culture is a right, so I'm gonna use it!" then you can see flocks of families, groups of friends, couples, etc…taking the two options: To the north, Recoleta-Palermo, to the south San Telmo-La Boca to invade it. Many of them maybe have not idea about art, but they want to be part of it, to experience what is happening out there. It is something that define "el alma porteña".
Let's see this 5 important art spots distributed in this 2 areas;
First of all some gallery gems in the North:
Just to start (and the most re-known option) Museo Nacional de Bellas Artes has an impressive gallery of paintings by Monet, Renoir, and the like, as well as works by Argentina's own premier artists, such as Sivori, Berni, Pettoruti among others.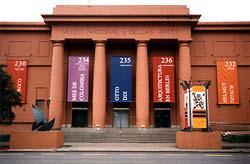 The ground floor, which is 2,000 m2, is primarily to show the collections of international art from the Middle Ages to the twentieth century. An important specialized art library, whose current wealth is more than 150,000 pieces, complete the room that is projected onto the park boundaries. At the reception, an art library offers visitors updated bibliography while the boutique from the Asociación de Amigos (Friends Association) offers the catalogs of exhibitions, reproductions of works and design souvenirs.
Museo Nacional de Bellas Artes is open from Tuesday to Friday from 12:30 to 20:30 hs and Saturdays and Sundays from 9:30 hs to 20:30 hs
Telephone: 5288-9900
Address: Avda. Libertador 1473.
Admission is free.
MALBA
Buenos Aires' museum of Latin american art, Malba's collection focuses on art produced in Latin America during the 20th Century, and is made up of a group of over two hundred and seventy works by Argentinean and Latin American artists. Anyway It is an "avant gard" exhibition space in Buenos Aires and one can see masterpieces and performances from all around the globe also.
It is an institutional collection that is the patrimony of the Eduardo F. Costantini Foundation, It is not free, but it worth it. Most of its works were donated by Malba's founder, issuing from the collection he brought together largely during the eighties and nineties. During the museum's three years of public operation, its patrimony has grown, thanks to its acquisition program and to the generous donations received from artists as well as artists' family members and individual donors.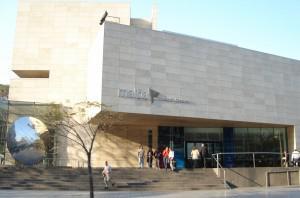 MALBA is open from Thursdays to Mondays and on holidays from 12:00 to 20:00 hs and on Wednesdays until 21:00
Admission tickets prices:
From Thursday to Monday: $22
Wednesday: $10
Telephone: 4808-6500
Address: Avenida Figueroa Alcorta 3415
Centro Cultural Recoleta
The Centro Cultural Recoleta has various areas for the performing of plays and dance shows, concerts, book presentations, conferences and round tables, plastic arts exhibitions, among others. It also has outdoor spaces equipped for holding concerts, parades and plays. Every four months, it offers courses, workshops on visual arts, performing arts, photography, dance, literature and workshops specially tailored for people with special needs. Within its facilities works the "Museo Participativo de Ciencias" (Participative Museum of Sciences), a space dedicated to counseling, training and production of interactive educational experiences.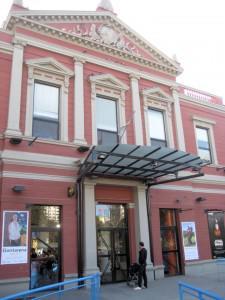 The Centro Cultural Recoleta is open from Monday to Friday from 14:00 to 21:00 hs and Saturdays, Sundays and holidays from 10:00 to 21:00 hs
Address: Junín 1930
Telephone: 4803-1040
Admission is free.
Going South, Both "Republics" (as people so called their neighborhoods) San Telmo and La Boca have pearls to discover:
MAMBA
The Buenos Aires' museum of modern art was founded in 1956 by Rafael Squirru for critical debate. The works of Jackson Pollock, William De Kooning, Franz Klein, Jean Fautrier, Karel Appel, Giuseppe Capogrossi, Le Corbusier, and Candido Portinari have all populated the museum, among many other international artists and designers. It has also gathered notable Argentines ranging from Emilio Pettoruti and Ramón Gómez Cornet, pioneers of the Avant-garde movement in Buenos Aires to informalist and conceptualists like Alberto Greco and Jorge de la Vega. Abstract art also became one of the museum's priorities and the MAM sponsored many exhibits organized by Asociación Arte Nuevo (New Art Association), founded by critic Aldo Pellegrini and artist Carmelo Arden Quin in 1954. During the '70s, the MAM couldn't avoid the effects of the social and political situation under which Argentina was suffering, after that floating experience, the so-called "Museo Fantasma" (ghost museum) continued as a homeless institution,
The museum moved to the Piccardo Cigarette Factory in 1986, but has spent the last five years closed for renovations. Now re-opened, the prestige of the museum increased with time and with the successive donations from private collectors and from artists themselves. By now, it has assembled 7,000 pieces which the refurbished industrial building will be able to show and conserve in improved conditions: Two exhibition halls with clean white walls, perfect lighting and the right room temperature. The next much-awaited step includes the re-inauguration of the library and documentation center, which holds 5,400 volumes, 3,250 artistic portfolios from the first half of the 20th Century, a newspaper and periodicals library, plus the video and photo collections. Definitely worth it.
The Museo de arte moderno de Buenos Aires is open from Monday to Friday from 12:00 to 19:00 hs and Saturdays, Sundays and holidays from 11:00 to 20:00 hs
Address: Av. San Juan 350
Admission: The "symbolic" amount of AR $1.
Tuesdays are free.
Fundacion PROA
Also named the Bow Foundation, organizes itself around the faded history and imagery of the port. The gallery is set in a restored 19th century building, expanded in 2008 by the Milanese architecture firm Caruso-Torricella Architetti.
Proa has no permanent art collection but boasts four distinctive white-walled gallery spaces to host temporary exhibits. In the largest gallery, iron columns recovered from an old ship vault the ceilings.
Until today, Fundacion Proa has revealed some of the most inspiring and approaching shows in the capital. It is among the city's best art galleries. The traditional Italianate sophistication in the exterior as well contemporary angular galleries in the interior has made Proa architecturally a master piece in its own right. The art gallery engulfs and exhibits all temporary exhibits, but a few of them are very diverse as well as interesting showing generally a Latin American theme. So expect anything from pre-Columbian Aztec sculptures, photography, and to the Argentine art of 1980. Besides, check out here for a stunning collection that is dedicated to the Latin American artists such as Diego Rivera.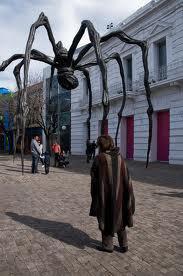 Fundacion Proa pays a tribute to the state's dedication toward arts. Initially opened in 1996 and recently refurbished in 2008, this two-storey edifice has been the attractive home of diverse highly-acclaimed traveling exhibits besides the work of the most modern local artists. Besides Diego Rivera, the gallery space has also hosted the skills of married Mexican artists such as Frida Kahlo as well as Andres Serrano, Lucio Fontana, Sol Lewitt, and Mario Merz. If you come to Proa today, then you will be able to explore its renovated premises that are boasting four exhibition rooms for art shows. Therefore, you can expect an auditorium that is dedicated to the movies of Latin America along with some more art-video presentations. And yes, do not worry about the communication as English is well spoken here. This solves the problems of non-Spanish speakers.
Fundación PROA is open from Tuesdays to Sundays from 11:00 to 19:00 hs.
Mondays Closed.
Address: Av. Pedro de Mendoza 1929
La Boca, Caminito
Admission: $10 – Students (with national or international Student ID) $6
Obviously this is just a brief of the most of 100 museums that the city hosts, excluding commercial art galleries (that allow public access). If you are an art-coholic Buenos Aires is a place with no moment of dull.
http://www.galeriasargentinas.org.ar
http://www.museos.buenosaires.gob.ar