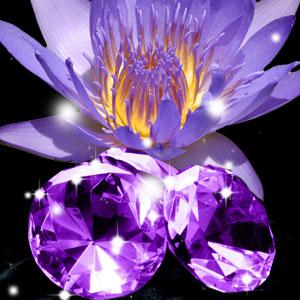 Blackened Amethyst Fragrance Oil- Fragrance Oil Spotlight
Welcome to quite possibly one of the most alluring female fragrances that Natures Garden carries!  Blackened Amethyst Fragrance Oil is soft, sexy, and spicy.  This scent is one exotic fragrance.  It is very classy and intriguing.  Plus, this scent sells extremely well in bath and body products.  If you are looking to add a great complex scent to your feminine product line, this exotic fragrance oil is it.  Blackened Amethyst scent is sophistication at its finest!
What does Blackened Amethyst smell like?
This seductive fragrance oil by Natures Garden was created for chic, confident women who like to "live a little".  This fragrance combine's aquatic top notes with Italian bergamot, rare camellias, and lime; followed by notes of exotic sandalwood and vetiver.
How do our customers use Blackened Amethyst Fragrance Oil?
For all you candle crafters and home scenters, this exotic fragrance oil can be used in a variety of waxes.  These waxes would include:  Joy wax, soy wax, soy blends, pillar of bliss, Palm wax, WOW wax, and beeswax, all with great scent throw.  For home scenters, Blackened Amethyst Fragrance Oil works great in aroma beads, smelly jellies, odor eliminator sprays, potpourri, oil burners, diffusers, and hanging air fresheners.
For the bath and body market; this exotic fragrance oil has endless possibilities.  The usage rate for this fragrance oil in products is 5%.  Blackened Amethyst does contain a 1% vanillin content, so vanilla white color stabilizer is recommended to prevent discoloration in your finished products.  This alluring fragrance oil can be used to scent:  homemade lotions, bath fizzies, body creams, body sprays, shower gels, melt and pour soap, conditioners, and shampoos.  For anyone that is curious about this exotic fragrance oils performance in cold process soap, this scent scored phenomenally.  Here are the official testing results: Perfect Pour, no ricing, no acceleration.  Discolors to a taupe.  This one pops out nicely when added to the soap batter.  Very Nice!