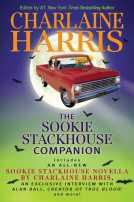 Penguin Books has released a special sneak peek at The Sookie Stackhouse Companion book, written by Charlaine Harris! The book will go on sale on August 30th!
WARNING: if you don't want to know, please don't read any further!
Check out the excerpt (email messages between Eric and Bill) and a message from Charlaine Harris below!
Readers seemed to want more details of the Sookieverse, and the website (www.charlaineharris.com) has always bubbled and seethed with questions. How do you make Caroline Bellefleur's chocolate cake? What about that pesky fairy genealogy? What book contains the famous shower scene? (I'm just kidding on that last one; everyone knows the shower scene.) How do the short stories fit into the chronology of the books?

We've assembled The Sookie Stackhouse Companion to answer all of these questions and hopefully a few more, to give readers a thorough look at the world of Bon Temps, and to provide extra snippets of interesting information about Sookie's world and the people who live and die in it. Though this book is about the books, we also give a nod to our favorite television show, True Blood, by including an interview with one of my favorite people, Alan Ball.

Lots of people helped me assemble this companion, and I'm going to try to thank all of them in the acknowledgments. But let me just say here that without the help of my assistant and best buddy, Paula Woldan, I would have torn out my hair and cast myself upon the floor in despair at a few points. So thanks, Paula, and I think I had some of the most fun ever drawing the map with you.

I'm sure the second The Sookie Stackhouse Companion is on the shelves, I'll think of something I should have included, but it's time to let this project go. I hope you all find something in the book to entertain, enlighten, and engross you.

See you in Bon Temps.

– Charlaine Harris

Life in Bon Temps
The Secret Dialogues of Bill and Eric

To: Eric Northman,
Sheriff of Area Five, LA

Dear Eric,

With the permission of Sophie-Anne Leclerq, Queen of Louisiana, I will be returning to claim my ancestral home in Bon Temps.

Sincerely,

William Compton

————————–

To: William Compton

Dear Bill,

Long time no see. As you know, the vampires in my area pay their fealty by working at Fangtasia. Please contact Pam to set up your schedule.

Eric Northman

————————–

To: Eric Northman,
Sheriff of Area Five, LA

Dear Eric,

I understand that your vampires may offer a tithe as an alternative to working at Fangtasia. I have other obligations and fear I will not have the time to dedicate to your club.

Sincerely,

William Compton

————————–

To: William Compton

Dear Bill,

A tithe is acceptable, but I would much prefer your time at Fangtasia. As a former Confederate soldier you would be quite a draw. I understand that you have work to do for the queen, but surely you can spare me, your sheriff, some of your valuable time as well.

Eric Northman

————————–

To: Eric Northman,
Sheriff of Area Five, LA

Dear Eric,

Please find enclosed my certified check for six months' tithe.

Sincerely,

William Compton
Thoughts? Share them below!
Advertisement