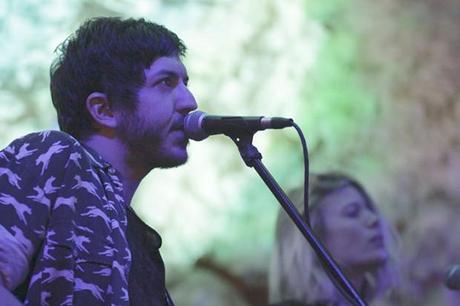 Photos by Eric Weiner
Needless to say, when Mother Nature pummels the city with cold like she's doing now, the long trek to Glasslands on Kent can be nothing short of brutal (especially when you factor in the wind coming off the water). Still, I'd gladly repeat the painful process to catch this show. A raucous, energetic collection of bands took the stage, and the room certainly seemed to warm up by the time Ex Cops had their turn, celebrating the release of their new album True Hallucinations.
Like their new record, the performance from Ex Cops brilliantly crossed calculated DIY production with intelligent songwriting, demonstrating some fairly far-reaching influences and an impressive ability to toggle between their more jangly, upbeat tunes and those that require greater finesse. They may have honed their skills at creating a dreamy, gauzy atmosphere, but their talent is rooted in genre-blending, well-crafted guitar work and vocal melodies. Following the pace of their 11 song, 30 minute release, the show was relatively brief, but they more than made up for this with such an interesting cast of sounds. I definitely can't wait for the chance to catch them again!
Opening for Ex Cops was the incredibly dynamic Hunters. Each member left nothing to be desired from a good rock show. Beating drums, strong guitar and a front woman who spent a good amount of time actually IN the audience. The energy and exuberance were absolutely something to behold.
Ex Cops











Hunters


















Gambles