EW.com has posted the first of probably what will be many casting calls for True Blood Season 5!
The first one has something to do with Eric!
Warning: If you don't want to be spoiled, please don't read any further!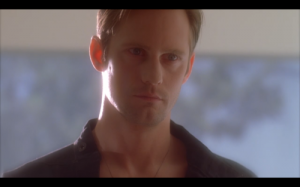 This is what they said over at EW.com…
Alan Ball and his team of scribes have put out a casting call for someone to play Nora, a beautiful and intelligent 25-to-35 something who plays a double agent within the Vampire Authority. What's even better than that? She's got a big history with Eric (Alexander Skarsgard) because she's a progeny of Godric. Nora will be a series regular role that may (or may not) involve a little nudity. (It IS True Blood, after all).

Meanwhile, Co-Executive Producer Raelle Tucker told EW that they'll include a "very significant, strong, mysterious woman at the center of one of our main stories next year … a very familiar and compelling character. It may be someone you've heard of before." Especially if you've read the Bible: The True Blood team also put out the call for someone to play Salome, as in THE Salome, daughter of Herodias, from the good book. She's a powerful ancient vampire (hmm, don't remember that part from the New Testament) and a world-class seductress who's also a little mad. So she'll fit right into Bon Temps.

 
It sounds like Alan Ball and Co. are making things up once again and not following the books at all.

However, I do find the thought of meeting Eric's 'sister' and how she will fit into Bon Temps – very interesting. What will she think of Sookie? What trouble will she stir up for Eric?
As for Salome…I wonder how many are going to be upset that he's using a person from the Old Testament of the Bible and turning her into a vampire? And who will she be involved with on the show?
What do you think? Share your thoughts and feel free to speculate below!