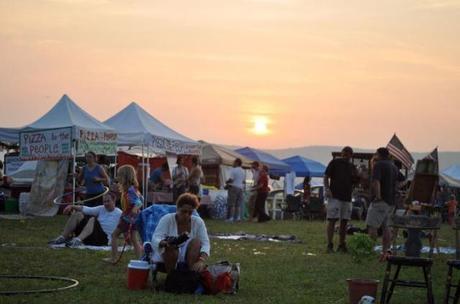 Hidden away in the hills of northwestern New Jersey is a 4 day music and yoga festival that comes around on Labor Day weekend for the past 5 years. Evolve Fest has grown significantly from its former self and continues to expand each year, attracting more and more consciously evolved souls who are awakened to the reality of an interconnected consciousness matrix of which we, as well as everything within our environment, are a part of. Dave Bryson, the incredible man that makes Evolve Fest possible, is not creating an event on which his primary mission is to make money. For him, there is something that is more important than the that…putting together this festival is his way of helping bring about a profound shift in the transpersonal consciousness of humanity.
There is a very small percentage of the total human population needed to help initiate such a quantum leap in consciousness, and getting together even as little as 10,000 people can greatly assist in turning such a dream into a reality (Evolve has not reached this amount of people yet, but will with the help of people like you). The following statement from Evolve's website explains this when it says that "we can all participate in what may be the most significant event in the history of the Cosmos- the birth of a new being, Universal Human. A Universal Human is one who is connected through the heart to the whole of life, attuned to the deeper Intelligence of Nature, and called forth irresistibly by Spirit to creatively express his or her gifts in the conscious evolution of the Self, Community and the Cosmos."
The happenings are Evolve Fest center around music, yoga, and various workshops that are well worth the price of admission ($50 if you get your tickets early, $125 at the gate). I definitely found not trouble finding something interesting or exciting to do, as there is such a diverse amount of activities you can immerse yourself in. The vendors, of which there are more every year, have all sorts of great wares and experiences for the having (the hookah lounge is particularly enjoyable). There are also various setups in and around the campsites that include didgeridoo lessons, harmonic healing through gonging, a 'time machine', drum circles, singing bowl healing, and more. These things, combined with the uplifting vibes of the people who converge at the festival, can make for a transcendental and even life-changing experience.
The overall vibe of the festival as I experienced it was at such great heights that out of the 10 or so festivals that I've been to, only the Rainbow Family Gathering could compare. This is not too surprising to me, since one aspect of Evolve Fest's mission is to raise consciousness. I met so many incredible people at the festival who radiated beautiful energy that was both comforting and exhilarating at the same time. As with the Rainbow Gathering, there was a certain magic at Evolve that shows me that something good, something extraordinary, is happening there. I could only imagine how powerful the localized collective consciousness of the festival will be when even more souls get together next year.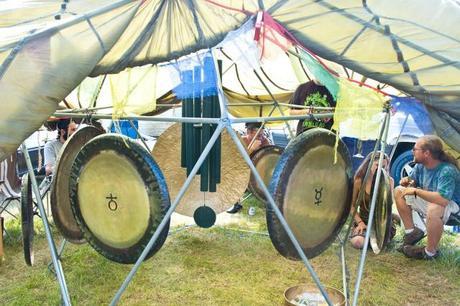 What Evolve Fest and its creator Dave Bryson are doing is not at all different from what we here at Peace and Loveism are doing. We both have as our focus the creation of a positive shift in humanity's consciousness to unity-oriented mind states that will not be fleeting but become an integral part of the collective consciousness permanently. As we move forward into the future of our timeline, as the future of our environment and our species becomes more and more uncertain, we must focus our intentions on the positive. We must create the world in which we can live sustainably and harmoniously. Nobody will do this for us…it is up to each of us to bring this reality into existence together.
Much is being done right now to make this happen, but more needs to be done. It is a wonderful thing that Evolve Fest is doing, and by writing this review, it is my hope that even more awakened souls converge in those northern New Jersey hills next year so that the collective energies of that consciousness organism will radiate into every crevasse of humanity's collective consciousness, positively affecting all. A paradigm shift needs to take place right now, before it becomes too difficult. I am grateful for a festival such as Evolve (as there are others which have the same vision in mind) doing what it is doing to help accelerate the consciousness shift because it certainly feels as if 'time' is running out. For those of you interested in being a part of something special, something magical, come to Evolve Fest and let us redefine what the future is like.