Hello beauties,
Hope everyone is doing well. Fridays make me happy, What about you guys? My today's review is a face  wash called  Everyuth Naturals  Hydrating Fruit Face Wash with Nano Multi Vita & Apple extract. I have reviewed a neem face wash  before on my blog a few months back in the old packaging. But this seems to be in a new avatar. Let's see how good it is in my review today...
 Instructions
and
Ingredients: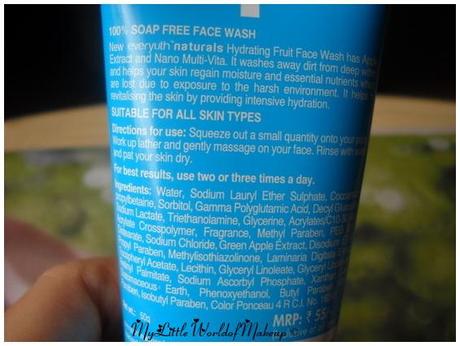 Price: Rs.55/- for 50g.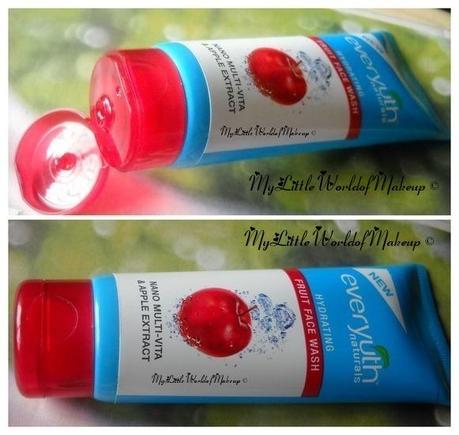 On a regular trip to the market I was looking for a face wash I have not tried before. The attractive blue packaging made me look at the range and I chose this one to try.There are other variants too like the neem one, aloe vera, lemon one. I chose the Apple one because I have not tried an apple variant before. The face wash comes in a blue packaging with a red flip cap which shuts well and does not cause any leakage, hence it is travel friendly. Since the tube is not transparent you may not know how much product is there inside which I find it a con actually.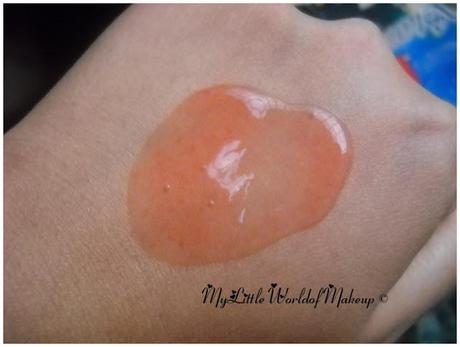 The face wash is a reddish orange color face wash and does not have any beads or exfoliants to it.It is a plain simple face wash for all skin types. Its job is to simply clean your face of all the dirt that may have been accumulated during the day. I have oily to combination skin and use this face wash twice a day. The face wash smells deliciously fruity, yes it does smell like Apple :p It  is on the runny side but I like my face wash to be a bit thick.In fact if you shake the tube you will get the sound as if some liquid is in the tube. The face wash does not lather well unless the quantity is more. Hence you have to use a good quantity and may end up finishing the face wash sooner. When I wash my face I do not get that stretchy feeling on the face which is nice because my skin is more on the dry side now a days. For oily skin beauties this face wash would be best in winters.The Good:


Nice packaging.




Lovely Apple smell.




Nourishing.




Removes all dirt from the face.




A mild face wash.




Available easily everywhere.




 Travel friendly.


The not so Good:


Does not lather well.




Liquid consistency.




May or may not work for oily skin beauties.




Hard to understand how much product is there in the tube due to the packaging.




Rating: 3/5

Although I like the smell and packaging, I did not find the face wash that impressive, may be the other variants would be better. I am yet to try them. This is a mild face wash, try it if you like apples and if you don't have oily skin.I hope my review was helpful to you. Please leave your comments I love to read them.

Thank you for your time.

Regards,
Natasha

DISCLAIMER: The above product has been purchased with my own money. I am not a beauty or skin care expert. My review is honest and based on my experience with this particular product and not the brand as a whole. Please note - What may work for me, may not work for you and vice versa.