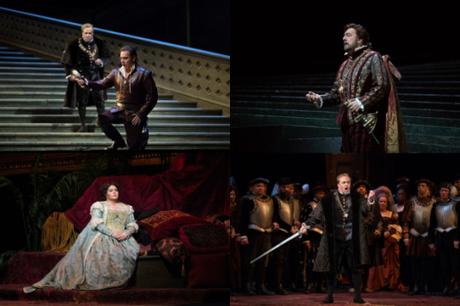 Scenes from Verdi's
Ernani
(Photo: Marty Sohl / Met Opera)
"Ernani, Ernani, Envolami"
Moving on to the April 4 transmission of Verdi's Ernani, that old flu bug hit one of the major cast members. This time around, former tenor Plácido Domingo, who was supposed to have made his broadcast debut in the principal baritone part of Don Carlo, begged off due to illness.
Instead of a placid Saturday afternoon, we heard the robust Italian voice of baritone Luca Salsi, who had previously sung Enrico Ashton in the March 28 performance of Lucia di Lammermoor. About 30 minutes before the start of the show, Domingo felt ill and unable to give his best, so Salsi was called up from the reserves. The other radio participants were tenor Francesco Meli in the title role of Ernani, soprano Angela Meade as his lady love Elvira, and basso Dmitry Belosselskiy as Silva, the supposed bad boy (or old man) of this opera.
Not given as frequently as it used to be, Ernani is quite a tuneful hallmark in Verdi's oeuvre that can make for a rousing night at the opera. As the composer's fifth opera (after the highly successful Nabucco and I Lombardi), its solo numbers for soprano, tenor, baritone, and bass are popular concert and recording showpieces, as are the rousing ensemble pieces.
Back in the Met's Golden Horseshoe and Lincoln Center heydays, such staples of the company as tenors Giovanni Martinelli, Mario Del Moanco, Franco Corelli, and Carlo Bergonzi, along with sopranos Elizabeth Rethberg, Zinka Milanov, Eleanor Steber, and Leontyne Price, baritones Leonard Warren, Cornell MacNeil, Mario Sereni, and Sherrill Milnes, and basses Ezio Pinza, Cesare Siepi, Ezio Flagello, and Jerome Hines, could be heard to their full advantage. While not equaling their stellar attributes, some of our modern-day interpreters included the likes of Luciano Pavarotti, Marcello Giordani, Leona Mitchell, Aprile Millo, Dmitri Hvorostovsky, and Thomas Hampson, no slouches in that department.
Alas, those times have long since past. In today's opera world, few singers are capable of attaining the vocal richness, infectious energy and individuality the above artists were wont to bring to their respective roles. For one thing, there has to be a complete absorption of Verdi's mood, style, and delivery — a balance of sheer bombast mixed with tonal flourishes. For another, a total belief in the convoluted story line which strains credibility at almost every vantage point.
For the most part, Ernani can be considered an early precursor to Il Trovatore, La Forza del Destino, and most emphatically Don Carlo in its passion and fervor. These operas are hard acts to follow. However, great singing can surmount the many hurdles; and even greater singers can convince skeptical audience members they are reliving the troubled times of 16th century Spain and France, the settings for Ernani's plot.
I won't begin to delve into the particulars of that plot, only to say that it involves, at its climax, a fateful gathering at the tomb of medieval Holy Roman Emperor Charlemagne (how morbid) and what went on between the protagonists prior to their getting there. Without strong voices and outgoing personalities, this opera goes by the wayside. Given this caveat, how did the Met Opera's cast do? Passably, if not exactly with a grade of A. Let's say a B minus for effort and results — no more, no less.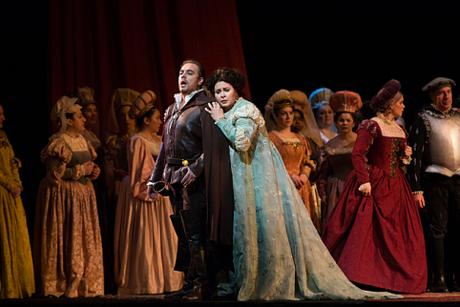 Ernani (Francesco Meli) & Elvira (Angela Meade) emoting
Leading off with the tenor lead, Francesco Meli has carved a solid reputation in Europe, including a well received turn as Jacopo Foscari in another early Verdi work, I Due Foscari, with Señor Domingo as his father.
So, did he finally make it to ovation time? Only tolerably, I'm afraid. There was nothing particularly bad about his singing, and his native Italian diction was perfectly true and clear. The high notes were there but without that last ounce of "ping" or squillo that would excite audiences to their feet; the legato and portamento were carefully crafted, and the voice well-husbanded all the way to the end. I wouldn't call Meli a tenore spinto at this point, but his basic sound was a pleasing one. So why didn't he make a better impression on me? As with many singers on the radio, the visual element went missing, and Meli proved incapable of vocally filling in the blanks.
Angela Meade is that rarest of bel canto songbirds, one with a potent stage figure and even more potent vocal resources at her command and disposal. Meade's assumption of Bellini's Norma last year was indeed a personal highpoint in her still-rising career. But as Elvira, where the highs and lows tend to recall Abigaille's vocal lines in Nabucco, I felt she might have been slightly under the weather in this appearance. I can't put my finger on it, but I've listened to better renditions of her opening aria, "Ernani, Ernani, envolami," by this same artist at earlier revivals. Dramatically, however, Meade encompassed every facet of the part, if vocally she was a shade below her usually acceptable standards.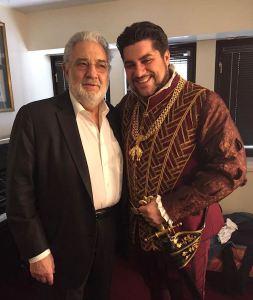 Placido Domingo with Luca Salsi before airtime
Luca Salsi made a positive impression overall. His previous run as Enrico in Lucia served as fuel for his performance here as the politically minded Don Carlo, who during the course of the plot is crowned Charles V of Spain — the father of King Philip II, as strange as it may seem, in the next work to be reviewed, Verdi's Don Carlo. That bearded old Bear of Busseto certainly loved those far-flung Spanish tales, even if they were written, in Ernani's case, by the Frenchman Victor Hugo, and, with Don Carlo, a German named Friedrich Schiller.
Signor Salsi was helped along by the superb Met Opera forces in the ensemble that concludes Act III. His pleasure-inducing reading of Carlo's Act III scena, where the baritone predominates both at the beginning and end of this moving act, as well as his flowing cantilena line above the chorus won a hearty ovation from an audience starved for excellent male voices.
With the bland Don Ruy Gomez de Silva of Dmitry Belosselskiy, this was not to be. The singer, a Ukrainian basso who's come up from the Bolshoi Theatre and Moscow Academy to try his hand at this central role, revealed a large voice of some distinction. Lately at the Met, Silva has been taken by Ferruccio Furlanetto, who practically owns this part. Without his experienced hand, the final trio that concludes the opera collapses of its own weight. Superior vocal and acting skills are the minimum prerequisites, items that Belosselskiy, as sturdy as his tones came across over the air, has yet to possess. Perhaps in the future, when we revisit this young artist, there may be some noticeable improvement. For now, final judgment will be reserved for a later date.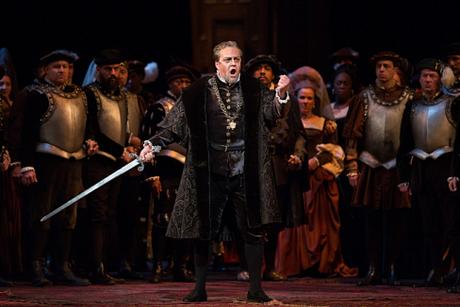 Dmitry Belosselskiy as Don Ruy Gomez de Silva
James Levine, the Met's beloved music director and longtime champion of the early Verdi repertoire, presided over the company's orchestral forces. His contribution on this date was as one would have expected: a solid line, strength and tautness where needed, but accommodating and relaxed when the principals were onstage.
His handling of the orchestra in Act III, in particular the gorgeously evocative outpouring of clarinets and bassoons at the introduction, followed by the delicate interplay between cello and solo baritone in "O de' verd'anni miei," and in the moving harp arpeggios of "O sommo Carlo" that concludes the act, were of extraordinary beauty and melancholy. How like a foretaste of King Philip's reflective air, "Ella giammai m'amo" ("She never loved me") from Don Carlo, is Verdi's masterful orchestration here. The conspirators' music was superbly articulated and forthrightly voiced by the excellent Met chorus.
Though not the best of Levine's recent assignments, I'll grant you that, there were many moments of sheer delight and marvel at how much the Met maestro loves this music. Verdi were well served under his superb guidance.
(To be continued…)
Copyright © 2015 by Josmar F. Lopes