The Wayward World of Opera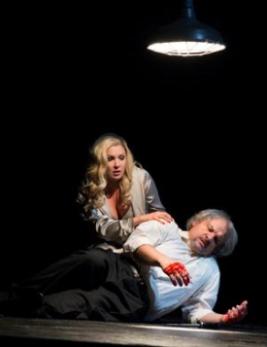 Lady Macbeth (Anna Netrebko) & Macbeth (Zeljko Lucic) at the Met
This has been a lukewarm season for live opera on the radio and in theaters, I don't mind telling you. Thank heaven for Verdi: there's always a little bit of him to take pleasure in as his music rides to the rescue.
Waxing and waning between halfway decent performances and below par presentations (I'm being kind here), the Metropolitan Opera labored in the early going to overcome a crippling strike that would have shut the house down for who knows how many months — a blow the financially strapped company could ill afford at this stage in the game. Fortunately, we were spared that hardship, almost at the eleventh hour.
What the Met could not avoid were the wretched weather, the constant winter flu outbreaks, cast reshufflings, indispositions, unforeseeable cancellations, and last-minute substitutions — ARGH! These unhappy happenstances conspired to make this broadcast season one of the bleakest in memory, strike threat or no.
At the outset, Margaret Juntwait, the Met's radio announcer for the better part of a decade, was lost to illness with nary a word about her condition or if and when she'd be expected back. I understand Ms. Juntwait has asked for privacy in her case, which we respectfully adhere to. Still, the Met Opera's management has an obligation to its worldwide audience to inform listeners of what's transpired instead of keeping everybody in the dark. By staying mom on the matter it only adds to the consternation.
This situation has put a dent in many listeners' enjoyment (including this writer's) of the Saturday afternoon programs. Ira Siff, Juntwait's gushing, bouncy, entertaining, effervescent, and erudite co-host — the Ian Darke of color commentators — has tried his best to take up the slack, along with temporary co-host Mary Jo Heath, one of the show's producers.
However, some of the remarks I've been reading lately on chat forums and such tell me there are plenty of disgruntled patrons out there with mixed feelings about the oh-so-carefully planned and structured on-air sessions. Do keep in mind that too loose an arrangement simply won't do as time is of the essence (intermission features have to be sandwiched in between acts and within the allotted 30-minute time span). Ergo, some pre-planning and coordination have to be taken into account no matter what people have to say.
I do agree, in part, that the Opera Quiz has been "dumbed down" to accommodate those without a connoisseur's knowledge of the operatic art. But Geez, Louise, it's not rocket science! Although a few of the questions received are downright head-scratchers, the embarrassing lack of educated responses from panelists has turned-off sticklers for detail such as yours truly, who would prefer to tune them out. Oh, for the glory days of Edward Downes, George Jellinek, and Boris Goldovsky (sigh)… Now those were well-informed panelists! At this point, I'd even settle for one of the late Alberta Masiello's barbed putdowns, but so be it.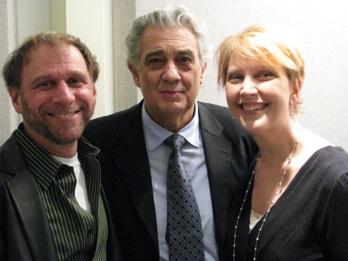 Ira Siff, with Placido Domingo and Margaret Juntwait
And those stale HD features and artist interviews are positively appalling! They never seem to be as revelatory as the radio producers hope they will be. Besides, since when are opera singers fluent interview subjects? They're in the middle of performing a role, for goodness sake, many of them quite taxing. You'd never think to thrust a microphone into the face of, say, James Earl Jones as he's gearing up for his big speech as Big Daddy. So why bother doing it to opera stars?
Naturally, many members of the international set have foreign accents, which can hinder our understanding of their comments. But they aren't nearly as bad as some people make them out to be. Heck, my own spouse has an accent, and my parents had accents, too, but they could get their ideas across when the need arose. In my view, it's not how singers speak but what they say (or don't say) that ultimately matters in these types of forums.
If a singer is going to rehearse his or her part in the opera, then the Met management ought to prevail upon them to consider rehearsing their between-act banter beforehand as well. That extra bit of coaching might actually help to smooth things over and avoid the mike-fright that's plagued so many up-close-and-personal discourses of late. Just a suggestion!
On occasion, an arbitrary insight or articulate observation may find its way into the conversation, but what we've been getting lately are mostly platitudes ("That was great!" or "Thank your lucky stars!"), not just from the performers but from the interviewers. Who cares if this or that singer had to step in at the last minute to save the day? We know that! That's par for the course, people. It's the perfect opportunity to strut their stuff and show audiences what they're made of. This isn't a boxing match, you know, it's opera!
And despite my earlier allusion to professional soccer's Ian Darke, opera is not a spectator sport, though many critics feel we've already gone beyond that point. We've become the iPhone, iPad, iWant, iFirst generation, and opera (like everything else) is now part of the 24/7 news cycle, never ending and always running — an online, in-your-face, be-on-your-way world.
Now, before you get cross with me, when it comes to tolerance and the operatic art I'm the most liberal-minded of musical aficionados. I don't see myself as a persnickety pundit, just a regular opera-loving fan with strong attitudes and opinions. Given the opportunity I'll listen to anything and attempt to form an educated view about it, too. Good performances and bad performances, good operas and bad operas (whatever those may be), new operas and old operas, I'm willing to sit through a work and give it a shot if I think it's worth my time. But how would I know what's worth my attention if I don't get the information I need to make an informed decision? That's been the rub when it comes to these broadcasts: plenty of chatter and noise, but not enough substance; the dessert tray without the main dish.
The same goes for the Opera Guild's monthly magazine, Opera News, which used to be tied exclusively to the work at hand. I fear it's becoming a post-yuppie, Generation-Xer, -Yer, and -Zer print-version of the social network, Facebook. One searches its pages for articles relating to what's going to be heard over the air, sometimes in vain. It's not that these pieces have disappeared entirely; they haven't, but they're becoming harder to locate amidst the surfeit of full-color spreads of European holiday spots, or the provocative photographs of future Met Opera aspirants.
Mind you, none of this is so bad as to be annoying, but I find these all-too-intrusive distractions indicative of the kind of society we've grown to become: that is, one with a shortened attention span as well as deficient in the curiosity required for cozying up to the radio or HD transmission and actively listening to the opera at hand.
Broadcasts and Broadsides — A Met Opera Roundup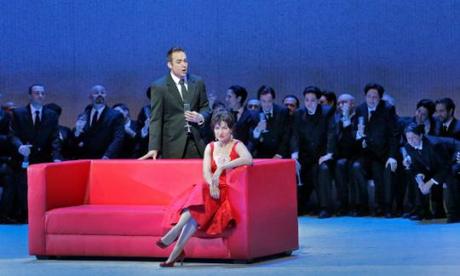 Alfredo (Stephen Costello) singing the "Brindisi" to Violetta (Marina Rebeka) in
La Traviata
I've spilled too much wine on the table with my views. So let's get to the meat of the matter. After listening to three back-to-back December 2014 broadcasts of some of the core repertory items, i.e., The Barber of Seville, Die Meistersinger, and The Marriage of Figaro, the December 27th transmission of another favorite, Verdi's La Traviata, left me with unfulfilled expectations.
Presented in director Willy Decker's reconfigured and deconstructed version for Salzburg — played not as one continuous piece but with an intermission after Act I, thus doing grave injustice to Decker's vision which calls for Violetta to hurtle head-long into a frantic race with Death — the cast of debuting soprano Marina Rebeka as Violetta, tenor Stephen Costello as Alfredo, and substitute baritone Quinn Kelsey (here we go again with the replacements), delivered its assignment dutifully if without much distinctiveness.
Kelsey, who stepped in for the previously announced Ludovic Tézier as Germont, was the most striking of the three — hardly a complimentary bon mot in these circumstances, if only that his voice reminded me of a young Rolando Panerai. That's the best I can say for his contribution. As for the others, Costello has an attractive vibrato to his tone (similar to Maltese tenor Joseph Calleja's style of singing), and Rebeka's wayward Violetta hit all the right notes and more. However, her performance as a whole was listless and in no way plumbed the dramatic depths of this remarkable role.
Marco Armiliato conducted in likewise conventional manner. No great revelations were heard, and certainly no great sparks of the imagination came out of this interpretation. Just a routine, run-of-the-mill show, as has become the norm.
Along the same lines, we heard the January 17, 2015 broadcast of Franz Lehár's The Merry Widow, in a new production with a new English translation — another of those tiresome efforts to update the proceedings for modern tastes. What's wrong with the original that the Met's board of directors finds so unappealing or unacceptable? If intelligibility was the key ingredient in their decision to do the work in English, then what was actually heard failed to convince.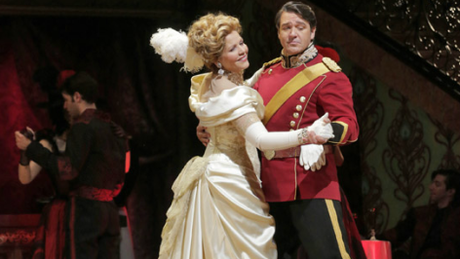 Hanna Glawari (Renee Fleming) waltzing with Count Danilo (Nathan Gunn) in
The Merry Widow
Conductor Andrew Davis presided over this lethargic reading of one of the cornerstones of European operetta. Or perhaps I should say Broadway's Great White Way, for this latest adaptation, starring American prima donna Renée Fleming as the titular widow Hanna Glawari, Nathan Gunn as the dashing Count Danilo, veteran baritone Thomas Allen as Baron Mirko Zeta, and Broadway star Kelli O'Hara as Valencienne, along with tenor Alek Shrader as Camille, and mezzo Wallis Giunta as Olga, was geared toward that specific venue.
As many of you know, I am dead set against tampering with a work's lyrics or story line for the sake of a comprehensible English translation or two — comprehensible, yes, but utterly nonsensical, preposterous, contemporary, or even absurd? Not funny! This Widow never reached its peak as far as this run of performances was concerned. Most of the talented cast was wasted in a ho-hum, blandly irritating production of little to no exhilaration. I'm sorry, but that's how it came off over the air: a stiff, boring, by-the-numbers rendition that drained the lifeblood of this tuneful piece.
"Double, Double, Toil and Trouble"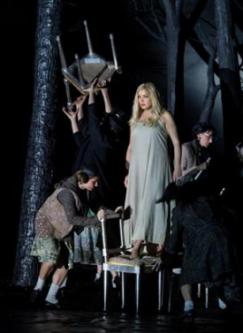 The Sleepwalking Scene with Lady Macbeth (Anna Netrebko)
Things picked up noticeably with the February 7 rebroadcast of an outstanding October 11, 2014 performance of Macbeth, one of Verdi's earliest masterpieces. Cursed with multiple versions, this 2007 revival of a production by director Adrian Noble mixed music from both the original 1847 Florence premiere and the composer's revised 1865 edition which was prepared, in French, for Paris. Curiously, while presented in modern dress (not that old bone again), this Macbeth was old-fashioned music-making at its unaccustomed best.
Thanks to a spirited cast, the opera came across with all the force necessary to keep faith with the Shakespeare play on which it was based. It featured Russian soprano Anna Netrebko in her role debut as the malevolent Lady Macbeth, baritone Željko Lučić as Macbeth, Joseph Calleja as Macduff, bass-baritone René Pape as Banquo, and tenor Noah Baetge as Malcolm. Maestro Fabio Luisi, the Met's principal conductor, led orchestra and chorus.
This being Verdi's initial stab at Shakespeare (his preferred poet), we tend to forget how revolutionary this particular piece was at the time of its premiere. This was the first time since Monteverdi's 17th century masterwork, L'Incoronazione di Poppea ("The Coronation of Poppaea"), that an opera had featured two such abhorrent protagonists as the murderous Macbeth and his sinister Lady. There's certainly no love lost between this pair of plotters, and no ardent love duets either. This leaves audiences somewhat in a bind as there is literally no one to root for, at least not with the two leads.
In addition, listeners new to this work tend to be put off by the ludicrous nature of those Witches (in Shakespeare, there are three of them, while in Verdi their parts are taken by three groups of choristers). For the 1865 Paris reworking — more of a rewrite of earlier material with new music added, the loss of two arias for Lady Macbeth, the insertion of a new number for her, more refined orchestrations, and a totally different chorus — Verdi wrote an Act III ballet in which the aforementioned hags prance about the stage before the sorceress, Hecate.
That same year, Wagner had also revised for Paris his opera Tannhäuser that had so inflamed the French public, especially the fastidious Jockey Club whose members, you will recall, loudly protested the fact there was no ballet in Act II. Ah, there's no pleasing those Parisians! In Macbeth, most modern productions wisely dispense with the ballet altogether in favor of the other revisions Verdi made. The Met's version followed this expected path — a wise choice!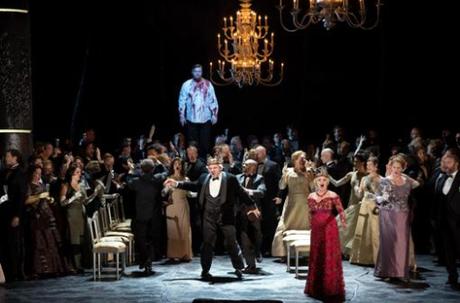 Banquo's ghost (Rene Pape) haunts Macbeth (Zeljko Lucic) as Lady Macbeth (Anna Netrebko) distracts the onlookers
What perked my ears in the Met's revival was Anna Netrebko, who put on a powerhouse performance with her excursion into early Verdi. Her Lady Macbeth was a creature not only of the night but of the daytime as well. Whenever she was on spotlighted, there was a palpable tension and excitement about her work. Every vocal effect, every tonal shift, indeed every verbal inflection spoke of the evil this character generated. Truly, this was one of Anna's finest interpretations, one that spoke reams of how she has progressed over the years as an actress. While her words were still opaque, her basic sound has grown to immense proportions.
Her entrance aria, "Vieni, t'affretta," and her later "La luce langue," were hurled at the audience with all the venom and thrust that she and the music could muster. Curiously, Verdi instructed the singer of this fiendish part not to sing beautifully, that she use a covered tone and similar directives. This is something the Russian diva is intrinsically incapable of doing, for her voice sounded fabulous throughout. Yet she stayed in character and, of course, the famous Sleepwalking Scene went off without a hitch, with Netrebko taking the high D and holding it there until her last breath gave out, signaling Lady Macbeth's eventual demise.
Željko Lučić's Macbeth, much like his broadcast Rigoletto, allowed for a mellifluous tone and generous expansion of the vocal line. In fact, his sound was almost too benign and attractive for such a despicable character. Yet, he captured the audience's sympathy with his final aria, "Pietà, rispetto, amore," delivered in a hushed, concentrated manner — almost introspectively at first, indicating how close the master's music for Macbeth resembles that of the court jester Rigoletto. With all that in his favor, my problem with Željko is that he doesn't sound like your average, everyday Verdi baritone. He is an above average artist with superior intelligence.
Joseph Calleja's Macduff etched another strong portrait, his sometimes wildly fluctuating vibrato in better control here than in previous assignments. He excelled in his Fourth Act aria, "Ah, la paterna mano," wherein Calleja regaled the public with the soothing warmth of his tenor voice. René Pape's full-toned Banquo was welcome deluxe casting. His flowing cantilena line was much appreciated in what basically amounts to a brief character turn, despite his solo to his son, Fleance (a non-singing part), "Come dal ciel precipita." The same problem I posed to Lučić also afflicts Pape, in that he simply does not strike me as possessing a bass voice for Verdi.
The Met chorus and orchestra outdid themselves in the many enlivening moments this opera presents them with. Verdi's Macbeth is not the usual romantic piece, not by any means, but a full-fledged tragedy with music — the very essence of the term "opera," one would think.
(To be continued…)
Copyright © 2015 by Josmar F. Lopes