The LEGO Movie is a HUGE hit with children and adults, and now you can keep the LEGO fun going with The LEGO Movie Videogame! My 10-year-olds have been playing the Nintendo 3DS version, and having a great time! They love all of the LEGO videogames, and this one is a new favorite. My 21-year-old LEGO fan has been playing the Wii U version and wrote up the following review of the game: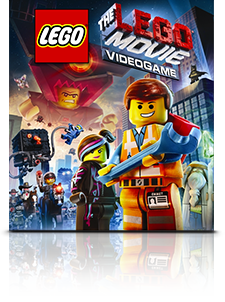 Simply put, The LEGO Movie Videogame is a great game, but much of it is attributed to the fact that it's based on a great movie. The game is humorous and quite charming, but if you have already seen the movie then you will recognize most of the jokes. The game even pulls cut scenes straight from the movie itself. That said, there are enough new jokes and funny, quirky characters to make the game enjoyable in its own right, even for those who have already seen the movie.
The game builds on the system of all previous LEGO games, with a large roster of characters and special abilities spread between them. A new addition is a minigame where players choose certain pieces to construct large structures from a set of instructions. You also get access to special "Master Builders," which have the ability to construct much larger structures from pieces of their environment. It is fun to see all the different, humorous ways in which the game solves the puzzles.
If you have not yet seen The LEGO Movie, then you will get the most enjoyment out of this game because the movie's humor will all be new to you. But The LEGO Movie Videogame is great even if you have seen the movie first.
Watch The LEGO Movie Videogame Trailer:

The LEGO Movie Videogame is available for Xbox One, Xbox 360, PlayStation 4, PlayStation 3, PlayStation Vita, Wii U, Nintendo 3DS, and Windows PC. It is rated E10+ for everyone 10 and older.