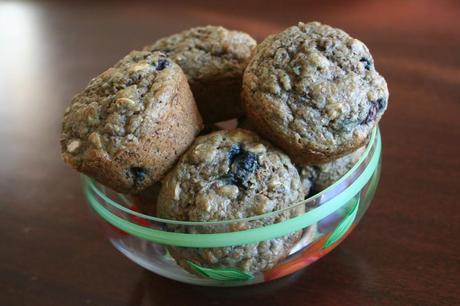 My "mama brain" has already switched on. I find myself more alert, more cautious. I'm driving slower down the interstate, and I'm making sure I get in at least four servings of both vegetables and fruit every single day. If I'm already feeling this protective over our little girl, I can't imagine the feelings I'll have on the first day I hold her. Motherhood is a mysterious and powerful journey, and just as my body is growing and stretching, I feel my soul expanding too.
Earlier this week, my friend and I shared a pot of coffee. This lovely woman also has a young daughter (born just this past Fall) and I've found comfort in having a friend who has walked a little further down the road of parenthood. When she welcomed me into her home, we immediately found ourselves in the kitchen. Shortly after pouring me a small cup of coffee (yes, I do drink and eat caffeine on occasion), she began making a batch of muffins. My kind of girl.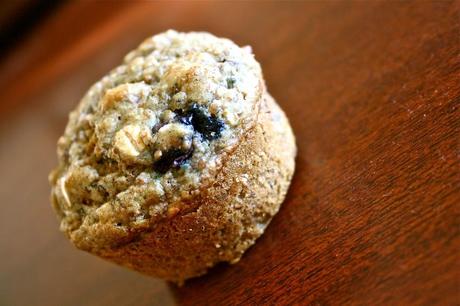 Being pregnant, I quickly latch on to new foods that satisfy my never-ending cravings. And I found that these muffins were a perfect pregnancy food. Moist and wholesome. Sweetened only by honey and full of oats and nuts. I didn't feel guilty when I had another muffin a few hours later…and then another later that night. Sadly, I had only brought two home with me, so I knew I'd have to make my own batch as soon as I could.
I didn't have my friend's recipe in front of me, but I remembered the basic ingredients and decided to experiment. What resulted was a muffin full of most everything in my kitchen: ripe bananas, blueberries, toasted almonds, wheat bran, rolled oats, eggs, maple syrup, and butter. In other words, all the goodness of breakfast baked into a compact and domed muffin.
Ryan and I are tossing around the idea of giving birth at a birth center in Denver. We're weary of the hospital (for many reasons I won't list here) and we want to have as natural  and peaceful of a childbirth as possible. I'd love to hear your thoughts on birthing. Did you or someone you know have a good experience at a hospital? A birthing center? At home? There are so many choices available to us today (which can be both a blessing and a curse…especially if you're indecisive like me!)
Everything but the Kitchen Sink Muffins
1 cup wheat bran
1 1/2 cups whole wheat flour
1 teaspoon baking soda
1 teaspoon baking powder
1 teaspoon cinnamon
1 cup thinly sliced almonds
1 cup frozen blueberries
2 ripe bananas, mashed
1/3 cup maple syrup of honey
2 eggs
1/2 cup butter melted
1 cup milk
1 teaspoon almond extract
Preheat your oven to 400 degrees Fahrenheit. Grease with butter or oil a standard muffin pan. Set aside.
In a large bowl, whisk together wheat bran, whole wheat flour, baking soda, baking powder, and cinnamon. Fold in almonds and frozen blueberries.
In a smaller bowl, whisk together bananas, maple syrup, eggs, butter, milk, and almond extract. Gently fold wet ingredients into dry ingredients, mixing only until combined.
Divide batter evenly into muffins tins (they will be quite full) and bake in preheated oven f0r 15-20 minutes, or until a toothpick inserted in the center comes out clean. Allow to cool for five to ten minutes in pan before gently removing with a knife to a wire rack.
Monet
Anecdotes and Apple Cores