Someone asked me the other day, "Are you starting to feel like people are just broadcasting in social media?"
I was about to say "No, not in social media," but then I looked at the Twitterstream at large. Then I looked at my own.
The tweets that were mostly statements, sharing content, linking to other things - they were dominating and one-sided. 
Sure there were some retweets and some @ messages, but more and more I began to notice that much of what we are putting out there and consuming these days in social media consists of broadcasting, not conversing.
I'm not sure how we fell into the trap of broadcasting again. Lazy? Overwhelmed? A combination?
We used to have mostly conversations when we adopted social media versus email lists and Web-based threaded messaging boards. But then the brands invaded our social spaces - just like they did with the Web - and suddenly the landscape of sharing and interacting became littered with ads and one-way communications. We seem to have started mimicking them. Shame.
We talk about the fact that social media is "social" and at least two-way if not multi-way, and yet how often are our own steams and feeds riddled with announcements about what we are doing, what we are reading, what we are posting, what we are thinking?
Count how many times you've interacted with others on Twitter today compared to the tweets you've put out there to "share" your information. In the last week?
In the last 6 hours, here's my Twitter activity breakdown:
Annoucements (including sharing info, posting links, asking questions) = 16
RTs - 5
@ Responses - 10
@ to Initiate Conversation with someone else - 0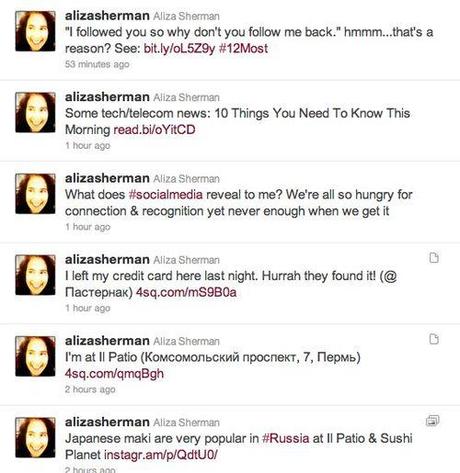 We all want attention.