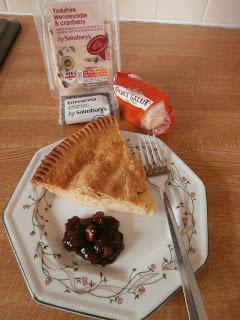 Say 'cheese'. No, it's not a continuation of my Selfie blog from last week, though this started at around the same time. It was the typical chat between me and a colleague during one of the rare moments that we had chance to pass the time of day.
"What's for tea tonight, then?" She asked me.
She took a phone call as I thought about what to do with the left-overs from our Sunday roast.
"Cold meat and boxty, with some cabbage and leeks, I think." I replied, starting to feel hungry and looking forward to some sauce or pickle to go with it. I remembered the rhyme, but kept it to myself – Boxty on the griddle, boxty in the pan, if you can't make boxty, you'll never get a man. – It made me smile.
"I'm doing homemade cheese and onion pie. Not done it for ages." She was typing frantically and didn't look up straight away.
"Oh, now you've done it. I'll crave that all week."
I love my own cheese and onion pie and I hadn't made one for a long time, either. Served with jacket potato and baked beans, it's a favorite family meal I have grown up with. I would make it on Saturday. It was only Monday but we would be out for three evenings and Friday was 'chippy tea' and not to be missed. If I made a large pie, there would be enough to enjoy cold for lunch the next day.
Cheese and tomato sandwiches are a favourite lunch. If the cheddar is just the right flavour, it takes me back to my childhood and the pub we had up in the hills near Glossop. I attended the local village school that was very close by, and for the only time in my school days I came home for lunch. It would be there, waiting for me on the kitchen table. Fresh white bread filled with grated cheddar cheese and thinly sliced tomato. It might have been an odd choice for an eight year old, but I loved it, even more than chicken paste or potted meat. How lovely it is for something so simple to transport me back to a time full of fond memories.
Saturday couldn't come soon enough and the afternoon found me elbow deep in plain flour and grated cheese with eyes watering from finely chopped onion. The end result was delicious, with the longed for jacket potatoes and baked beans. Comfort food at its best. The next day, I was delighted to see my toddler grandson devouring strips of the cold pie and dipping it in a tiny spoonful of pickle. Can't beat Nanna's homemade snacks.
"Did you make your pie at weekend, then?" My colleague asked, during a lull in the Monday morning mayhem.
"Yes, it was perfection. Can't you tell?" I pointed out my increasing girth, which of course, isn't the result one cheese and onion pie.
I found this poem.  
A Parable
The cheese-mites asked how the cheese got there,
And warmly debated the matter,
The Orthodox said that it came from the air,
And the Heretics said from the platter.
They argued it long and they argued it strong,
And I hear they are arguing now;
But of all the choice spirits who lived in the cheese,
Not one of them thought of a cow.   
    by Arthur Conan Doyle
 Thanks for reading, Pam x      
Email This
BlogThis!
Share to Twitter
Share to Facebook
Reactions: