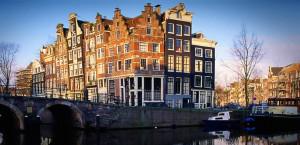 Everyone thinks apple pie is an thing from the States – you don't get more American than apple pie, the saying goes.
But the Netherlands is also famous for the fruit based treat. In Amsterdam, it's called appeltaart and people from all over the world come to enjoy it – even ex-presidents.
On 28 May, Bill Clinton indulged in a slice of this Dutch delicacy. And he had his pie, along with a big scoop of homemade slagroom (whipped cream) at one of Amsterdam's most famous cafes.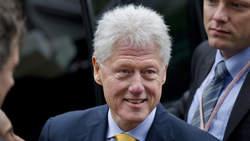 Cafe Papeneiland is housed on the corner of the Prinsengracht and Browersgracht, two of Amsterdam's most notable and gorgeous canals. Papeneiland is a typical Dutch brown bar boasting views over the picturesque waterway and the bustling Noordermarkt.
With slanting stairs, drooping walls and a big crowd of locals, the cafe is the ideal place to get a proper Dutch experience – along with a true slice of Dutch apple pie.
Famous for its cinnamon and tart apples, Dutch apple pie is so delicious you may want seconds. Clinton did too – and he took home a whole pie!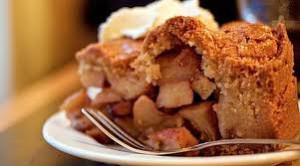 But Cafe Papeneiland isn't just famous for its 'gezellig' atmosphere and delicious taart. It is also one of the only cafes in Amsterdam serving A. van Wees distillery.
Established in 1782, it is argued to be the last authentic distillery in Amsterdam, and their liquors are a real treat. The Van Wes family prides themselves on keeping to their original recipes, and still uses only organic and natural ingredients. Try their version of the famous Dutch gin, Jenever.
With a delicious slice of pie, and a traditional drink to wash it down, there's no better way to experience Amsterdam than at Papeneiland – just like Bill Clinton!