One of the many rewarding things about coaching a high school team is watching your players move on to the college level to continue playing.  My baseball experiences above high school were very memorable and to help players also get an opportunity to experience them is one reason I coach.
When those players return to visit after playing beyond high school, I typically ask them the same question.  "What is the biggest thing you have learned so far in college ball?"  
For pitchers, the answer I get most often is ... 
"Everyone can hit a fast ball."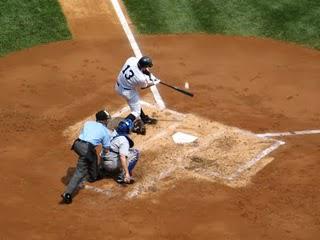 No matter how hard you throw, a college and
above hitter is eventually going to "square it up"
if that's all you have.
In a high school game, a college bound pitcher usually can have a lot of success by just throwing a fast ball.  On average, there may only be two or three hitters in the other team's batting order that can catch up to the pitcher's fast ball.  Some line-ups may not have a single hitter who can do this.  As a result, these pitchers can get away with a lot of mistakes at the high school level.
When these pitchers move on to the college (or pro) level, they often assume their high school success will automatically transfer to that level as well.  It usually doesn't.  They normally realize very quickly (a couple innings of work usually does the trick) that their command and secondary pitches are going to need some serious work.  
This can be somwhat maddening for high school coaches (especially pitching coaches!) because they probably have been trying to get the pitcher to realize this for years.   This "revelation" should have been more of a "confirmation" of things already said.
Either way, people learn in their own time.  Understanding that everyone will eventually be able to hit your fast ball is something better off learned sooner rather than later.