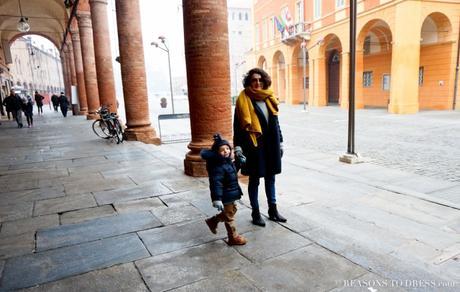 Fog....so much fog! I don't actually remember if last year was this foggy, but this year there is a permanent dense cloud of fog that layers my life and I will admit that I love it! I mean...as long as I don't need to drive anywhere past 4 pm! I will say, however, that the fog in Modena is nothing compared to the fog in Carpi where one of my dear friends lives. When the sun is up it feels like you're living the city through an Instagram filter and once the sun goes down there is a soft glow around every Christmas light and lamp that makes me feel like I'm walking through a surreal dreamscape.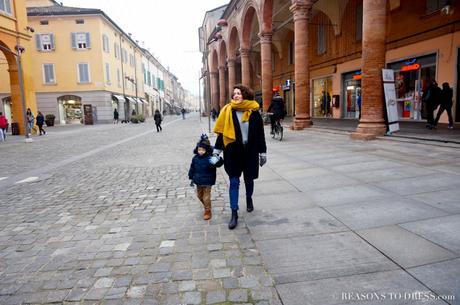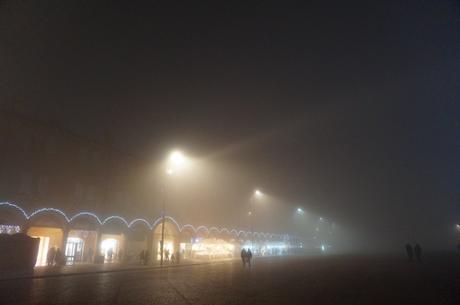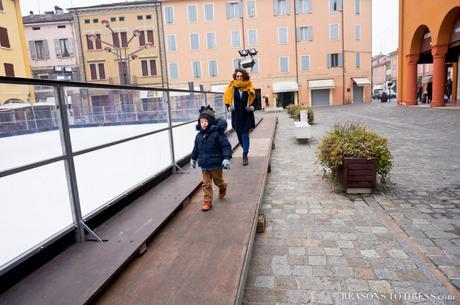 Carpi is about 20 minutes away from Modena, and last week I wrote about the Carpi Fashion System and gave my suggestions to anyone looking for work in Italy in the Fashion industry! Here's a hint... Carpi and not Milan is where you'll want to be! I also wrote about a new a rtisan training program I'm collaborating with and reviewed the permanent Blumarine exhibit in the Carpi Castle.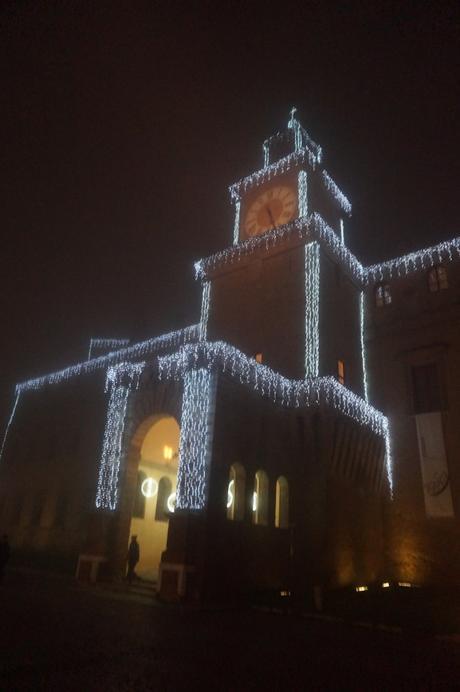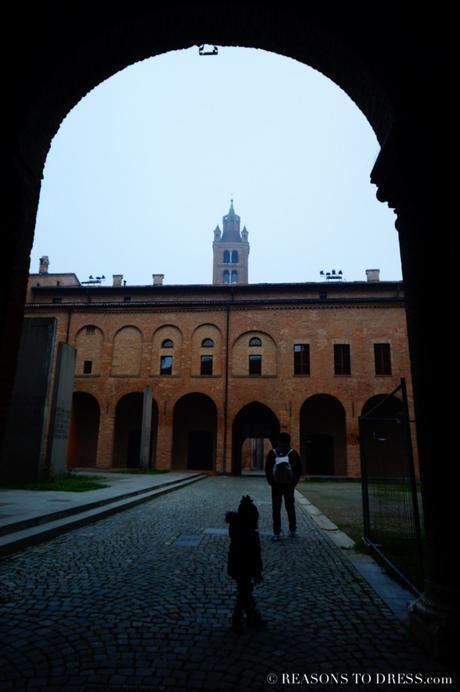 It is VERY HUMID in this part of Italy, hence the fog come this time of year, so even though temperatures never drop to as low as they do in Canada, and we've been having a very mild winter it IS COLD....believe me. To keep the cold out I layer like it's nobody's business and wore a bodysuit layered under a cashmere turtleneck sweater, an oversized knit coat, grey leather cropped gloves, python booties and a MASSIVE wool scarf.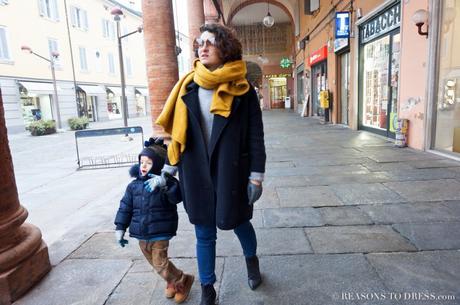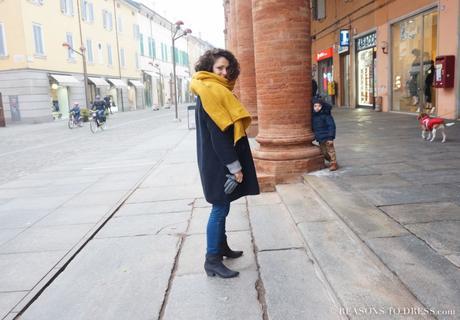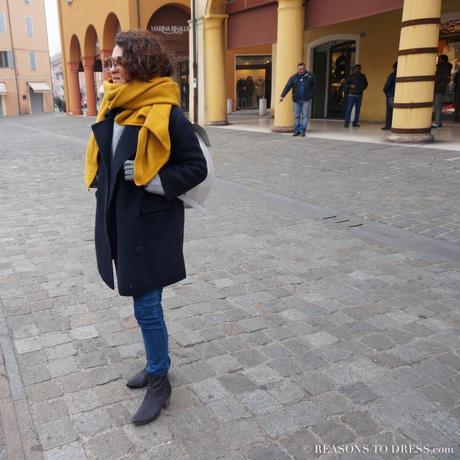 We headed to Carpi for lunch and then hung out for a bit in the Piazza, one of the largest in Italy btw! On this particular weekend there were all kinds of special events and concerts but I really wanted to visit the Medieval Castle which has a children's library, a war memorial, and many permanent and temporary exhibits that I had read about. We only managed to see about half of the exhibits and didn't even make it to the library because it was much larger than I expected. I was absolutely impressed by the Blumarine permanent exhibit and the Scagliola exhibit (an antique painted marble effect mural) which I'll be sharing in the December issue of the magazine.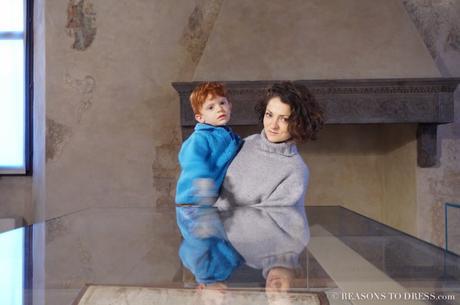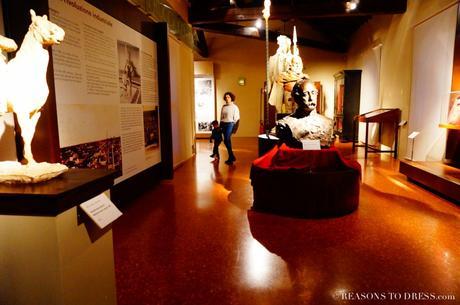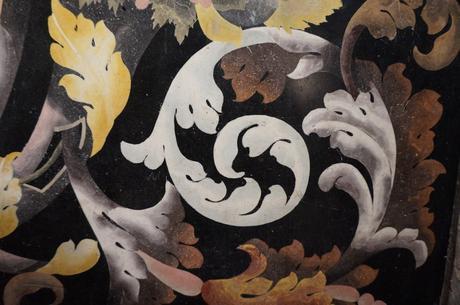 What I Wore
To combat the cold I stole my husband's old sweater which no longer fits him, because after 8 years together, the combination of a long term relationship + having his North American wife touch his stuff inevitably means some of his sweaters get sacrificed in the marriage.....just kidding... HE WOULD NEVER LET ME WASH HIS CLOTHES!!
This Cesare Attolini Cashmere sweater is the softest thing I have ever felt in my entire life. When I put it on, it is like wearing a hug from your high school sweetheart and never wanting them to let go....you melt into it and want the whole world to touch you and share in the moment.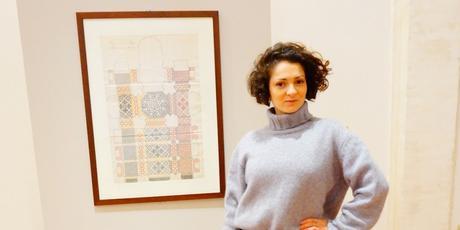 Yesterday I wore a "regular" wool sweater to a party we went to, and at some point someone touched my arm and I almost cringed away from the horror of the roughness they must have felt. I think I even apologized for the poor quality of the wool....oh Lord, what is wrong with me?! If I had been wearing this cashmere turtleneck I would have opened my arms and invited them to have a hug....it is just THAT good. My husband used to wear this sweater to come visit me in Milan when we were just dating, and now that I think back on it, I can pretty much attribute my falling in love with him to this sweater! I'm not kidding. If you want to read about how I ended up in Italy and our (quote unquote) "courtship" that involved tarantella dancing, abandoned schools near Naples and living with three young men who smoked in the elevator.. oh and working in one of Milan's gay bars... you can read some of that story here!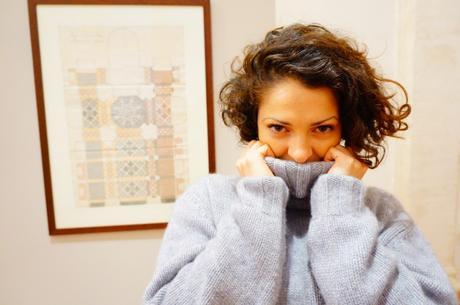 Ummmmm.....if you're interested in Cesare Attolini their website has a catalogue complete with the man of my dreams (think distinguished, Italian man with beard and grey hair but who is also into nature and touching trees and reading books and stuff!) Thank God I stress my man out enough that his hair is *finally* starting to turn grey....I cannot wait! As I was saying....if you feel like buying either yourself or your man a Cesare Attolini Cashmere sweater you can find them here ON SALE from last year's collection for between....wait for it....$675 and $1,118! That is what kind of cashmere we're talking about.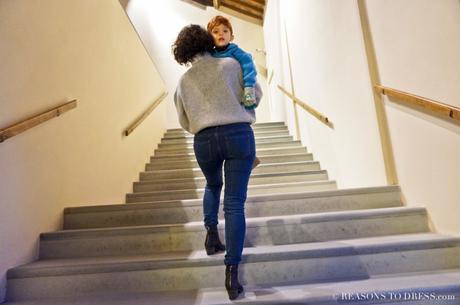 I paired this sweater with new skinny jeans, and I will admit tucking a men's chunky sweater into skinny jeans means loosening the old belt by a notch or two! I wore my Vic Matie python leather booties ( featured in this post), these sold out but the same pair in tan calf leather are still available for around $100 here!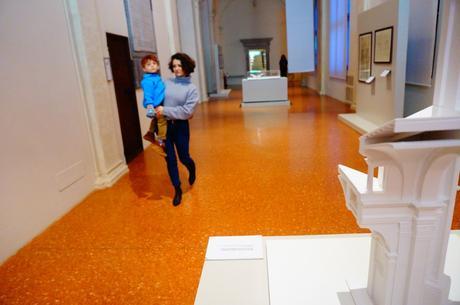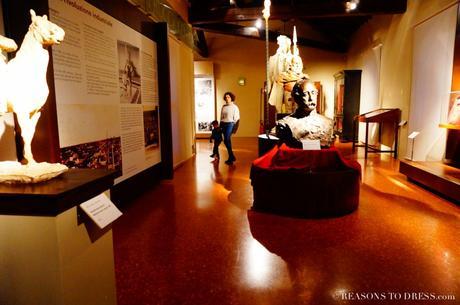 I also wore a new belt that was just completed for the accessory collection launching in 2016. I'm just working on a few simple bags now and have decided on the colors thank to the many comments on Instagram and Facebook - THANK YOU to everyone for your feedback!
This belt features a hidden sizing system for a very clean look and has just one metal belt loop in palladium covered solid brass. It is unisex in 35 mm height and was originally designed as a men's belt, but we'll be offering it in two sizing ranges for both men and women. It will be made in black python like this style and also in hand colored French tanned calf lined in an exceptionally soft nappa leather in a Cognac brown and hand colored black which I will try to show you soon!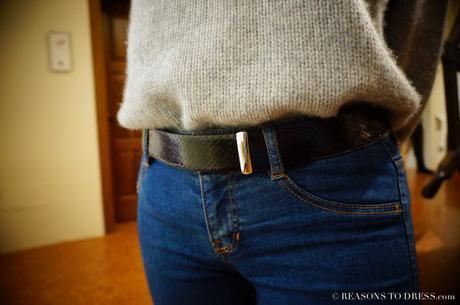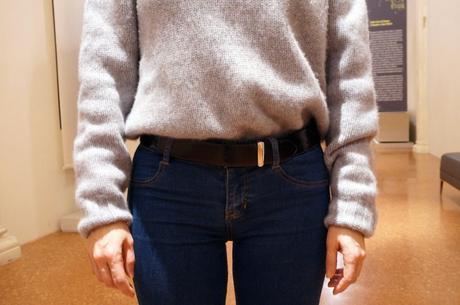 Don't worry too much about my son Zeno in these pictures, he actually loves going to museums because he finds it VERY fun to run away from us through the massive rooms. He also chats CONSTANTLY with all of the cute girls who work the exhibit! #helpme !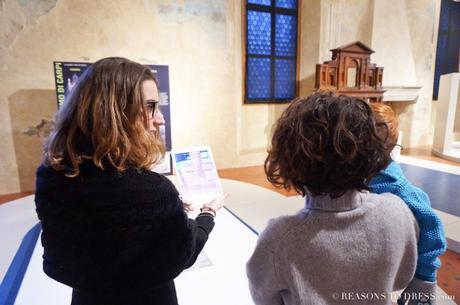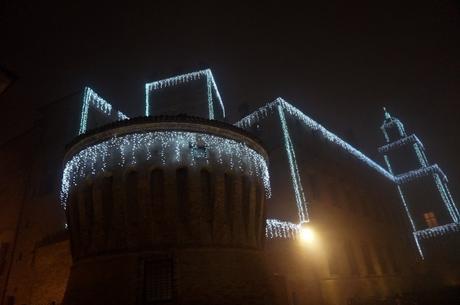 Now onto YOUR style...
#REASONSTODRESS Street Style Linkup